Cazenove Multi-Manager Diversity
To print fund fact sheets, please use the print option in the Factsheet Tools section in the top right corner:
http://citywire.co.uk/fund/factsheet/c12436

Cazenove Multi-Manager Diversity
TOTAL RETURN over 1 month to 06/12/2013
Key:
Cazenove Multi-Manager Diversity Benchmark
How has Cazenove Multi-Manager Diversity performed?
Change time period

Compare

Add items for comparison

Funds
Managers
Benchmarks

£ or %
How Cazenove Multi-Manager Diversity
compares to the sector over
Sectors: What is this fund investing in?
Updated 30-09-2013
Top 10 holdings
Updated 31-08-2013
News about: Cazenove Multi-Manager Diversity
Fund information

Launch Date

22 May 2002

Fund size ()

£1207.7m

Base Currency

GBP

ISIN

GB0031549263

Purchase Info

Minimum initial investment

£5000

Minimum additional investment

N/A

Charges

Annual management charge

1%

Initial charge

5%
Cazenove Multi-Manager Diversity
Hoarding Cash
Cazenove Multi-manager Diversity  manager Marcus Brookes has taken the cash weighting in his £1 billion fund to its highest ever level at 29%.
Brookes and co-manager Robin McDonald are in capital preservation mode after a strong start to the year and with a mandate to beat cash plus 4% Brookes has been looking to bank some profits and await the next buying opportunity.
He told Citywire Selection: 'Assets have run quite hard with so much stimulus in place and with CPI inflation at around 2.8% we have effectively returned a year's return in the first three months.
'Whether the correction coming is 5% or 25% I have no idea but we are in risk reduction mode because it is hard to fund any assets at cheap prices.
Three weeks ago the cash level in the fund had stood at 22% with half of that amount denominated in US dollars but after 18 months in which the duo have been increasing their dollar exposure on expectations of further dollar strength the exposure has now been reduced to 7%.
'We thought the dollar was starting to form a bottom again. If it strengthens again we will take that exposure down to 3%.
The fund of funds is split into equally weighted thirds of fixed income and cash, equities and alternatives, and has the flexibility to take the alternatives and equities weighting 5% over or underweight the 33% level.
Currently the portfolio is at its lowest possible equity and alternative level of 28.3% apiece but Brookes said that if stock markets came off by at least 10% he would look to add exposure again.
With cash at 29% the fund has a further 15% in fixed income with the biggest position Richard Woolnough's M&G Optimal Income Sterling fund which makes up almost 8.5% of the portfolio while in the alternatives portion, Philip Gibbs' Jupiter Absolute Return fund has a 7.7% weighting.
In the equities segment the largest position is an 8% stake in Sanjeev Shah's Fidelity Special Situations fund which Brookes bought after selling out of Neil Woodford's Invesco Perpetual fund in mid-2012.
The biggest activity in equities over the past six months however has been a steady increase in exposure to Japan through dollar hedged exposure to GLG's Japan CoreAlpha fund.
Reducing Japan
Brookes had taken the position up to almost 6.5% of the portfolio but has recently been reducing as he thinks the main uplift for Japanese equities has already happened, along with the main leg down in the value of the Yen.
'We started to get bullish on Japan at the end of 2011 because it looked so cheap but we probably went overweight three or four months too early. We had seen massive asset inflation around most global markets which left Europe and Japan looking very cheap.'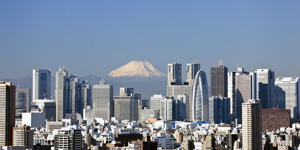 'Whatever the Japanese did to stimulate the economy we knew that they would try to weaken the currency so we avoided yen exposure and hedged into dollars. We went overweight Japan when Abe came to power and added QE and the 2% inflation target.
Brookes admits to being 'shocked' by the sheer scale of the money printing being carried out in Japan however.
'They are printing $75 billion every month but when you consider the US is printing $85 billion a month and Japan's economy is a third the size of the US economy,  it is the equivalent of QE1, QE2 and QE3 all put together and the biggest potential money easing ever.
Brookes' decision to hedge his Japan exposure back into dollars has been vindicated by the aggressive weakening on the yen, which has seen it go from 76 to the dollar three months ago to around 100 today.
'The Topix is up around 30% year to date but if you had bought your exposure in yen, you would have made just 18%.'
GLG Japan Core Alpha was originally added because it was exporter heavy, holding the large tech and autos stocks most likely to benefit from the weakening yen, but Brookes has now reduced the stake to 4% as he believes most of the gains have been made for now.
'The big move has happened and the yen has weakened by about a third compared to the dollar. We still think Japan is a cheap market but in the near term the yen cannot go much further and a lot of global hedge funds are very short the yen.
Brookes believes it is much harder to find defensive assets than it was in 2008 with high yield bonds 'trading tight' and high yield returns 'nowhere near the 13% they were at in 2008'.
'We are not calling the end of the fixed income market but we currently see little value there.'
Over the five years to the end of March, the fund has returned 35% compared to the LCI FTSE AS/WexUK/Govt/ML Non-Gilt benchmark return of 23.7%.
Citywire Selection Verdict: Marcus Brookes & Robin McDonald have consistently delivered, returning comfortably more than their inflation plus 4% target. This has been achieved with low volatility and drawdowns that have been among the lowest in the sector. They invest in funds that reflect their macroeconomic view and have profited from backing areas when they are out of favour. They are currently backing a strengthening dollar while shunning government bonds and commodities including gold. With stock markets having being on a strong run they have over a quarter of the portfolio in cash.
A consistently sound investment for those looking to diversify their holdings.
For more information view the latest fund factsheet .
What is Citywire Selection?
Citywire Selection is an investment guide containing around 150 of the best ways to invest in a range of areas, as chosen by our research team using a rigorous and transparent process.
We don't sell funds, so you can trust the independence of our recommendations.
Find out more or download the new Selection iPad App for free
Citywire Selection Updates
Latest updates on how the funds in Citywire Selection are investing