Invesco Perpetual Japan
To print fund fact sheets, please use the print option in the Factsheet Tools section in the top right corner:
http://citywire.co.uk/fund/factsheet/c9315
LATEST PRICE

updated on 22/04/2014

£2.54

CHANGE IN PRICE

from 21/04/2014

1.52%
TOTAL RETURN

over 3 years to 22/04/2014

12.7%

Benchmark

15.6%

Invesco Perpetual Japan
TOTAL RETURN over 1 month to 22/04/2014
Key:
Invesco Perpetual Japan Benchmark
How has Invesco Perpetual Japan performed?
Change time period

Compare

Add items for comparison

Funds
Managers
Benchmarks

£ or %
How Invesco Perpetual Japan
compares to the sector over
Sectors: What is this fund investing in?
Updated 28-02-2014
Top 10 holdings
Updated 28-02-2014
News about: Invesco Perpetual Japan
Fund information

Launch Date

09 May 1988

Share Class size

£321.2m

Base Currency

GBP

ISIN

GB0033028118

Purchase Info

Minimum initial investment

£500

Minimum additional investment

N/A

Charges

Annual management charge

1.5%

Initial charge

5%
Invesco Perpetual Japan
Staying loose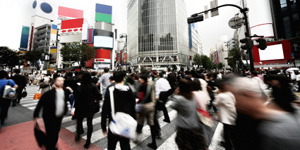 Invesco Perpetual Japan  manager Paul Chesson believes Japanese prime minister Shinzo Abe has played a minor role in the country's recent economic improvement, with the crucial factor being the monetary policy of Bank of Japan chief Haruhiko Kuroda.
Chesson expects continued loose monetary policy next year from the central bank but says that expectations for further reforms from Abe are 'appropriately low'.
He tips profit growth for Japan's corporate sector next year, regardless of where the yen is trading as the global backdrop will continue to create favourable tailwinds for the economy.
However, he says it would be 'unwise' for Abe to 'involve himself with further yen weakening rhetoric' as it might upset other political leaders who have already watched Japan's currency weaken by almost 25% over the past 11 months.
Further gains hard going
Citywire + rated Chesson says the Japanese equity market should perform well until next May, with the prevailing cheap currency and a more benign global growth backdrop lending support. He expects further market gains to be harder to come by, however, while the structural reforms heralded by Abe in his so-called 'third arrow' will be difficult to action.
He told Citywire Selection: 'There are still some relatively easy gains ahead and it is not difficult to see one more good move up in the market. A swing back in emerging markets and a broadening out of the developed world recovery should create another decent year for Japan, providing Mr Kuroda keeps his foot hard on the [monetary] accelerator.'
'Forecasting where the yen will be [in a year] is less relevant than the fact there will be looser monetary policy still, due to the fiscal drag [of a VAT rise next April.]
'A weaker yen is an important trigger but I think the external environment is strong enough and the market is certainly cheap enough on 14 times earnings [to sustain further gains]. So even if the yen doesn't weaken from here, we should still see profit growth next year.
'Abe has scored a major win with Kuroda changing the monetary policy but the structural reforms Abe wants will be harder to get. Ideas like land reform, stricter labour laws, joining the Trans-Pacific Partnership (TPP) and more women in the labour force are all obtainable but it is whether they can make any difference.'
Chesson points out that female employment figures in Japan are not far behind the developed world average, adding: 'Making it easier to fire people is not exactly a vote winner.'
He believes even if Kuroda had not changed monetary policy and Abe not introduced his reforms, the market would still be roughly where it is today, 'albeit with slightly less confidence around'.
Still backing cyclicals
He and co-manager Tony Roberts have changed the portfolio little over the last year and the £313 million fund is predominantly made up of a mix of exporters and financials.
He points out that so far, much of the improved performance in banks has come from the reinflationary environment rather than a weaker yen while among the carmakers, Toyota has benefited hugely from the weaker yen while Nissan has yet to do so. He has also sold broker Nomura after a strong run.
Chesson has been recycling his overweight in Toyota into Nissan after a surging market run by the former and is anticipating a recovery in demand for the latter from its biggest market China.
'The portfolio is cyclical recovery-orientated and while it is not risk-free, we think the market is taking a relatively gloomy view of 2014. The Japanese market is often stronger in March/April time but by next May, we expect all the easy gains will be over and the country may be starting to look at higher interest rates.
The fund has 10% in autos, but the biggest overweight remains electric appliances at 22%, and while Chesson owns no Sony or Panasonic, he has made Canon a core position after a poor recent run.
'Canon has done badly but at least the market for printers is bottoming out and it still makes enough profit to allow it to have a 4% dividend yield. It has some structural problems but you have to work out how much of that is cyclical. It has suffered enough and it is cheap enough to deliver some performance.'
He also has 6.5% in freight shipping groups Mitsui OSK and K Line, which are not only able to benefit from a weaker yen, but because more cars are being exported overseas.
The fund has returned 54.2% in the five years to the end of October 2013 compared to 53% by the benchmark Topix index in sterling terms.
Citywire Selection Verdict: The decision to focus this portfolio almost solely in the Japanese export industry was slow to take off, but the weakening yen boosted performance significantly in 2013. The returns both in the short and long-term are excellent and manager Paul Chesson's conviction is unwavering. This may lead to periods of underperformance, particularly if exports falter. However, it has proved that for those that can handle the volatility, its punchy strategy is rewarding.
What is Citywire Selection?
Citywire Selection is an investment guide containing around 150 of the best ways to invest in a range of areas, as chosen by our research team using a rigorous and transparent process.
We don't sell funds, so you can trust the independence of our recommendations.
Find out more or download the new Selection iPad App for free
Citywire Selection Updates
Latest updates on how the funds in Citywire Selection are investing