Bill Gross: the price of money is too low
The PIMCO bond star blames central bankers for throwing a 'monkey wrench' into the credit system and stunting the incentive to lend.
by Chris Sloley on Sep 05, 2012 at 12:55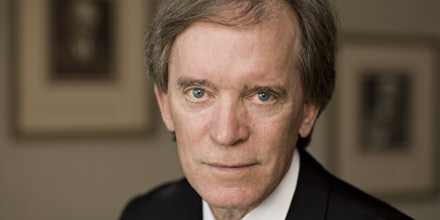 Zero bound interest rates have removed the incentive for banks to lend to already indebted borrowers leading PIMCO's Bill Gross to state the monetary system will either stall or topple over.
Adopting his usual colourful prose, Gross, who runs the $260 billion PIMCO Total Return Bond fund, centred his latest market commentary around a quote by Citigroup's Chuck Prince, who said: 'As long as the music is playing, you've got to get up and dance.'
Looking at the current health of the credit system, Gross said banks and financial institutions are levering up in order to compensate for a lower level of carry being garnered from extending credit.
However, Gross warned this was a dangerous game.
'If the dancing has slowed down, then the reason is not just an overweight partner. It's that the price of money (be it in the form of a real interest rate, a quality risk spread, or both) is too low,' he said.
'Our entire finance-based monetary system – led by banks but typified by insurance companies, investment management firms and hedge funds as well – is based on an acceptable level of carry and the expectation of earning it.'
'When credit is priced such that carry is no longer as profitable at a customary amount of leverage/risk, then the system will stall, list, or perhaps even tip over.'
Gross did not shy away from laying the blame the 'current shipwreck' squarely on the Federal Reserve's shoulders and other central banks for cutting interest rates to near zero levels.
'Who wouldn't borrow at near 0% yields – namely the banks – in order to relend at seemingly profitable spreads? Who wouldn't borrow at 3.5% for a 30-year mortgage – namely homeowners – in order to match or even reduce current rent payments? Well, they haven't.'
'Structured impediments such as regulatory risk standards for banks and fear of losing money for households have thrown a monkey wrench into those models. Central banks are agog in disbelief that the endless stream of QEs and LTROs have not produced the desired result.'
Death of equities: round two
In the note, Gross also resurrects the on-going debate over the so-called 'death of the cult of equities'.
Following his comments in his previous investor outlook, Gross was taken to task by investment firm GMO which strongly refuted his claims.
Today's top headlines
More about this:
Look up the funds
Look up the fund managers
More from us
What others are saying
Archive