Bill Gross ups exposure to MBS and Treasuries
Pimco's bond king piles further into previously vilified asset class, while dropping allocation to emerging market debt.
by Chris Sloley on Dec 12, 2011 at 10:18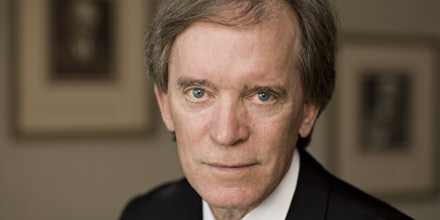 Pimco's bond king Bill Gross has reduced his holdings in emerging market debt while continuing his march into mortgage-backed securities and upping his allocation to Treasuries.
According to the November 2011 fact sheet for the $242 billion Pimco Total Return Bond fund, Gross's most notable move over the past month has been to put further weight behind mortgage-backed securities.
Gross first started significant moves into mortgage-backed securities in the autumn, when he upped exposure from 32% to 38% between August and September.
He stayed consistent at this level in both September and October but, according to end-of-November figures for the Pimco Total Return fund, mortgage-backed securities now account for 43% of his holdings.
Gross's move highlights a pick-up in interest in the asset class, which had been seen as tainted following the bursting of the US property bubble in 2008.
Treasuries
Elsewhere, Gross has also increased allocation to an asset class which has proven a major source of contention for the veteran portfolio manager – US Treasuries.
US Treasuries rose from 19% of his overall portfolio to 23% between October and November 2011. Despite the increase, Gross remains below the benchmark allocation of Treasuries, which is 35% according to the Barclays Capital US Aggregate Bond Index.
Gross famously dumped his allocation of Treasuries in March 2011 – around $28 billion worth of paper – in favour of increasing his holdings in emerging market debt.
At the time, Gross said he had also made the decision due to concerns over how the asset class would fare in any future attempts by the US government to stimulate the economy.
However, US Treasuries saw a sharp increase in popularity amid wider global economic difficulties and against the backdrop of the US debt ceiling debates in the summer.
In a letter of contrition to investors following a so-called 'stinker of a year', Gross said the media had overblown its coverage of the US Treasuries holdings but did acknowledge the call to reduce his holdings had hurt performance.
In order to make room for the increased allocations, Gross has reduced his holdings in emerging market debt by a third. This has seen his holdings in EMD fall from 15% in October 2011 to 10% in November 2011.
This decision indicates a change of tack for Gross, who had been encouraging investors to 'revolt', ditch US Treasuries holdings and instead invest in emerging market debt.
Today's top headlines
More about this:
Look up the funds
Look up the fund managers
More from us
What others are saying
Archive