BlackRock's Hambro questions gold firms over poor dividends
'It's really incomprehensible' Evy Hambro told Citywire Global, saying the divergence between the gold price and equity prices is partly due to their reluctance pay out dividends.
by Emily Blewett on Jun 14, 2012 at 13:40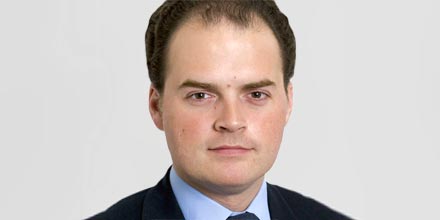 The divergence between spot gold price and the share price of gold producers is due to a reluctance by companies to pass profits onto investors, said Citywire A-rated manager Evy Hambro
Speaking to Citywire Global, BlackRock's top gold manager said this was causing problems when it came to price valuations.
'When I asked companies why they were so slow to do this (post dividends), I just couldn't get an answer,' said Hambro who manages €16 billion through the BlackRock World Gold fund and the BlackRock World Mining fund .
'It's really incomprehensible when you see their balance sheets at such strong levels, margins at record levels and limited opportunities to reinvest money into new production.'
'Dividends are rising now but they started from such a low base and it will take a few years before they catch up. The gap is closing but you can't give a prediction exactly of when.'
Another reason, said Hambro, beside the competition of Gold ETFs launches, for this divergence in gold prices (as shown below) is due to a broad de-rating of equities as an asset class which saw the oil price outperform oil shares, copper outperform copper shares, and gold outperform gold shares.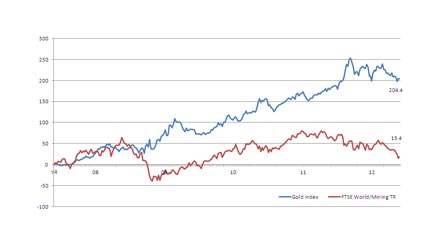 As equities broadly rose between December of last year and March 2012, commodity markets (as measured by DJ UBS Commodity Index) dramatically underperformed.
A recent report by BlackRock revealed outflows from commodity exchange traded products (ETPs) nearly tripled in May as investors opted for government bonds which saw $5.6 billion inflows, driven by $4.4 billion into US treasury bond products.
One of the reasons for the volatile performance of commodities this year is concern about Chinese consumer demand, according to a recent report by the Dutch asset managers ING IM which cited loser monetary policy by the ECB and FOMC as having affected investor appetite for commodities.
Commodities, it argued, did not provide investors with the carry trade found in investing in certain euro area government bonds.
Hambro, however, said he is positive on the demand for precious metals which will help to steady the gold price in the near future.
Today's top headlines
More about this:
Look up the funds
Look up the fund managers
More from us
Archive