China: it's different this time
Talking to Citywire in Singapore, Bill Sung says China's new leader is in a position to break new ground but we should not dream of western-style political reform.
by Angus Foote on Dec 19, 2012 at 10:51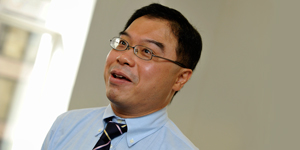 The transition of power in China is unlike anything we've seen before says Bill Sung, who is predicting far-reaching reform of the country's financial sector. 
Sung, CIO of Natixis affiliate Absolute Asia Asset Management and manager of over $1 billion across a number of funds, including the A bsolute Asia AM Pacific Rim Equities fund, is sure that further change is on the way in China - but the West shouldn't dream of radical political reform.
'This transition is different to previous transitions,' he says. 'Xi Jinping has become chair of the CMC as well so he is in full control. It's the first time in 20 years that one person has taken control.'
In terms of political reform, the leadership remains conservative. 'The West should not dream about any political reform in China,' warns Sung. 'But why does the Chinese leadership continue with economic reform? Because they want people to support them. The single goal of the politicians is to maintain the position of the Communist party.'
'Can you have economic reform without political reform? I don't know. But they're testing a new format.'
'We're becoming more positive on China. After six months, the policy will become clearer.'
In the last five years, he says, state-owned enterprise has been advancing, while private enterprise has been retreating. In the previous five years, it was the other way round.
'Banks must be reformed. They're doing it, it is happening. State-owned banks have made too much money. They're not functioning well and they're not helping the economy. The goal is to let private capital into the banking sector.'
Deregulation of interest rates will also have a major impact, he says.
'Long term, profitability will be affected. Interest rate margins will be squeezed by the regulator. State-owned market share will drop and there will be structural change in the sector.'
In his portfolio, Sung is neutral on banks, relative to the index. 'From all this reform of the banking system it's hard to guess which sectors will be most affected, but SMEs are likely to benefit,' he says. 'It will be easier to set up small businesses than it was before.'
There was a reshuffle of senior figures in the financial sector last year and there was also reform of market practice to clean up the stock market, he points out. This creates another source of funding for private enterprise as it takes away some of investors' fears.
Today's top headlines
More about this:
Look up the funds
Look up the fund managers
More from us
Archive