Draghi: A gentleman not for turning
COMMENT: Public spats and issues of quality over quantity. We round-up the highlights from the ECB's monthly press conference.
by Emily Blewett on Mar 09, 2012 at 07:01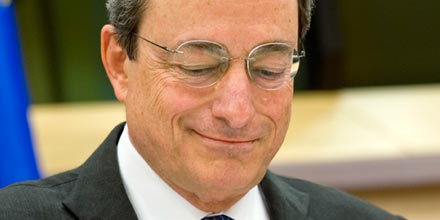 COMMENT: A couple of months ago, we asked whether central bankers were supermen. It is no longer a question - the European Central Bank's Mario Draghi undoubtedly is.
In just over an hour at Thursday's ECB press conference in Frankfurt Draghi answered (or avoided answering): eurozone inflation, growth, potential LTRO 3, SMEs, collateral requirements for the ECB lending window, Greece, more Greece, relations with the German Bundesbank and of course the euro.
There was even a mild slap on the wrist for the Bundesbank's Jens Weidmann for writing a letter, in which he aired his current concerns about the ECB balance sheet.
Draghi was also dismissive of criticism from German former ECB member Juergen Stark, with the suggestion that he doesn't know what he is talking about.
Oh and the 'real' news beside the tit-for-tat, much less shocking: ECB is keeping rates on hold at 1% with no explicit signs of further measures.
In conversation after the press conference with a fund manager who's gossip is generally insightful from hobnobbing with key players in the euro saga, I discussed the issue of quality and quantity of ECB assets.
'We think the Bundesbank are more concerned with the quality of collateral than anything else,' I was told.
Draghi may boast for the time being of the size of assets held in the ECB's balance sheet compared with the US Fed and Bank of England (see highlight two). But if collateral continues to be loosened (see highlight three) then the Bundesbank is right to fear the quality, rather than quantity of assets.
Perhaps then Superman may instil more confidence in the market, if he sometimes said less.
These are some of the best soundbites from Draghi:
- Dialogue on exchange rates between EM countries and US 'now expanding to Europe' (in answer to question on 'currency war' comments from Brazil's president Dilma Rousseff)
- 'Risk for ECB balance sheet not higher than that of BoE + Fed Reserve' - ECB has higher ratio of assets even after LTROs (in response to question about former ECB member Juergen Stark's remark to a German national newspaper this week that the ECB's balance sheet was 'alarming')
Today's top headlines
More about this:
More from us
Archive