Emerging markets insider: hiccups, warnings and hot tips
A distinctly Latin American flavour this month as our EM debt specialist highlights the damp squibs, missed chances and ones to watch.
by Raphael Kassin on Nov 26, 2012 at 10:36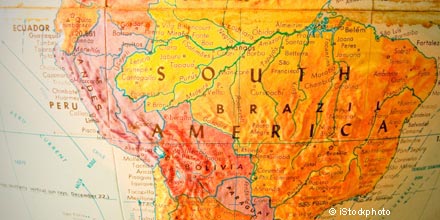 Nothing meaningful happened with the euro situation this month – it is likely to return to volatility before you know it, so don't relax yet. The two important events in emerging markets that were expected to raise the dust also turned out to be short-term non-events. But their outcomes were relevant for the long term and reveal how justice is oh so different in some emerging countries.
Venezuela
The first of these was the presidential election in Venezuela. As expected, Chavez won his bid for re-election and will be in power for another term ending 10 January 2019.
Despite pre-election polls showing a potential win by opposition candidate Capriles, Chavez came home with a comfortable 10% lead. Now, it's business as usual in the country and the opposition is happy to have had a chance to reach such a high count in elections that were deemed honest and fair by most international observers.
Investors are also happy with the peaceful outcome and despite the initial bond sell-off (roughly five points on day one), bonds are back to near all-time highs and will likely build on that. I wish I had bought bonds at the bottom but I thought the naysayers would for once turn out to be right and all would be gloom and doom. But again, those who predicted chaos in Venezuela were proved wrong. But why are bonds up at these levels if Chavez remains in power?
Theory one is that the opposition is now better represented and has a more solid base on which to compete against the establishment. Theory two is the inverse option theory. As time passes, the likelihood of Chavez's health deteriorating increases. Either way, it seems that the only way is up for Venezuelan bonds in the long run. In my view it's oil reserves and political fairness that matters, regardless of the government's religion. That is relevant because it represents stability in bonds from a country that previously brought us lots of volatility.
Brazil
The second 'shake-up' of the month is still going on and shows us how not to behave if we want a fair judicial system. In Brazil, defendants in the 'Mensalão' corruption case are being judged as I watch the proceedings in shock on TV and write this piece. Most of the big ones have been found guilty of a whole host of accusations. They happen to be Lula's inner circle, people who rose to power with the ex-president and were in essence his political elite.
If those people are being found guilty, why am I still suggesting there is something rotten in the Brazilian judicial system? For two simple reasons: Firstly, because the sentences are likely to be short, appealed and eventually served in freedom (yes, that means zero days in jail!). Secondly, because Lula was not once required to explain why he knew nothing of the wrong-doing.
Argentina
Turning to Argentina, October brought another hiccup in relations between the government and foreign investors. All was going well with the debt of the Province of Chaco until the central government decided to refuse the province access to foreign currency, which it needed to service its debt obligations.
Obviously, the reason was politically motivated. It was an attempt to show who was boss. Unfortunately, Argentine provincial and sovereign bonds took a dive in the following days and the damage in credibility is done. Investors will now likely avoid bonds issued under local law and will focus on other legal jurisdictions.
The government missed a chance to show investors it was working towards a more investor-friendly position. It is time President Kirchner took a serious step to bring Argentina back to the forefront of investor interest, which the country deserves and needs. I fear we will need to wait a lot longer for that to happen and suggest investors think twice before investing in Argentina while this attitude prevails.
Turkey
Is anyone worried about what is going on in the Syrian-Turkish border? Maybe the Turks think the world will support a full-blown Turkish retaliation against Syria, backed by NATO. The Russians disagree. Putin clearly does not think much of what the Turkish PM says and, to be frank, neither should you!
Mexico
I saved the following topic for last because of its importance as a trend setter. A financial newspaper has recently published a great piece on Mexico. Apparently, the country's industry is overcoming competition from low-cost Chinese production and taking some business away from its Far Eastern competitors. As I mentioned in a recent column, Mexico is indeed showing the positive effects of being part of Nafta and other reforms. Mexico is the one to watch. Congratulations!
Today's top headlines
More about this:
Archive