Faber: I'm still holding onto European equities
Marc Faber sees the S&P 500 falling 25% and is reducing his EM equity exposure - but he is holding onto Europe.
by Emily Blewett on Jan 18, 2013 at 10:35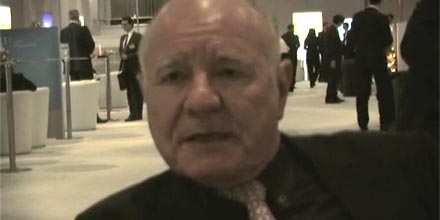 Citywire Global met Marc Faber, publisher of the' Gloom, Boom & Doom Report' at the Skagen conference in London this week to talk about his biggest bets and market outlook.
Here are the highlights from the video interview available in full on Citywire Deutschland.
Citywire Global: Marc Faber, what's your biggest risk in 2013?
MF: We've already had highs in the US market and in some emerging markets in Asia. I don't see the markets as especially attractive. Will they fall strongly? I don't know but I wouldn't disregard the possibility of them falling 20%. It's not a lot 20%. We could also see a deflation in property or in bonds as the yields are so low and the prices therefore so high.
There are pockets were you can still make money like Japan, China, Ukraine and Vietnam that have performed relative badly and are now relatively attractive. But in the past few years I've had yearly returns at around 20%. I don't expect this for 2013 – I'll be pleased this year if I don't earn anything or if I don't lose more than 10%.
CG: So you're expecting to be down this year?
MF: Yes, I've got the feeling that this won't be a good year for assets because the earnings in the US are at a record high and the profit margins are very high. I think there will be some disappointments going forward and that this will have a negative impact on the S&P 500 and that the US equity will fall 20% at some point.
There's a big correlation; when the S&P 500 falls, then so do all the other markets.
CG: When we last spoke last year, you were in the middle of buying up European equities. What does your current allocation look like?
MF: I'm still holding onto the equities that I bought in Portugal, Spain, France and Italy. I didn't buy any equities in Greece at that time, which, with hindsight, was a mistake. I think we've since seen these markets behave strongly and that we can expect a correction soon, or at least a period whereby markets don't rise as strongly.
CG: And would you rather be in bonds or equities now?
MF: The bull phase that we saw in the bond markets in Spain, Italy and Greece, I missed because in the long term I don't think government bonds are a good investment and I would rather have equities. I think this because in the long term we can expect money to be printed and the yields on government bonds will continue to drop.
Today's top headlines
More about this:
More from us
What others are saying
Archive