Fund selection: how to walk the line
Like a tightrope artist, balance and poise is a must for fund selectors. Scott Lothian uncovers how a rapidly changing world is presenting even more pitfalls for the investment elite.
by Scott Lothian on Jan 02, 2013 at 08:01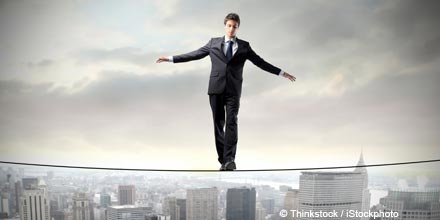 In the world of investment, nothing is black and white. There are very few absolutes left in this game. 'Never' is such a very long time, and 'Always' sounds dangerously like commitment.
Of course we have our processes and philosophies, all investors do, some better expressed or adhered to than others, but most of these involve conditionality and compromise.
I love asking fund managers whether they believe everything has a price at which it becomes attractive – people tie themselves in knots over that one: 'Yeah, but no, but yeah, but no…'
In fund selection, the most common entries in the 'Always' column are probably to meet the manager before investing and to read the small print (but how many of you allow some flexibility on one or both of these?).
The most common 'Nevers' are buying last year's best-performing fund and paying full fees. Once we get beyond these basics, we get into the grey areas.
What's the ideal fund?
Ask five fund selectors to describe their ideal fund and you'll get at least six different answers – we're a fickle bunch. In short, the perfect fund does not exist – we therefore have to make compromises in our processes.
The main trade-offs we make as fund selectors are largely informed by why we are selecting funds in the first place. If we are investors, the compromises will be surrounding the economic exposures achieved – what you want versus what you get.
If we are selecting funds for onward distribution, the compromises are more likely to be those involving perceptions – what will sell rather than what should be bought, and what will add to the shelf rather than confuse the client with subtle distinction.
I sometimes imagine the problem as being like a DJ's control panel, with multiple sliders and faders (classier columnists might use the conductor-orchestra analogy here) used to vary the volume and tempo of the underlying beats and melodies. Striking the right balance is a constantlyevolving challenge.
We suffer from over-complexity driven by widening choices, multi-million dollar marketing and uncertain, or changing, targets.
The paradox of choice
We have more options available today than ever before, so the task of selecting a small number is even more daunting. Unless we accept that knowing every fund in great detail is simply impossible, we can work 24/7 and still never come to a decision.
I've seen the manifestation of analysis paralysis way too often: seeing differences when none exists and wasting time on irrelevant nuances at the expense of comprehending the wider picture.
Today's top headlines
More about this:
Archive