Gold price could rocket to $3,000, says top manager
Citywire AAA-rated  manager John Hathaway believes quantitative easing in US and Europe will lead to record highs for precious metal.
by Chris Sloley on Nov 14, 2011 at 13:44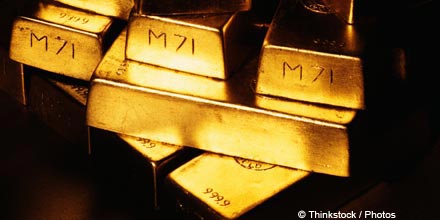 Efforts to stimulate economies on both sides of the Atlantic are set to have major implications for the price of gold, pushing it as high as $3,000 per ounce, according to top-rated manager John Hathaway.
Hathaway, who is a sub-advisor on the Tocqueville Gold fund on behalf of Tocqueville Asset Management, in his most recent investment update, speculated on a massive leap in the price of the precious metal.
The price of gold currently sits at $1,777 per ounce having risen sharply over the summer following a pronounced flight to safety among equity investors.
Commentators had speculated gold would breach the $2,000 per ounce mark off the back of economic concerns, however, Hathaway's prediction goes vastly beyond this point.
He said: 'The market reaction to this financial crisis on both sides of the Atlantic is a necessary, but painful, prologue for gold to reach new highs, which we believe could probably be well above $2000 and maybe even $3000.'
'The reason is that monetary and fiscal authorities will probably react by printing more money, in one way or another.'
However, while good for gold prices, Hathaway said the market action would be 'very bad' for economic recovery with it possibly leading to another worldwide recession.
Outlook
Looking ahead, Hathaway said he anticipates a slight decrease in the gold price towards the end of 2011 but this will only be a short-term correction.
'We expect the long needed decline in the gold price to bottom out in the fourth quarter, setting the stage for a dramatic rise in 2012,' he said.
The Tocqueville Gold fund currently has $2.4 billion assets under management, with its largest holdings being in Physical Gold (6.61%), Goldcorp (5.43%) and Newmont Mining (4.74%).
Over the past 12 months, Hathaway has returned 2.33%, while his benchmark, the MSCI World TR, has risen just 1.94%.
Today's top headlines
More about this:
Look up the funds
Look up the fund managers
More from us
More
Archive