How to beat credit rating agencies on Europe
With an eye on both the past and the future David Leduc has redefined the way he invests in eurozone debt and beaten the credit ratings agencies at their own game in the process.
David Leduc is experiencing a touch of déjà vu.
The manager of BNY Mellon subsidiary Standish Group's €1.4 billion Euroland Bond fund has been investing in the eurozone since the turn of the millennium and his current investment positions reflect those from over a decade ago.
'Investment has in many ways gone full circle since 2001,' says the Boston-based manager. 'We were then, like today, invested more in the US credit market because the European corporate credit market remained underdeveloped. Debt issuance by European companies was then only really starting.'
Sovereign exposure to the eurozone was also more limited when the fund launched – albeit for different reasons than today.
'We didn't need to invest in sovereigns then because there wasn't the same kind of perceived risk that would lead investors into government bonds,' he says. 'We also didn't need to look at country specifics then. We saw no difference between investing in French or German government debt.'
The most attractive period for global fixed income, Leduc says, was in 2008-2009 when investors seeking a safe haven still found refuge and credibility in European sovereign debt.
Since then this market has moved up the risk spectrum and the Euroland Bond fund, which can invest in corporates and sovereigns, has narrowed its focus on European sovereign debt.
However, the current turmoil in the eurozone presents fixed interest investment opportunities through a more active approach, says Leduc.
'At the moment we are at a time of change. There is more you can do now. Today you are investing on country risk which is currently much more uncertain because it is mainly political,' he says.
'If I had a protégé, my advice to this person would be look carefully at the credit dynamics of the investments that are available in the eurozone whether it's in corporate bonds or in France, Spain or asset-backed securities.
'Pick the ones that have strong long-term credit characteristics and avoid the ones where the maths doesn't add up.'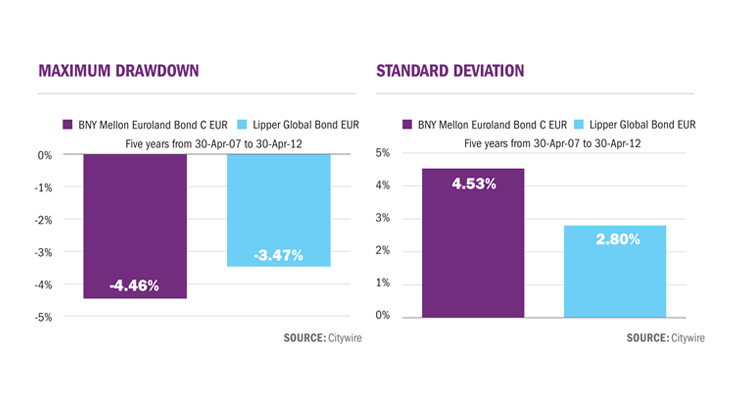 More about this:
Look up the funds
Look up the fund managers
Archive