Is Abe able? Managers and insiders react to Japan election
Citywire Global team canvasses those in-the-know to find out whether Shinzo Abe can deliver on his 'truly wild' pre-election promises.  
by Amy Williams, Matthew Goodburn, Emily Blewett on Dec 17, 2012 at 16:43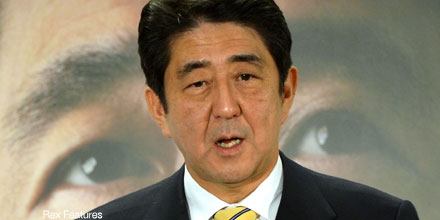 Sam Perry
The Citywire Euro Stars AAA rated manager of Pictet's Japanese Equity Opportunities fund was sceptical of the difference Abe could make to Japan's economy, calling his election 'a bright new dawn, just like the last one'.
'In monetary policy, Abe started the campaign by making some truly wild statements (unlimited monetary easing, direct underwriting of government bonds by the Bank of Japan), most of which would require the rewriting of at least the Bank of Japan Act if not other legislation.'
'Significant change in the Bank of Japan's policy stance is unlikely until April when the term in office ends of the current Governor, Maasaki Shirakawa.'
'On Monday the Yen sold off but then strengthened again and was little changed by noon GMT, the equity market rose less than 1% and JGBs were unchanged. Part of this will be selling the news after buying the rumour and part will be a recognition that many of the things that Abe campaigned on will either take time to implement or were just campaign rhetoric.'
'Fundamentally though, we must recognise that while there are some good proposed policies (corporate taxation, nuclear power), there are also plenty of bad ones (foreign relations, government debt).'
'Lest we get too carried away in hopes of a new dawn led by a re-energised LDP that has united a nation, it is worth noting two points. Firstly, there was a 10% drop in turnout to a post-war low of 59%.'
'Secondly, in this landslide victory the LDP received about 28% of the proportional representation vote. This is a an increase – compared to their landslide loss in 2009 – of just 1%. Given that there was a 10% lower turnout on Sunday, then the LDP received less PR votes in this victory than they did in 2009's defeat. "A plague on both your houses", indeed.'
Karel van Wolferen
Japan insider and Citywire's keynote speaker in Berlin 2012, professor Karel van Wolferen, is concerned that incoming prime minister Shinzo Abe has been saying contradictory things about controversial issues:
1) China
'What Washington did by overthrowing the first cabinet was to create a vacuum where foreign policy existed and that left a lot of room for political mischief.  The islands dispute is very serious. The outgoing prime minsiter really made a mess of it by mis-calculating how far he could go. The Chinese are very upset.'
'This is a tricky thing and Abe will have to play it very carefully, but there is now a lot of pressure on him not to be careful as many right-wing types surround him. We get the feeling that he does not have very wise councillors.'
2) Stimulus
Today's top headlines
More about this:
Look up the funds
Look up the fund managers
More from us
What others are saying
Archive