Italian deadlock: the managers positioned to profit
A Swiss long/short manager got his Italy bets spot on while a French manager remains bullish on the country's undervalued potential.
by Atholl Simpson, Chris Sloley, Emily Blewett on Feb 26, 2013 at 11:25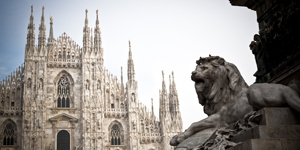 The Italian election stalemate has reignited fears over Europe's ability to overcome its sovereign debt and financial sector crisis.
But the managers that Citywire Global spoke to were rather positive on the whole event, with one long/short manager getting his Italian bets spot on a long-only manager meanwhile does not regret doubling his exposure to the country weeks before the election.
View from France
French boutique manager Marc Favard, who runs the Amilton Convictions Europe fund, remains bullish on the country's prospects despite the election deadlock.
'What the Italian people showed was that they were not happy with those in power and that they did not trust them.
'I believe the parties will have to get on and reach an understanding. The party that got the most votes led by Beppe Grillo is not a nationalist party and they are relatively sensible people.'
The Paris-based manager told Citywire Global he had doubled his exposure to Italy at the end of January to 12% of his fund's assets and has Italian companies like Luxottica among his top holdings.
'The bet was that on looking at Italy's fundamentals the market was undervalued when you compare it to France, and we don't think that will change following this result.'
'Now we are going to be a bit more prudent and let the markets digest the news. Today we are taking a pause and have to analyse it but I believe Italy is likely to form a coalition government. Is this the time to sell out of Italy? I don't think so, we just have to let things settle.'
Favard said he recently sold out of key French stocks in favour of Italy, selling out of French bank Société Générale and increasing his exposure to Italian financials  Intesa and Mediobanca.
'It is not that we have a particular focus on banks but they were undervalued,' he said.
View from Switzerland
Former Alt Ucits A-rated manager Maurizio Novelli, who runs the €595 million Zest Global Strategy fund, was on the right side of the market move but expects a long period of weakness to persist.
'From our portfolio perspective we have a short position in the European equity markets, which we started two months ago. So the last few hours for us have been quite positive in terms of what is going on in the market and in terms of the fact we are also short the Italian and French markets.'
Today's top headlines
More about this:
Look up the funds
Look up the fund managers
More from us
Archive