Raphael Kassin: is Brazil the country of the future?
Many investors are excited about Latin America's biggest economy but Brazilian-born emerging markets expert Raphael Kassin has been spending time there and doesn't like what he sees.
by Raphael Kassin on Dec 14, 2011 at 08:01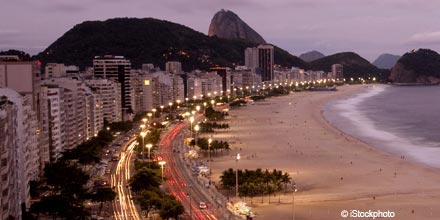 The concept of a country being an emerging market is simple to understand.
There is volatility and uncertainty in its economics and politics. There is also economic potential, which politicians should recognise and nurture by creating the proper environment for its fulfilment.
If all stars align properly, the country's politicians will enact legislation to facilitate/improve trade, improve infrastructure conditions, provide a logical tax framework, provide good levels of education, reduce corruption and maintain a logical/stable currency value. As a result of these types of measures, one would expect the countryto graduate to a developed status.
Since I was a child, I often heard about Brazil being the country of the future. In my mind, that could only mean the country's economy would 'emerge'; shocks would cease to happen and its institutions would appear more similar to those of traditional developed markets.
During that period, many currencies came and went, the real was created, inflation dropped to realistic levels, a union worker with no formal education and a taste for strong liquor became president and was re-elected, a commodity rally helped create massive foreign currency reserves, rating agencies upgraded first and asked questions later and yields on Brazilian bonds in US dollars soon neared the incredible 5% mark.
At this stage, politicians who had promised that Brazil would become a developed economy declared their target reached.
But is Brazil really a developed economy, worthy of its credit rating and of the credibility foreigners now attach to it or is its economy in a bubble ready to burst?
Take a closer look
Financial reports are encouraging. I refer to my previous article in June for economic numbers. The economy continues to grow, despite a forecast 3% for 2011 potentially coming out lower, and foreign currency reserves remain high, providing comfort to bond holders, although yields on those bonds are meagre.
Negatively, the level of government continues to rise and government employee numbers explain why the Workers' Party manages to be re-elected these days. Net-net, financial indicators point to a super tanker managing so far to avoid a global crisis.
Let's now descend from our lofty tower to better observe the country's reality today. Brazilian consumers have gone wild, debt levels continue to rise beyond belief, with those who have a normal job profiting from easy credit to jump up the social ladder via abominable levels of consumption.
To add insult to injury, those consumers are paying top prices for goods without really considering the value of what they buy, to the extent that it is cheaper to fly abroad to make purchases and still spend less when all costs are factored in.
Today's top headlines
More about this:
More from us
Archive