Revealing Singapore's newly-rated elite
A veteran US equity manager and PIMCO bond manager are among the latest managers to receive their first ever Citywire rating in Singapore.
by Chao Sun on Dec 20, 2012 at 14:01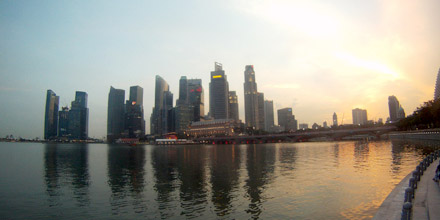 Singapore's GDP growth in 2012 has been lowered 1.5% compared to the 2.4% the Monetary Authority of Singapore had previously forecast.
Despite this growth readjustment, eight managers achieved their first ever Citywire manager ratings in Singapore in December.
Making his debut with a Citywire AA rating is Bruce Olson at Wells Fargo, manager of the Wells Fargo (LUX) WW US All Cap Growth fund.
This fund invests heavily in the tech sector with Apple (7.34%), eBay (3.62%) and Google (3.29%) making up its top three holdings as of the end of November.
Over the past three years it has returned 46.75% in SGD terms compared with its benchmark, the Russell 3000 Growth TR, which is up by 26.03%.
North American equities veteran Gordon Grender at GAM has also entered the Singapore ratings on his debut with a Citywire A rating. Grender has been managing the GAM North American Growth fund since its launch near three decades ago.
The fund invests mainly in companies listed in the US and Canada and over the last three years has posted returns of 36.34% compared to a 21.3% rise of its benchmark, the S&P 500 TR, in SGD terms.
Bond manager Mondher Bettaieb has just become eligible for the ratings and has been awarded his first ever Citywire rating in Singapore.
His strong risk- adjusted performance on the Vontobel Fund - EUR Corporate Bond Mid Yield has seen him gain an A rating. The fund largely invests in mid-yield euro denominated bonds with a three year volatility of 8.84%.
After being rated for the first time by Citywire six months ago, Scott A. Mather from PIMCO has achieved his first AAA rating based on the risk-adjusted returns of his PIMCO GIS Global Bond Inst and PIMCO GIS Global Bond Ex-US Inst funds.
His investment on both funds has delivered a combined total return of 14.73% in the global bonds sector compared to a mere 0.38% average growth gained by managers within this sector.
Hot-on-the-heels of Mather are Legg Mason duo David F. Hoffman and Stephen Smith, co-managers of the Legg Mason Brandywine Global Fixed Income fund, who have received the coveted AAA rating for the first time.
Today's top headlines
More about this:
Look up the funds
Look up the fund managers
More from us
Archive