Selectors split on whether RMB can replace dominant dollar
NEW YORK: Fund selectors polled at Citywire's New York event are divided on whether China can challenge the US for its world reserve currency status.
by Chris Sloley on Jun 15, 2012 at 08:01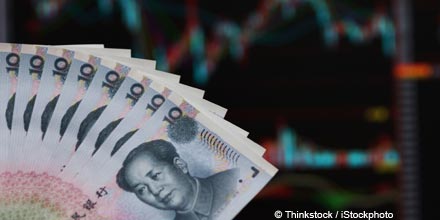 Fund selectors have offered a decidedly torn view on who will hold the long term role as the world's reserve currency – the Chinese renminbi or the US dollar.
At the Citywire New York event, the most popular belief among voters (44%) was that they do not ever envision the RMB replacing the US dollar. However, 33% said they think the Chinese currency will come to the fore in the next 20 years.
These two options proved more popular than the suggestion the RMB would become the world's reserve currency within the next decade, which received just 10% of the vote. This is while 13% of voters said it would replace the US dollar but not anytime soon.
Elsewhere, selectors were also quizzed on the view of the eurozone. They were asked whether the EMU members should take a leaf out of the US' book and undertake a large-scale asset purchasing programme, akin to the TARP measures.
The majority response was that the politics would be too complicated, which received 78% of the votes. In comparison, 16% of voters said TARP had not been a success, while 6% said it would be too late to launch such an initiative.
Discussing a timely event in the US market, fund selectors were asked their opinion on the much-publicised IPO for social network giant Facebook and the knock-on effect for the technology sector.
There was some degree of support for the idea that Facebook's botched IPO marked the top of the market for the tech sector, with 30% of voters agreeing with this.
However, 55% said it was just a hiccup for a vital industry in the US. Meanwhile, 15% said the botched nature of the IPO leaves Apple and Google to rein supreme in the tech sector.
Fund selectors were asked about their current favourite sectors within fixed income and equities. High yield (39%) and investment grade corporates (33%) proved the most popular choices on the bonds side.
In equities the US market (47%) was the favourite among equity investors, with emerging markets garnering 26% of votes followed by Europe (15%) and then Asia (9%).
Today's top headlines
More about this:
More from us
Archive
Read more...
by Nick Tay on May 22, 2013 at 00:01