The rise of 'real assets'
Hamburg based alternative investment firm Aquila Capital is getting 'real', replacing investments in bonds and equities with farms and solar plants.
by Amy Williams on May 09, 2011 at 14:09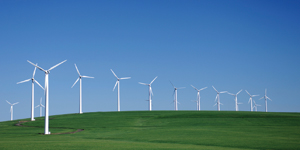 Hedge funds and ethical investing do not usually go hand in hand but for Hamburg based alternatives firm Aquila Capital, a marriage of the two approaches is forming the backbone of its business.
Aquila's CEO Roman Rosslenbroich argues that in a changing world, investors should dispense with conventional strategies that have relied on a '25 year bond and equity boom', and instead look to 'real assets' for future returns.
'The real asset side of the business is driven by a belief that we are experiencing exponential growth with limited resources. People have underestimated what the exponential would look like and it is now getting extreme,' said Rosslenbroich.
Likening the situation to the wheat and chessboard mathematical problem which demonstrates the quick growth of exponential sequences, Rosslenbroich warns that year on year we are consuming more than we have before. He says that since the beginning of the industrial revolution the world's population has grown tenfold, production has grown 15-fold while resource consumption has grown 100-fold. This he says is 'unsustainable'.
His firm launched its first climate change fund in 2006 and now offers a range of funds that invest in timber, agriculture and solar technology as well as distressed shipping opportunities.
'Structurally, this is a huge trend. The current speculation is just coming as an add on,' said Rosslenbroich.
That is why the firm has taken on the dual strategy of playing the long term trend driven by the supply and demand of commodities while working to improve inefficiencies in the sector.
'We are the biggest foreign dairy investor in New Zealand as the country has the most efficiently run farms in the world. We're also in the process of exporting  these intelligent farming systems to operations in Australia and South America.'
To facilitate this expansion Aquila conducts extensive due diligence in order to source a suitable farm manager. The firm then incentivises the manager by lending him or her money to buy the farm and then monitors their progress closely.
'There is a huge difference between good and bad farmers, the right decision makes a lot of difference; that's the alpha component in this kind of investing,' Rosslenbroich revealed.
The firm is also heavily into the renewable energy sector, especially in Germany where the political backlash on nuclear energy has been the most pronounced.
'Merkel's mind has been made up, the nuclear reactors will remain shut down, so there will be a big move into renewable energy. A solar power plant in Bavaria is like a bond, it's protected by a government guarantee and yielding close to 7%, you get 300 basis points above bunds.'
Today's top headlines
More about this:
More from us
Archive