UK downgrade: top European fund managers react
Following Moody's decision to strip the UK of its AAA rating, leading investors and commentators weigh up the impact for Europe.
by Chris Sloley, Matthew Goodburn, Emily Blewett on Feb 25, 2013 at 12:55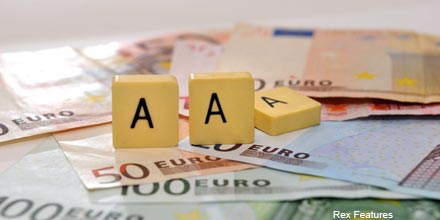 Here Citywire Global rounds-up the views of some leading fund manager and investment professionals to gauge how the UK's downgrade could affect the wider market.
Stewart Cowley, OMAM
Deeming the outcome of the downgrade a 'good old-fashioned sterling crisis', Old Mutual's Stewart Cowley said he now has less than 50% of his Old Mutual Global Strategic Bond fund in sterling.

The markets have gotten the message to a certain degree; since the European Central Bank and the Federal Reserve offered the world unlimited support, long gilts have experienced double-digit annualised losses whilst the pound has fallen more than 10% against the euro.
We shouldn't expect dramatic events to overtake the markets in the near-term but it is difficult to imagine what the government or the Bank of England could do to change perceptions.
They are now boxed into a corner; there is no room for increased spending without a market shaking policy shift, further cuts will be political disaster and enhanced money printing (as endorsed by the out-going Governor of the Bank of England) would add to the hysteria surrounding the pound.
It doesn't look good no matter how you look at it. The UK bond and currency markets have been supported by the kindness of strangers in the past; much of our budget deficit has been financed by foreign owners of UK gilts
Take that support away and we are in trouble. Additionally, as gilt yields rise our interest bill will rise with it. In only the past four years interest being paid by the UK has doubled from £25 billion (€28.5 billion) to nearly £50 billion (€57 billion).
It is not too fanciful to say that this number will rise above £75 billion (€85 billion) in the next few years, propelled by higher gilt yields and persistent budget deficits.
David Robinson, DSP
The former Watch List candidate and lead manager on the Melchior Selected Trust European Opportunities believes the market had suitably prepared itself for the downgrade.
The downgrade was largely expected and priced in. See the limited reaction in the UK gilt market, which suggests that bond markets have not lost confidence in the UK government.
The British pound has already weakened significantly coming into this. The FTSE 100 is made up largely of multi-nationals, whose business activities and funding are geographically diversified.
UK multi-nationals/exporters will benefit from British pound weakness, while those companies in Europe that have a mismatch between costs in euro and revenue in pounds may be negatively impacted.
Today's top headlines
More about this:
Look up the funds
Look up the fund managers
More from us
Archive