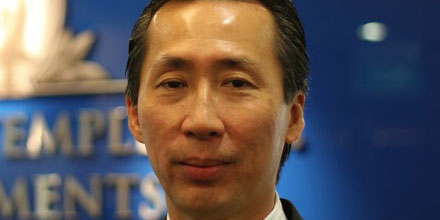 Dennis Lim, senior managing director at Templeton Asset Management, reveals why Chinese banks are one sector he avoids in the BRIC markets.
Leave a comment
Latest news
The Euro Stars A-rated manager is leaving the US giant after 14 years of service, Citywire Global can reveal.
Citywire AA-rated manager takes cyclical stance on Europe as he positions bulk of fund to capitalise on sustained bull rally.
The US giant's London-based fund selection team has seen a host of changes to its lead manager line-up across a number funds.
Asset management giant aims to increase Asian reach and boost size of unit to US$25bn through purchase.
Citywire Global uncovers the fixed income specialists with the strongest outperformance over the past five years.
In the first of a three-part series, we look at how four selectors are approaching the emerging field of multi-asset investing.
And Qatar is launching another multibillion-dollar push into the banking sector, buying fresh stakes in Russia's VTB and Germany's Deutsche Bank.
Independent economist Andy Xie believes that an inflation crisis will create a strong enough incentive for real reform.
Citywire A-rated mixed asset manager Robin Hepworth is recyling out of bonds and into what he views as oversold Chinese equities.
M&G Investments has strengthened the fixed income team of its top manager Stefan Isaacs.
Scant evidence of a 'great rotation' from bonds to equities on the horizon among European pension funds, according to Mercer's latest report.
Citywire Global uncovers the fund manager talent making waves in the Chilean and Peruvian markets.
See the highlights from the recent Citywire forum in Singapore.
EXCLUSIVE: Citywire Global unveils full details of strategies planned for the new unit comprised of former managers from ING IM.
Reader's comment
I believe the current volatility is the volatility before the storm, like "white noise" in physics before a phase transition. Physical gold is not going to be the longer term loser in 2013-23.
Posted on 'BlackRock's Hambro: gold story remains intact despite falls'
Citywire TV
VIDEO: The manager of the outperforming Tideway Global Navigator global Ucits fund expects sterling to weaken further and is continuing to have no exposure to peripheral Europe.
Click video to watch or read the full story
Citywire's international websites
We now have over 30 local websites tailored to YOUR specific market.
Citywire's newly-rated managers
Behind the news
Citywire Global Events: