View the article online at http://citywire.co.uk/money/article/a569345
Are we blaming the wrong bankers?
Take a step back and look at the 'enablers', the men and women making economic policy decisions.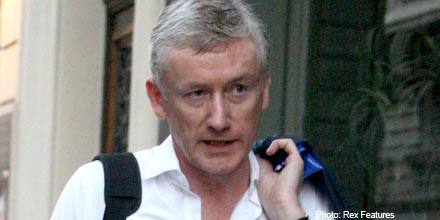 Somehow, in the wake of the credit crunch, a myth has been created and fed to a skint public. We've all been led to believe that it's City bankers, in the mould of Fred 'the Shred' Goodwin, the former RBS leader who was stripped of his knighthood, who are to blame for a financial crisis that was unprecedented in its scale and after-effects.
But no, actually, say a growing number of highly experienced and respected economists and academics, it's the central bankers who are to blame. These people, says Steve Hanke, professor at John Hopkins University and a hedge fund chairman, were the 'enablers'.
Hanke, speaking to a high-level group at the Institute of Economic Affairs in London today, described the crisis not as one of 'market failure', but government failure. The US Federal Reserve, in particular, was the 'big enabler', with its 'go, stop, go stop' monetary policy; whenever there was an economic scare the Fed would 'hit the accelerator', ie, jack the interest rate lever to stimulate the economy. It was such a stance of easy money that created the bubbles that led to the late-2000s blowout.
'Commercial banks have been the fall-guys, the villains – central banks have gotten off scot-free,' he says.
Hanke can count Albert Edwards, a Société Générale economist known for his gloomy predictions, as being on his side. Edwards similarly says central banks – not just the Fed, but the 'copy-cat' Bank of England – have been working hard to 'deflect blame away from themselves'. The uber-bear, as Edwards is usually described, says 'both lenders and borrowers inevitably make ridiculous borrowing and lending decisions they come to regret later' when they are handed 'excessively loose' monetary policies, ie, low interest rates to stimulate the economy.
'The pygmies that populate the political and monetary elites prefer to genuflect to the court of public opinion in a pathetic attempt to deflect blame from their own gross and unforgivable incompetence,' he wrote in a recent research note.
Why does the public insist on blaming the wrong bankers? Hanke says it is ultimately because the Fed has a 'lot of power to sweep things under the rug'.
In the US, he says, the epicentre of the acute credit crunch that has since morphed into a chronic debt crisis, everyone – economists, researchers, journalists – is in the hands of the central bank, the Federal Reserve; that is to say it has a 'monopoly' over the core research about economic policy. That's because the Fed either produces much of the stats circulated itself, or it funds much of the economic research carried out, or its former and would-be members working elsewhere produce the analysis available about the Fed. And it's a similar story in the UK, Hanke insists.
Calls have been made for some kind of conclusive investigation to finger the offenders, be they City bankers and their alchemistic colleagues; politicians, economists, academics and journalists for failing to spot the crisis; poor people who took mortgage loans they couldn't afford; anyone else who gorged in the debt-feast that led to the crisis; ratings agencies; central bankers; and so on….
But that begs the question: who does that leave to cast judgements? It seems many of us are complicit in one way or another. Central bankers certainly should be called to account, but whatever their personal credentials, a hedge fund chairman and bank analyst are in no position to cast out verdicts.
News sponsored by:
Greater Europe and Emerging Europe A comprehensive approach to investing in Europe
Making the most out of Europe's potential means seeing things differently. Learn more about how BlackRock's focused approach to investing in Europe helps investors unlock the continent's vast potential.
The Citywire Guide to Investment Trusts
In this guide to investment trusts, produced in association with Aberdeen Asset Management, we spoke to many of the leading experts in the field to find out more.
More about this:
More from us
Archive
Today's articles
Tools from Citywire Money
Weekly email from The Lolly
Get simple, easy ways to make more from your money. Just enter your email address below
An error occured while subscribing your email. Please try again later.
Thank you for registering for your weekly newsletter from The Lolly.
Keep an eye out for us in your inbox, and please add noreply@emails.citywire.co.uk to your safe senders list so we don't get junked.