View the article online at http://citywire.co.uk/money/article/a617544
BAE Systems shares fly on merger talks with EADS
MARKET BLOG: BAE Systems shares soar 10% on news of a possible merger between the defence group and French rival EADS.
BAE Systems gains over 10% on merger talks
Euro gains on German constitutional court ruling
UK unemployment hits four-year low
European markets, FTSE 100 gain on German court approval for the main European bailout fund 
Software maker Sage leaps on bid rumours
Kingfisher dips as first-half profits decline
18.25: If the deal goes ahead it's a boost for investors in funds run by Neil Woodford (pictured left). Invesco Perpetual owns 13% of BAE and Woodford's Income and High Income funds both have 4% invested in the company. Woodford is A-rated by Citywire for his performance.
16.45: BAE Systems (BAES.L) and EADS of France confirmed after the markets closed that they are in merger talks.
The announcement came after reports of the discussions sent BAE shares soaring over 10% or 35p to 363p.
Although the two are rivals the statement stresses their long history of collaboration on many projects, such as the construction of the Eurofighter (pictured above). Joiining the companies will create a world class international aerospace, defence and security group with operations in France, Germany, Spain, the UK and USA.
The talks envisage the enlarged group having a dual listing in London and Paris but with a unified board and management structure. BAE shareholders would own 40% and EADS investors 60% although the new group would adopt BAE's dividend culture of paying a higher proportion of earnings to investors. 
Will it, won't it? Euro hovers below $1.30
16.00: After advancing to $1.2935 immediately after the German court ruling in favour of the European bailout fund, the euro has subsided, but is still trading up 0.28% on the day at $1.2890 (see chart). The pound tracked the euro and trades at $1.61.
The earlier surge, which follows a 7% rally in the past month, raised the prospect of the single currency breaking $1.30 against the dollar, which Kathleen Brooks of Forex.com says is a key psychological level. She says the partial retreat was probably triggered by nervousness ahead of tomorrow's statement from the US Federal Open Market Committee, which could surprise the market into an extended rally or could equally cause a sell-off if investors decide whatever is announced is already in the price.
Another factor influencing which way the euro goes is whether and when Spain asks for assistance and triggers the European Central Bank's OMT bond buying programme. After the ruling Spanish bond yields dropped to 5.6% well below their crisis level of 7%.
Euro/dollar rate: Click to enlarge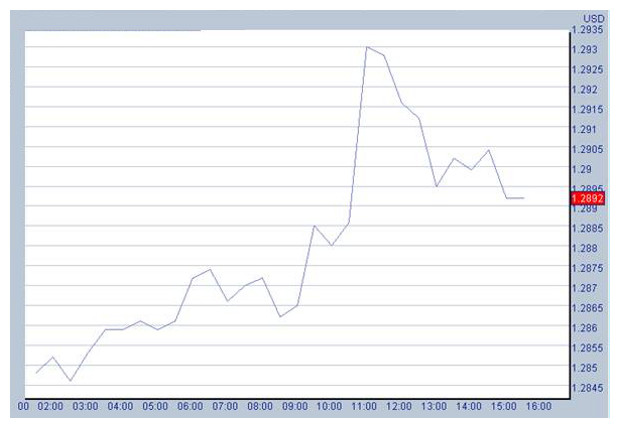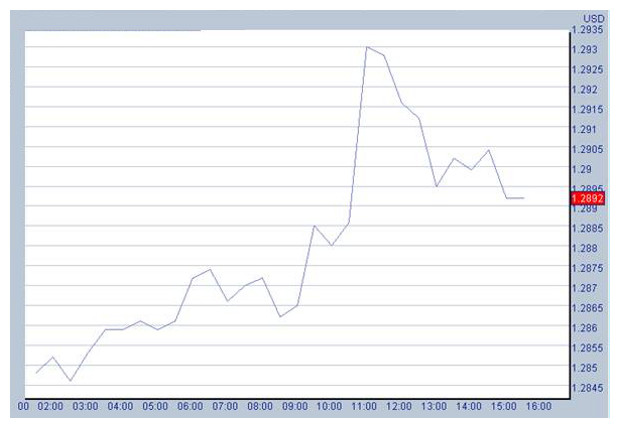 The Karlsruhe ruling was the decisive factor of the day. Optimism that the eurozone debt crisis may ultimately be resolved helped push Brent crude oil prices 60 cents higher to $116 a barrel. However, the killings of the US ambassador and three of his staff by militants in Libya also stoked geopolitical fears.
Wall Street opened to make modest gains as US import prices rose 0.7% in August for the first time in five months as a result of higher oil prices. This could push up inflation but is unlikely to deter the Federal Reserve unleashing another round of quantitative easing or money creation if it wants to tomorrow.
The S&P 500 firmed 2.8 points or 0.2% to 1,436 with the Dow Jones industrial average gaining 54 points or 0.4% to 13,347.
European stock markets were quiet again with the FTSE 100 and the Euronext 100 closing unchanged at 669. The FTSE 100 closed 10 points down at 5,782.
Hargreaves Lansdown was the top faller on the FTSE 100 falling 3.7% to 630p after going ex dividend.
Meanwhile 10-year gilt yields - which indicate the direction of long-term interest rates - dipped 9 basis points to 1.833%, partly in response to the euro cheer but also to the encouraging employment figures (see below). With prices so high and yields so low there was plenty of interest from investors in the Bank of England's latest reverse auction in which it bought back another £1 billion of gilts in its controversial quantitative easing (QE) programme.
Unemployment dips, spurring economic revival hopes
11.40: Jobless claims unexpectedly fell by 15,000 in August, with new figures showing an impressive level of new jobs created in the second quarter. This raises hopes the UK economy may be shifting out of recession and probably delays a further round of quantiative easing (QE) by the Bank of England. 
Employment rose to 29.56 million, its highest level in four years, after the private sector added a record 471,000 jobs in the three months to the end of July. This offset the loss of 271,000 jobs in the public sector and beat the most optimistic forecasts. The Office for National Statistics (ONS) said the Olympics may have helped.
However, a closer look at the statistics reveals that the biggest rise in job creation came from an increase in self- and part-time employment. Youth unemployment also rose by 7,000 to 1.02 million in the three months to the end of July, and the North East has the highest unemployment rate, with 10.4% of the workforce out of work. 
Nonetheless, the figures are positive overall.
Chief economist at Markit, Chris Williamson, said: 'The strong rate of job creation will no doubt deter the Bank of England from adding more stimulus to the economy in the next month or so, and perhaps even for the rest of the year, as the economy is clearly faring far better than the gross domestic product (GDP) has indicated.
'An anticipated rebound in the GDP numbers in the third quarter will also add to the case for policy to be kept on hold.' 
FTSE advances as ESM ruling removes a 'roadblock'
10.30: Colin McLean of Scottish Value Management in Edinburgh tells Reuters markets will next want the European Court to relax its insistence on 'sterilising' its purchases of government bonds (ie, removing a similar amount of money from the system as it creates to buy the bonds).
'Markets are looking for more unsterilised QE in Europe and more money printing following this decision, and people will be focusing on prime assets like property and equities. We've gently closed down short positions and increased exposure to banks and commodities.
'It has removed what some people had feared would be a roadblock... and it keeps the eurozone together for some time.'
For more reaction to what this means for the eurozone debt crisis read our separate story on today's ruling, 'Don't sound the all-clear'.
09.40: European markets stepped up their gains as the German constitutional court ruled the eurozone bailout fund is constitutional.
However, conditions have been set on the European Stability Mechanism (ESM), including a €190 billion cap on the amount Germany will contribute to the fund.
The FTSE 100 added 0.19% to 5,803 and the Mid-250 index took on 0.18%, or points, to 11,802.
Other stock markets in Europe also extended their gains: Germany's DAX index increased 0.67% to 7,358, France's CAC 40 index rose 0.48% to 3,554, and the FTSEurofirst 300 index of top European shares gained 0.45% to 1,112.
FTSE dips as markets await German euro ruling
08.50: The FTSE 100 opens 12 points or 0.2% lower at 5,779 as investors wait for the German court ruling on the legality of the European  Stability Mechanism at 9am. Fingers are crossed the verdict does not throw a spanner in the works of attempts to resolve the Eurozone debt crisis.
European markets were nervous with the Euronext 100 softening 1.4 points to 667 after Spain's prime minister Mariano Rajoy was reported to have said he would not seek a full sovereign bailout. However, in comments on a trip to Finland he indicated Spain could apply for 'precautionary assistance' from Europe's bailout funds. This could enable the European Central Bank to buy Spanish bonds under the OMT programme announced by ECB president Mario Draghi last week. 
If you're still unsure what the OMT does here is my video explainer: 
Overnight US and Asian markets rose to three-week highs on optimism the court ruling will be positive and that the US Federal Reserve will sanction further quantitative easing or money creation tomorrow to boost the US economy.
Sage (SGE.L) led the index with a 1.9% gain to 311.7p as bid rumours for the accountancy software group revived, with the Daily Mail reporting a £5.6 billion or 450p per share bid was being lined by by private equity groups KKR and Blackstone.
Reports of growing tensions between London and Brussels over the direction of banking regulation failed to dent banking stocks with Lloyds (LLOY.L), RBS (RBS.L) and Barclays (BARC.L) rising between 0.8% and 1.2%.
Kingfisher (KGF.L) dipped 0.5% to 270.8p after the DIY-group reported a 15.5% fall in half-year pre-tax profits and said the uncertain economic environment did not look to improve.
Sheridan Admans, investment research manager at the Share Centre, said: 'Kingfisher reported disappointing half year results this morning which came in at the bottom end of analyst expectations. Poor weather, exchange rate movements and sporting events are to blame for the slip in adjusted pre-tax profits, down 15.5% to £371 million.'
Housebuilder Barratt Developments (BDEV.L) shed 7p or 4% to 162.8p after unveiling a leap in full-year profit before tax and exceptional items to £110.7 million. 
News sponsored by:
The Citywire Guide to Investment Trusts
In this guide to investment trusts, produced in association with Aberdeen Asset Management, we spoke to many of the leading experts in the field to find out more.
More about this:
Look up the funds
Look up the shares
More from us
Archive
Today's articles
Tools from Citywire Money
Weekly email from The Lolly
Get simple, easy ways to make more from your money. Just enter your email address below
An error occured while subscribing your email. Please try again later.
Thank you for registering for your weekly newsletter from The Lolly.
Keep an eye out for us in your inbox, and please add noreply@emails.citywire.co.uk to your safe senders list so we don't get junked.