View the article online at http://citywire.co.uk/money/article/a868991
Bank savings protection limit cut to £75,000
The amount offered by the Financial Services Compensation Scheme in the event of a bank collapse is about to fall by £10,000.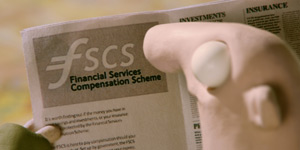 The protection savers receive from the Financial Compensation Scheme (FSCS) will be cut tomorrow to £75,000.
The FSCS pays compensation to savers in the event of a bank or building society failure in order to ensure they do not lose their entire savings. However, the amount of compensation covered will be reduced from £85,000 to £75,000 on 1 January – or £150,000 for joint accounts.
Those who find themselves with an inflated bank balance due to a house sale or inheritance are given six months grace on savings up to £1 million.
The banking regulator, the Prudential Regulation Authority (PRA), has blamed the fall in compensation on the weak euro.
When it announced the cut in July it blamed the European Deposit Guarantee Schemes Directive, which protects European savers to the tune of €100,000. The UK's compensation scheme has to offer a sterling equivalent, with the exchange rate recalculated every five years. As the euro has weakened and the UK economy has recovered, the result has been a decline in the amount of protection.
The FSCS has said that 95% of deposits will still be covered but the 5% of customers affected may need to split their savings across banks and building societies to retain full compensation.
One issue that savers need to be aware of is that multiple banks can operate under one Financial Conduct Authority (FCA) licence and the £75,000 compensation limit is applied to the licence, not the individual bank or building society.
For example, if a saver had £75,000 in Halifax and another £75,000 in Barclays, and both companies went bust, the saver would receive their entire £150,000 savings back from the FSCS because Halifax and Barclays operate on two separate licences.
But, if the saver had £75,000 saved with HSBC and another £75,000 saved with First Direct and both institutions failed, the saver would only receive £75,000 back because the two banks operate on the same licence.
Hannah Maundrell of comparison site Money.co.uk said: 'While this should be quite simple to navigate, it's made complicated by the fact the FSCS cover is shared between banks that operate under the same FCA licence.'
She added that in the event of another financial crisis, the government was unlikely to bail out the banks this time.
'The government seems to be focusing on privatising its assets; they were left shouldering a heavy load after the last financial crisis so we can't rely on them to bail out any bank, building society or credit union that fails again so you need to make sure your money is fully covered by the FSCS,' said Maundrell.
News sponsored by:
Greater Europe and Emerging Europe A comprehensive approach to investing in Europe
Making the most out of Europe's potential means seeing things differently. Learn more about how BlackRock's focused approach to investing in Europe helps investors unlock the continent's vast potential.
The Citywire Guide to Investment Trusts
In this guide to investment trusts, produced in association with Aberdeen Asset Management, we spoke to many of the leading experts in the field to find out more.
More about this:
More from us
Archive
Today's articles
Tools from Citywire Money
Weekly email from The Lolly
Get simple, easy ways to make more from your money. Just enter your email address below
An error occured while subscribing your email. Please try again later.
Thank you for registering for your weekly newsletter from The Lolly.
Keep an eye out for us in your inbox, and please add noreply@emails.citywire.co.uk to your safe senders list so we don't get junked.