View the article online at http://citywire.co.uk/money/article/a600134
Barclays & RBS shares sink as Osborne weighs in
MARKET BLOG: Bank shares sink as pressure grows over Libor probe. Global markets down amid low expectations over EU summit.
Barclays shares sink as much as 17% as part of a wider bank sell-off amid growing political pressure over Libor probe
German jobless toll and eurozone confidence data knock FTSE as investors await EU summit news
US markets open lower
Profits jump at DS Smith
UK double-dip recession confirmed
Ladbrokes shares tumble as online gambling stalls
16.23: A colleague strolls over to say he's just bought into Barclays. The shares are down 17% now, so brave bargain-hunters will be nibbling. RBS shares aren't far behind, 12% lower.
If Barclays chief executive Bob Diamond were to lose his job though, shares could be hit harder, fund manager Stephen Bailey has told Citywire:
'If he was removed it would be damaging for the company. He has built up a good reputation, which may have been tarnished with corporate excesses, but he has done a good job.'

'You've seen Stephen Hester mentioned with excessive pay packages, and Bob Diamond is a popular target given his big bonuses. Now there's a popular cry to make someone accountable for what's happened.'
Bailey, manager of the Liontrust Macro UK Growth fund and the Citywire Selection Liontrust Equity Income fund, sold out of banks in 2007. He is worried they are too politicised. 'It's not up to politicians to remove Diamond; it's up to the shareholders,' he said in an interview with Citywire's Emma Dunkley this afternoon.
'One of the reasons not to own banks is the highly politicised nature of the banking industry. There is also the lack of clarity over loan books. And we don't see the economy ultimately improving in the short-term. So banks represent a poor investment case.'
US stocks follow European markets down
14.46:
US markets have opened lower, following European stocks down amid trepidation over the results of a EU summit.
The Dow is off 0.8% as investors' hopes of action from the summit of EU leaders today and tomorrow fade. A string of US economic data has done nothing to lift spirits:
The number of Americans filing first-time jobless claims edged down 6,000 in the week ending 23 June to 386,000 from an upwardly revised 392,000.
The US government published a final reading of GDP for the first quarter of the year, confirming growth of 1.9%.
Britain's FTSE 100 is 1.2% lower to 5,456. Banks remain under pressure, with RBS (down 10.9% to 207p) joining Barclays (down 12.2% to 172p) at the bottom of the FTSE 100.
Investors delayed reaction to Barclays' woes
14.09: Why did investors take so long to respond to the news about Barclays' Libor manipulation?
Yesterday the shares made no significant move after the FSA announcement, as shown in the chart below. Today though, the political pressure on Barclays has got to investors - you can see a big dip in the share price when George Osborne was talking to parliament earlier.
Image description: Click to enlarge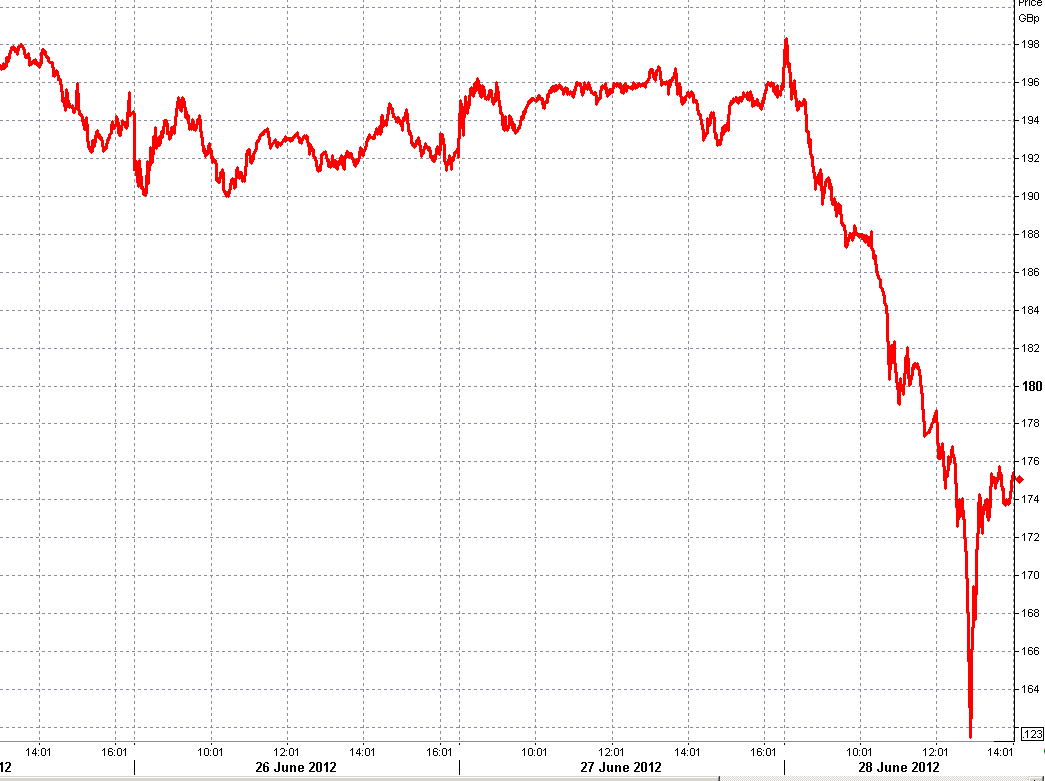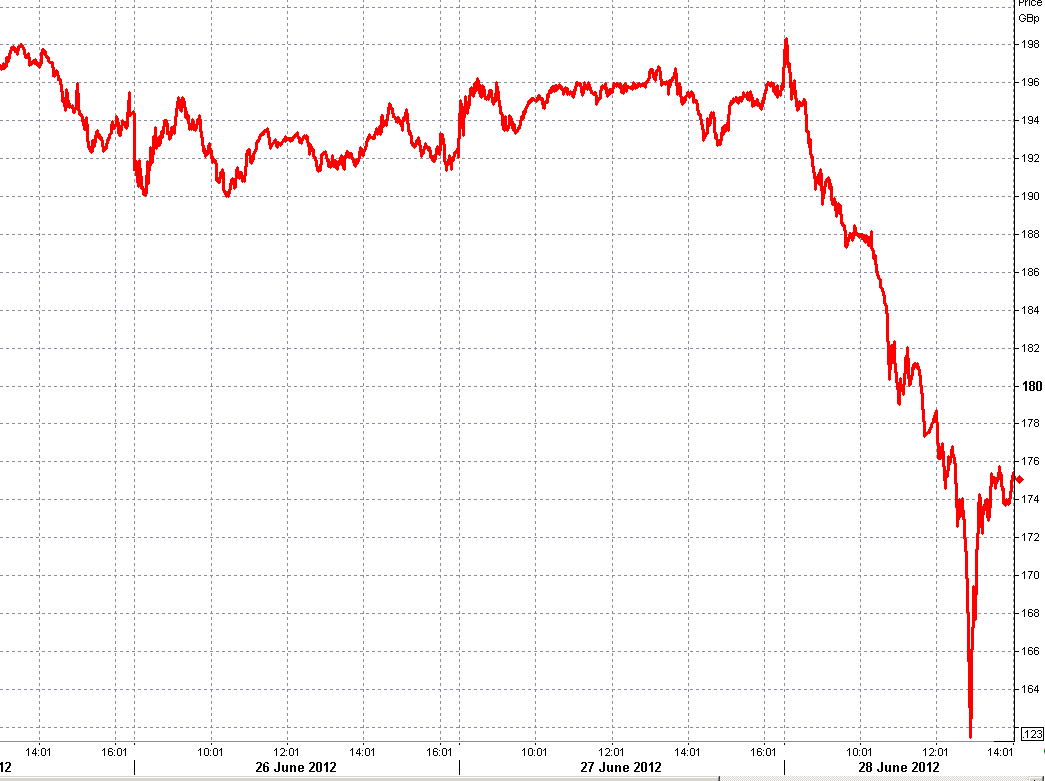 Osborne piles the pressure on Barclays
12.39: Bob Diamond, the CEO of Barclays, has some serious questions to answer today, chancellor George Osborne just said: 'what did he know and when did he know it?'
Speaking to parliament as Barclays shares dropped over 11%, Osborne said that he expects the number of individuals under formal investigation in the Libor probe to increase and that he needs to find out who in Barclays management was involved in the probe.
He bemoaned the FSA's inability to take criminal action but said he would examine any gaps in criminal laws.
Osborne described the email exchanges between Barclays traders outlined in yesterday's FSA notice as reading like 'an epitaph from an age of irresponsibility'.
Analysts warn of Libor litigation costs
12.08:
A quick look at the parlous state of banking shares today as
political pressure
over Libor manipulation grows:
Barclays now off 10.3% to 175p
RBS (RBS.L) down 7% to 216p
Lloyds (LLOY.L) 6.5% lower to 29p
HSBC (HSBA.L) down 2.6% to 557p
Analysts warn of the cost of litigation Barclays might face. Cenkos Securities reckons this will 'dwarf' the £290 million fine. They also say HSBC, Lloyds and RBS face fines.
Bank shares are suffering across Europe, with Commerzbank and Deutsche Bank both dropping sharply too.
Miliband wants Libor criminal probe
11.09: Prime minister David Cameron has said Barclays management have got 'serious questions' to answer after the Libor probe that led to yesterday's combined £290 million fine, according to BBC News.
The final FSA report on Barclays was vague about how high up the misconduct went in the bank, but clearly implied the role of high levels of management.
Chancellor George Osborne is due to make a statement on the probe this afternoon.
Labour leader Ed Miliband, speaking at a conference in Brighton today, called for the 'full force of the law' to be brought down on banks, including criminal prosecution. He described a 'swaggering culture which is about serving itself, not serving the public', adding that banks are 'rigging the system to the cost of ordinary borrowers and savers'.
Meanwhile, bank shares across Europe are taking a bashing. The Stoxx 600 Banks index is down 1.95%, with Barclays the hardest hit, down 8.2% at 179p
Eurozone economic morale sinks
10.43: Let's hope that European leaders meeting today to fix the euro crisis take heed: economic confidence declined in the eurozone in June to its lowest level since October 2009.
The figures from the European Commission show economic sentiment was stable in the broader EU, but in the eurozone decreased by 0.6 points to 89.9.
In the UK, Spain and Italy sentiment improved.
Sentiment worsened in Germany and France though.
Meanwhile Italy was made to pay the highest yield at auction since December for five year bonds, but managed to shift €5.42 billion worth of 5 and 10 year debt, near the top of its planned range.
European stock markets continue to edge lower, with the FTSE down 0.8% at 5475, German Dax 1.35% lower and French Cac down 1%
The euro is lower against the dollar at $1.243
UK double dip recession confirmed
09. 40: The extent of the UK's double dip recession has been confirmed, with the third and final revision of GDP for the first quarter of the year showing that the economy contracted by 0.3%. This follows the same contraction in the previous quarter.
Output of the dominant service sector rose by 0.%, while manufacturing output fell by 0.3% in its third quarterly contraction, according to the figures from the Office for National Statistics.
German jobless toll knocks FTSE
09.20: The FTSE 100 has stopped dithering and decided to fall 30 points, or 0.6%, to 5,492.
German unemployment figures have prompted the move. Although the number of jobless in Europe's economic engine has fallen to a new record low of 2.8 million, the non-seasonally adjusted drop of 46,200 in June is the weakest increase in the month for 10 years.
Seasonally adjusted the jobless figure rose slightly, although the rate of unemployment was unchanged at 6.8%.
Carsten Brzeski, economist at ING Bank, said:
'At first glance, today's numbers illustrate the strength of domestic demand, at least partly cushioning the German economy against the negative impact from the debt crisis. At second glance, however, signs are increasing that the resilience of the German labour market is slowly cracking up. The German labour market is losing momentum. This might not be a cause for concern for the German economy, yet, but definitely for the rest of the eurozone.'
The revival of eurozone fears hit financials and mining companies. Barclays fell 3.5%, or 7p, to 189p, the top faller on the FTSE 100.
For details of today's risers and fallers see our FTSE 100 home page.
Buy beleaguered Barclays says Oriel
08:55 Barclays holds up fairly well given the thoroughly deserved pasting it's got in the press over yesterday's £290 million fines for fixing the Libor inter-bank lending rate during the financial crisis.
Barclays (BARC.L) shares dip 5p, or 2.6%, to 191p, which tempts Mike Trippitt and Vivek Raja at Oriel Securites to repeat their 'buy' recommendation.
'Clearly the settlement and subsequent media coverage hardly helps the investment case, however the shares are trading around 100p below our fair value which assumes a sub10% ROE [return on equity] in 2013.'
Barclays shares have risen 8% this year despite the financial crisis in Spain, which hurts its business there. Over five years the shares have lost nearly three quarters of their value.
Ladbrokes falls as online gambling stalls
08.35: Bad news from Ladbrokes about its digital division sees shares in the UK's second-biggest bookmaker tumble 7%.
Ladbrokes (LAD.L) has warned that first half profits from its internet business will fall to around half the level of a year ago because of delays in upgrading its technology and a poor margin on bets.
This is a setback as Ladbrokes has been trying to catch up with online gambling rivals.
However, it still expects to meet overall market expectations as the retail business has done well. The shares are 13.7p down at 160p. However, they have risen 24% year to date.
Profits jump at DS Smith brightens cautious FTSE
08.20: There is company news to cheer us up though. If only there weren't a financial crisis things would look ok!
A third-quarter trading update from Debenhams (DEB.L) shows the country's second largest department store doing quite well. Sales, excluding VAT, at stores open a year in the 16 weeks to 23 June rose 3.1%, compared with a 0.3% rise in its first half. This is just ahead of analysts' best forecasts and comes despite the bad weather in April, which other retailers have blamed for poor sales. However, the shares slipped 2.3p or 2.8% to 81p in early trading.
Meanwhile, DS Smith (SMDS.L), the maker of recycled packaging, has said full-year profits have jumped 44% on the back of strong sales in Europe. Pre-tax profits rose to £110.2 million from £76.7 millon in the year to 30 April.
The Maidenhead-based company is a member of Citywire Top Stocks based on its top 10 position in the Standard Life Investments UK Unconstrained Equity fund managed by Edward Legget. Shares in the company have fallen 18% this year, mainly because of the eurozone woes but also because of concerns over the timing of its big acquisition of SCA Packaging earlier this year.
The shares are rallying, 6.5p, or 4.7%, higher at 143.5p.
That's more than can be said for the FTSE 100, which is down four points at up 5,520.
7.55: The FTSE 100 looks set to make a positive start after overnight gains in the US and Asia.
However, trading could again be thin while investors sit on the sidelines as a two-day EU summit begins today. With Germany continuing to be at loggerheads with France and Italy over how to solve the eurozone crisis there is little sign that the meeting will produce the action required.
News sponsored by:
The Citywire Guide to Investment Trusts
In this guide to investment trusts, produced in association with Aberdeen Asset Management, we spoke to many of the leading experts in the field to find out more.
More about this:
Look up the funds
Look up the shares
Look up the fund managers
More from us
Archive
Today's articles
Tools from Citywire Money
Weekly email from The Lolly
Get simple, easy ways to make more from your money. Just enter your email address below
An error occured while subscribing your email. Please try again later.
Thank you for registering for your weekly newsletter from The Lolly.
Keep an eye out for us in your inbox, and please add noreply@emails.citywire.co.uk to your safe senders list so we don't get junked.