View the article online at http://citywire.co.uk/money/article/a565461
Barclays: the figures to make you – but not Bob – weep
The annual results from Barclays (BARC.L) show banking is changing – but is its boss Bob Diamond doing enough to quell public anger on bonuses?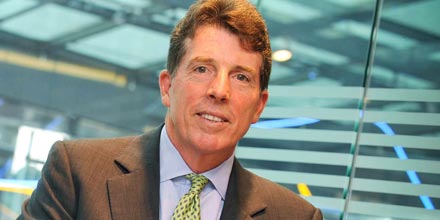 Bob Diamond, Barclays' chief executive, has refused to comment on whether he is in line for a bonus and whether he will take it or, like RBS boss Stephen Hester, waive it in response to intense public pressure.
Unlike RBS, Barclays was not directly bailed out by the government and tax payer, so Diamond could tell us all to go to hell.
He's unlikely to do that but his actions could nonetheless be provocative. According to one report Diamond could receive total share and cash bonuses of between £2.5 million and £3 million this year.
Although this would be a lot less than the £6.5 million he took in 2010 as boss of Barclays' investment bank, it would reignite the controversy after Hester's humiliating climbdown.
Barclays is refusing to say what Diamond will get, but it is bowing to popular opinion by slashing executive bonuses by 48% and overall bonus payments to bank staff by 25% this year (see table).
The question remains though, is it enough? The average bonus paid to all Barclays employees is an impressive £15,237. Within Barclays Capital, the business that Diamond used to run, the average bonus will be a staggering £64,000, down 30% from last year.
Barclays: the figures behind the bonuses 
| | 2011 | 2010 | Percentage change |
| --- | --- | --- | --- |
| Total staff costs | £11.4bn | £11.9bn | -4 |
| Salaries | £6.3bn | £6.1bn | 2 |
| Bonuses | | | |
| Bonus pool | £2.5bn | £3.3bn | -25 |
| % of group pre-tax profit | 28% | 33% | -10.6 |
| Executive bonuses | n/a | n/a | -48 |
| Bob Diamond | £2.5-£3m (unconfirmed) | £6.5m | -61 |
| Average bonus (group) | £15,237 | £19,329 | -21 |
| Average bonus (Barclays Capital) | £64,000 | £91,169 | -30 |
| Bonuses paid this year | £898m | £1.7bn | -46 |
| Deferred bonuses (cash + share) | £1.3bn | £1.2bn | 6 |
| Results | | | |
| Total income | £28.5bn | £31bn | -8 |
| Profit before tax | £5.9bn | £6bn | -3 |
| Cost: income ratio | 64% | 64% | 0 |
| Return on equity | 6.6% | 6.8% | 2013 target: 13% |
| Dividends | 6p per share | 5.5p per share | 9 |
| Loans to customers | £121.2bn | 115.1bn | 5 |
| Loan: deposit ratio | 118% | 124% | -4.8 |
| Financial strength (core tier 1 ratio) | 11% | 10.80% | 1.8 |
| Bad stuff | | | |
| PPI compensation | £1bn | | |
| Impairment of stake in fund manager BlackRock | £1.8bn | | |
| North American litigation | £1bn | | |
Source: Barclays 2011 results
It is true that a greater proportion of these bonuses are being deferred and paid in shares, rather than all in cash upfront as they used to be. A £2.5 billion bonus pool is big but the lion's share of the bank's staff bill of £11.4 billion is in normal salaries.
Nevertheless, these are huge sums compared with what most people can expect. Moreover, many people will be amazed that a business like Barclays can hand out 28% of its profits in bonuses. Just think how much more it could pay in taxes or in dividends to our pension funds if it paid less in bonuses?
This all comes at a time when the bank's pre-tax profits have fallen 3% with profits at bonus hungry Barclays Capital plunging 32%. The bank's overall performance – while good in some places – is mixed. For example, it is nowhere near meeting a 13% target for return on equity which Diamond set for next year and costs remain high. The high street branches are doing well and corporate banking has returned to profit but remember 2011 was a year Barclays set aside £1 billion in compensating people to whom it had mis-sold unecessary and useless payment protection insurance. It also faces the risk of nasty bills from litigation arising from the credit crunch in the US and Canada.
The fact is, banks are rightly coming under increasing control. As banking becomes a safer, more regulated business, the financial returns that banks make will diminish. That will ultimately have an impact on us all as shareholders or pension savers. However, even after today's cuts the bank's bonuses look out of step with the new reality. This year's cut from Barclays should be the first in a series.
News sponsored by:
Greater Europe and Emerging Europe A comprehensive approach to investing in Europe
Making the most out of Europe's potential means seeing things differently. Learn more about how BlackRock's focused approach to investing in Europe helps investors unlock the continent's vast potential.
The Citywire Guide to Investment Trusts
In this guide to investment trusts, produced in association with Aberdeen Asset Management, we spoke to many of the leading experts in the field to find out more.
More about this:
Look up the shares
More from us
What others are saying
Archive
Today's articles
Tools from Citywire Money
Weekly email from The Lolly
Get simple, easy ways to make more from your money. Just enter your email address below
An error occured while subscribing your email. Please try again later.
Thank you for registering for your weekly newsletter from The Lolly.
Keep an eye out for us in your inbox, and please add noreply@emails.citywire.co.uk to your safe senders list so we don't get junked.