Citywire printed articles sponsored by:


View the article online at http://citywire.co.uk/money/article/a685847
Bond investors hit as Co-op agrees £1.5bn rescue plan
(Update) Holders of the Co-operative's permanent interest-bearing shares (Pibs) lose out as the mutual agrees a a £1.5 billion rescue of its bank.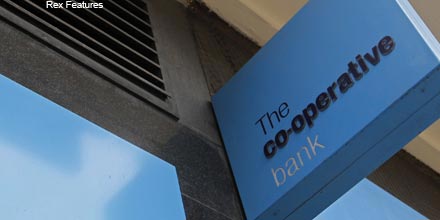 Investors in Co-operative Bank's permanent interest-bearing shares (Pibs) have seen the value of their investment plunge up to 20% on news that no further interest payments will be paid to them under the bank's £1.5 billion capital raising plan.
Around £310 million is held in two Co-operative Pibs, with retail investors making up 5% – or 5,000 – of the total investors. Another £60 million is held in Co-op's preference shares.
The 5.5555% Pibs, which traded at 75p in the £1 before the bank was downgraded to 'junk' status last month, has dropped again from 50p to 43p. The 13% Pibs has been hit even harder. It tumbled from 150p to 90p on news of the ratings downgrade by Moody's and has now hit 64p.
The falls came in response to the Co-op's plans to generate £1 billion of capital by swapping the bank's junior debt into new financial instruments.
Euan Sutherland, who took over as chief executive of the bank when Barry Tootell left in the wake of the downgrade, said: 'The solution, under which [bondholders] will own a significant minority stake in the bank, will then allow them to share in the upside of the transformation of the bank.'
Although no specifics of what bondholders will be given have been announced the new instruments could include a combination of an unsecured fixed income holding, a fixed income instrument issued by the Co-operative Group, or ordinary shares in the Co-operative Bank.
Pibs expert Rik Edwards at stockbroker Canaccord Genuity said investors could be given cash for their bonds. 'The bank is considering a number of alternative options for small retail investors. We believe these may include cash offers for some holders of securities most commonly held by private investors, such as preference shares and the 13% and 5.5555% bonds.'
There are reports that any swap would lead to 30% losses for investors holding Co-op bonds. However, Edwards said it was unlikely to be as bad for investors as the £182.5 million debt for equity swap undertaken by West Bromwich building society in 2009. 'We won't know how good a deal this is for investors until the detail is announced in October, but it looks nothing like West Bromwich as we anticipate that there should be more prospect of income and capital from this deal,' Edwards said. 
Until details of the swap are finalised Pibs investors are unlikely to be paid anymore interest payments (coupons), including the one that was due on the 13% bond on 31 July.
'Until further notice the bank will only pay discretionary coupons if permitted to do so by the Prudential Regulation Authority (PRA),' said Edwards.
'We do not expect this permission to be forthcoming, so we think it unlikely that any further dividend of interest payments will be made in the foreseeable future in the Co-op Bank preference shares or subordinated bonds [Pibs]…The bank said that 'in particular (it) will not pay the coupon on the 13% bond that would have been due on 31 July 2013 without such permission'.'
Co-op has to raise £1.5 billion in order to satisfy the regulator's capital adequacy demands. It plans to raise £1 billion this year and the rest in 2014.
The rescue plan, which has been agreed with the PRA, also relies on a streamlining of the bank's strategy, focusing on retail and small and medium enterprise business customers, and the £219 million sale of its life and asset management business to Royal London. The Co-op said it would also be selling its general insurance business, which could fetch around £240 million.
Sutherland said: 'We have put in place a detailed and comprehensive solution to meet the current and longer-term capital requirements of the bank. In doing so we have agreed a plan to ensure its future. We have discussed this plan in full with the regulator.
'The Co-operative Group, which clearly regards the bank as a core part of the group, is providing extra capital. Investors in the bank's subordinated capital securities are also being asked to support the bank at this crucial time by participating in a wider exchange offer.'
A spokesman for the Bank of England said the Prudential Regulation Authority would 'hold the Co-operative to the delivery of its plans'.
Today's articles
Tools from Citywire Money
Weekly email from The Lolly
Get simple, easy ways to make more from your money. Just enter your email address below
An error occured while subscribing your email. Please try again later.
Thank you for registering for your weekly newsletter from The Lolly.
Keep an eye out for us in your inbox, and please add noreply@emails.citywire.co.uk to your safe senders list so we don't get junked.