View the article online at http://citywire.co.uk/money/article/a617191
Moody's threatens to remove US AAA rating
MARKET BLOG: The dollar fell as Moody's said it would follow rival S&P and downgrade the US' credit rating if budget talks failed.
Dollar falls on Moody's downgrade threat
Funds hit as Burberry shares lose 22% on profit warning
Euro gains ahead of German court ruling on ESM bailout
Xstrata slides as Qatari Holding mulls Glencore offer
Fund manager Ashmore and retailer SuperGroup among the early risers
BP to raise $5.5 billion from Gulf of Mexico asset sale
16.30: The dollar fell further this afternoon after Moody's warned the US it could lose its top AAA credit rating next year if politicians do not agree on ways to cut the size of its debts.
Moody's said if budget talks led to specific measures to reduce the country's debt to GDP ration then it would reaffirm the AAA rating.
It added: 'If those negotiations fail to produce such policies, however, Moody's would expect to lower the rating, probably [one notch] to Aa1.'
Such a move would put the agency in line with its main rival Standard & Poor's which stripped the US of its AAA rating over its budget concerns.
However, bond markets were unruffled by Moody's announcement just as they were last year. Despite the symbolism of the S&P's move US government bonds or treasuries have continued to be in demand from investors as a safe haven, keeping their prices high and their yields, which dictate the long-term cost of borrowing, low.
By contrast, the dollar, already weak against other currencies, fell further with the pound up 0.47% to $1.6062 and the euro up 0.72% to $1.2850. Earlier, new data showed the US trade deficit had risen slight to $42 billion as exports to the troubled eurozone fell and imports from China soared.
Sterling had been boosted by the release of figures earlier in the day showing the UK's trade deficit narrowed more than expected in July.
The S&P 500 was calm too, rising six points to 1,435 as investors kept their powder dry before tomorrow's German court ruling on the Eurozone bailout funds. The Euronext 100 closed three points up at 668.
On the euro front, the European Union and International Monetary Fund agreed to give Portgual a year's extenstion to meet its targets. It can now run a budget deficit of 4.5% of GDP until the end of next year, falling to 3% in 2014. 
Meanwhile, South Africa's woes increased as it posted its largest current account deficit in nearly four years as a result of falling demand for its exports. The country's central bank warned that unrest in the mining sector and the shooting of 34 striking miners at a Lonmin platinum mine last month could hurt economic growth in the third quarter. Lonmin (LMI.L) closed 8p or 1.3% lower at 611p. The shares have fallen nearly 19% in the past month.
The FTSE 100 closed a point lower at 5,792.
Funds hit by Burberry crash 
12.55: Lots of fund managers trimmed their holdings in Burberry after the luxury retailer's first quarter trading statement showed a slowdown in comparable sales.
However, not Capital Group of the US. It increased its stake in Burberry to 7.5%, according to a stock exchange announcement last week. Other groups with big positions include BlackRock, Schroders and Legal & General.
On an individual level Mark Hall, manager of the Franklin UK Select Growth  fund, bought a new position in Burberry in July, according to the fund's latest fact sheet. However, if he bought near the time of the Q1 statement he may not have been stung so badly as the shares rallied over the summer (see chart).
Both Buxton and Hall have since explained in a separate story why they are holding on to Burberry for the long term.
Burberry shares have soared over 500% in the past five years as investors woke up to its startling success in emerging markets. The chart below shows their performance year to date.
Burberry: Click to enlarge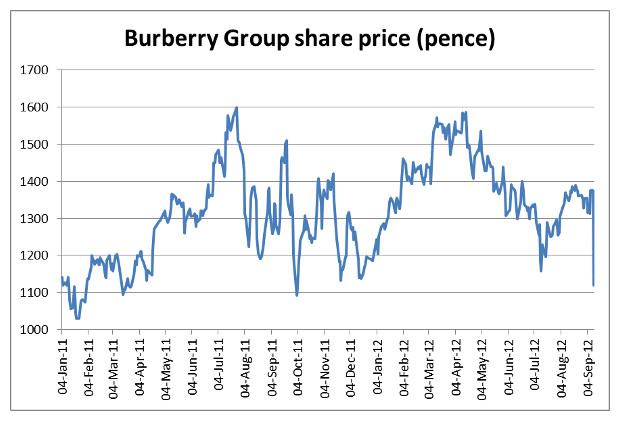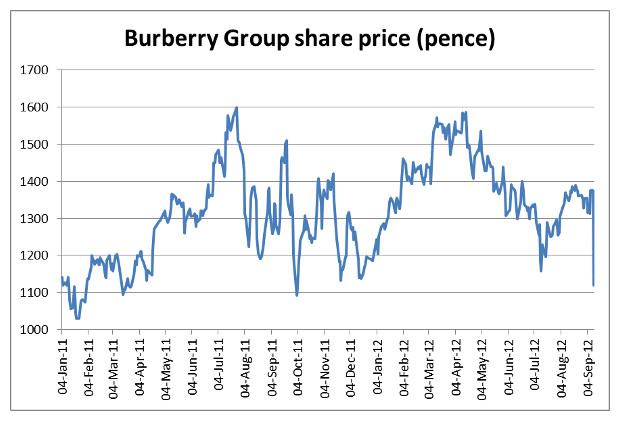 Hall was consistently rated by Citywire for his performance between 2003 and 2008 but has only been rated in two months since 2009. The UK Select Growth fund is ranked in the middle over the UK All Companies sector over three years with a 36% return. His long-term performance is better with the fund placed 19th out of 171 funds in the sector over 10 years with a total return of 144.3%.
Other fund managers who may be considering their position in Burberry after today include Colin McLean, currently A-rated by Citywire who holds the stock in the top 10 of his SVM UK Growth fund.
The Aviva Investors UK Special Situations fund co-managed by Richard Buxton and Andy Brough of Schroders had 3.5% in the retailer at the end of June, according to its fact sheet.
The Julius Baer EF Luxury Brands fund run by Swiss & Global Asset Management will take a knock as it held 5.3% in Burberry and 6.6% in LVMH, its French rival whose shares have also fallen in response.
11.00: Shares in luxury goods retailer Burberry (BRBY.L) tumbled 257p, or 18.7%, to £11.18 after it issued a profit warning following flat sales in the second quarter. This wipes nearly £1 billion off its market value and leaves its market capitalisation at £4.9 billion.
Low demand in China saw sales rise 6% as a result of new store openings – comparable store sales were unchanged on a year ago.
Chief executive Angela Ahrendts will meet with investors to discuss the slowdown in sales growth following the unexpected market announcement.  
Kate Calvert, analyst at Seymour Pierce, commented: 'Management is guiding profits towards the bottom end of market expectation with the current profit-before-tax range in the market being £407-£455 million.' Burberry made £366 million pre-tax profits in the year to 31 March 2012 and before today's news its shares traded at a P/E of nearly 20 times forecast earnings for next year.
Calvert added: 'This news will obviously hit sentiment towards Burberry and the luxury sector and the shares are likely to underperform until there is better news on demand so we are cutting our recommendation to 'hold', from a 'buy' since December 2010. However, we still consider Burberry a strong long-term growth story with significant geographical and product mix opportunities.'
Euro gains on promise of German court ruling
10.40: The euro has risen 0.31% to $1.279 against the dollar ahead of the German constitutional court's decision on the eurozone's new bailout fund on Wednesday.
A ruling on the legality of the European Stability Mechanism (ESM) will be made tomorrow at 9am, despite a challenge by a German politician over the weekend.
Last week's decision by the European Central Bank (ECB) to perform outright monetary transactions (OMT) helped the euro hit its highest level since May – $1.282 – last week.
Euro/dollar rate: Click to enlarge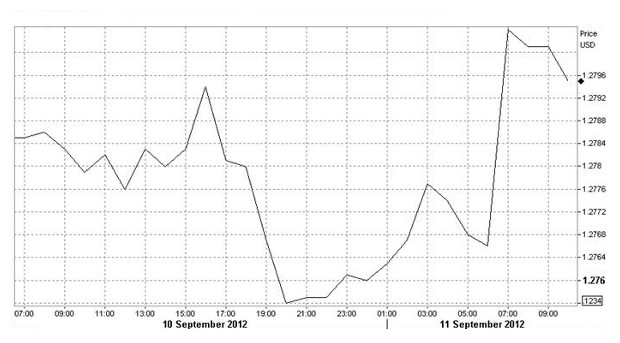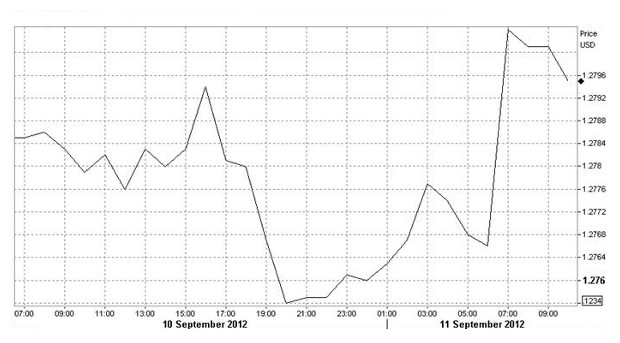 However, gains for the eurozone currency are expected to remain subdued ahead of the ruling.  
Analysts at JP Morgan Private Bank commented: 'The ECB's commitment to act as a backstop by buying euro area sovereign bonds significantly reduces euro area tail-risk... for now, we do not recommend to chase the price action to buy euro.
'It is still prudent to keep euro downside protection in place through limited liability structures and options.' 
Xstrata slides as Qatar Holding mulls Glencore offer
09.05: Qatar's sovereign wealth fund, Qatar Holding, has announced it has not decided if it will support Glencore (GLEN.L)'s improved offer for Xstrata (XTA.L).
Commodity trader Glencore made an offer of $36 billion (£22.5 billion) for the takeover of the miner on Monday, following intense negotiations which ended months of deadlock between the company and Qatar Holding.
A spokesperson for the sovereign wealth fund said: 'Qatar Holding wishes to make clear that it has made no decision yet as to whether or not it would accept the revised proposal. 
'Qatar Holding will make its decision in due course after giving careful consideration to the implications of the proposed management changes, the other elements of the revised proposal and the views of Xstrata's board.'
Xstrata shares shed 12.5p, or 1.22%, to £10.14 in Tuesday morning trade, making the biggest losses on the FTSE 100. The new offer equates to 3.05 new shares for every Xstrata share held, more than the 2.8 new shares originally offered.
Glencore has also proposed to replace Xstrata chief executive Mick Davis six months after the takeover, leaving Glencore's chief executive Ivan Glasenberg to manage the merged business.
Schroders fund manage Richard Buxton rejected the new proposals, saying they made a 'mockery of the merger terms'. Buxton holds Xstrata in his Schroder UK Alpha Plus fund, as featured in Citywire Top Stocks.  
Qatar Holding, the second-biggest shareholder in Xstrata, rejected Glencore's earlier offer on the grounds that it didn't fairly compensate shareholders.
Ashmore group tops FTSE 100; markets weaken
08.15: Britain's markets are off to a shaky start, tracking overnight losses in Asia, as investors hold back ahead of tomorrow's meeting of the US Federal Reserve.
The FTSE 100 opened slightly weaker, down 0.24%, or 13 points, to 5,780 and the Mid-250 index slipped 0.22%, or 28 points, to 11,814.
Fund management group Ashmore (ASHM.L) topped the FTSE 100 index, up 0.8p, or 0.24%, to 340p, after it reported £243 million in pre-tax profits in 2012.
The figure is slightly weaker than in 2011, down 1% year-on-year. However, group chief executive Mark Coombs maintains there is strong growth from investors from emerging markets.
Oil company BP (BP.L) has announced plans to sell its oil and gas fields in the Gulf of Mexico to raise $5.5 billion (£3.4 billion) to help cover the costs of the 2010 Deepwater Horizon disaster.
The company has raised $32 billion so far to settle claims which arose after the disaster, which killed 11 people and caused widespread environmental damage in the Gulf of Mexico.
Retailer Supergroup (SGP.L) has announced its interim results and luxury designer Burberry (BRBY.L) its second-quarter sales.
News sponsored by:
The Citywire Guide to Investment Trusts
In this guide to investment trusts, produced in association with Aberdeen Asset Management, we spoke to many of the leading experts in the field to find out more.
More about this:
Look up the funds
Look up the shares
Look up the fund managers
More from us
Archive
Today's articles
Tools from Citywire Money
Weekly email from The Lolly
Get simple, easy ways to make more from your money. Just enter your email address below
An error occured while subscribing your email. Please try again later.
Thank you for registering for your weekly newsletter from The Lolly.
Keep an eye out for us in your inbox, and please add noreply@emails.citywire.co.uk to your safe senders list so we don't get junked.