View the article online at http://citywire.co.uk/money/article/a544115
Cameron unveils £400 million plan to help first-time buyers
(Update) David Cameron promises the coalition's new housing initiative will restart the property market and get the nation building again.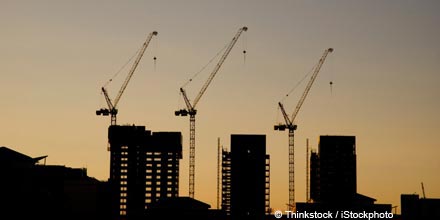 (Update) Prime minister David Cameron today promised Britain that the coalition's new £400 million housing initiative will 'restart the housing market' and 'get the nation building again'.
As part of plans to kick-start the housing market, the government aims to inject capital into housebuilding projects, help 100,000 first-time buyers get a reasonable mortgage and begin selling council houses again at a discount.
Labour leader Ed Miliband, however, described the measures as 'too little, too late,' adding that the Tories are putting back just 10% of last year's £4 billion cut to housing investment.
Cameron told the CBI annual conference earlier today that the housing market is 'blocked'. 'Lenders won't lend, the builders won't build and the buyer's won't buy,' he said.
Outlining its plans for a £400 million 'Housing Building Fund' in a report today, the government explains the fund will be used to inject money into housing projects that are ready to go but lack funds. The government hopes that the scheme will see 16,000 new homes built and up to 32,000 jobs created.
In a foreword to the proposal David Cameron and Nick Clegg said: 'One of the most important things each generation can do for the next is to build high quality homes that will stand the test of time. But for decades in Britain we have under-built'.
'By the time we came to office, house-building rates had reached lows not seen in peace time since the 1920s,' they said.
The government also plans to offer help to up to 100,000 prospective first-time buyers currently frozen out of the housing market because they can't meet lenders' strict deposit requirements – often around 20% of the total value of the home.
Under a new mortgage-indemnity scheme first-time buyers will be able to borrow up to 95% of their new home's value, with the government assuming part of the risk.
This means that if the newly built house is then sold for less than the outstanding mortgage the lender will be able to recover its loss.
With many worried about what will happen if the beneficiaries of this scheme default on payments, housing minister Grant Shapps sought to reassure taxpayers on BBC Breakfast that taxpayers will not be exposed to 'some enormous unreasonable cost'.
However, Tracy Kellett, managing director of buying agents, BDI Home Finders, said: 'The real number of people enjoying the scheme is likely to be far lower than the headline number. The devil, as ever, is in the detail'.
News sponsored by:
Greater Europe and Emerging Europe A comprehensive approach to investing in Europe
Making the most out of Europe's potential means seeing things differently. Learn more about how BlackRock's focused approach to investing in Europe helps investors unlock the continent's vast potential.
The Citywire Guide to Investment Trusts
In this guide to investment trusts, produced in association with Aberdeen Asset Management, we spoke to many of the leading experts in the field to find out more.
More about this:
What others are saying
Archive
Today's articles
Tools from Citywire Money
Weekly email from The Lolly
Get simple, easy ways to make more from your money. Just enter your email address below
An error occured while subscribing your email. Please try again later.
Thank you for registering for your weekly newsletter from The Lolly.
Keep an eye out for us in your inbox, and please add noreply@emails.citywire.co.uk to your safe senders list so we don't get junked.