Citywire printed articles sponsored by:


View the article online at http://citywire.co.uk/money/article/a691726
Campaigner says Co-op 'softening' to buying out bond holders
An action group representing Co-operative Bank bondholders thinks they may be offered a cash buyout rather than a punitive debt-for-equity swap.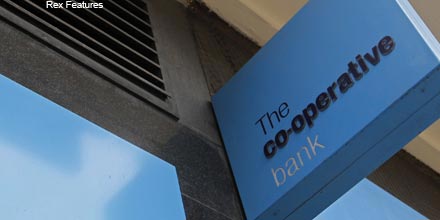 Campaigners hope that Co-operative Bank will back down on its plans to impose losses on its bond holders and offer them cash to buy them out instead.
Mark Taber, fixed income expert and head of a Co-op bondholders campaign group, believed the bank was 'softening' to the idea of a cash pay-out for the 15,000 retail investors in its bonds, instead of issuing them a new form of shares in the bank.
The debt-for-equity swap proposed by the mutual last month would generate £1 billion of the £1.5 billion it has been ordered by regulators to find. However, it would punish many pensioners who rely on the investment income from the Co-op's 5.555% and 13% coupon Pibs and preference shares. Instead of receiving a steady coupon every six months they would receive variable dividends linked to the profits of the bank.
'The best thing they could do is provide a cash alternative…and my suspicion is that [the bank] is softening,' he said. 'There is nothing definitive but hopefully this is what is happening.'
As part of a £1.5 billion capital rescue plan, Co-op has proposed to swap £1 billion of its 'junior', lower ranking debt into new financial instruments. This means investors in the preference shares and the will take the biggest hit. The remaining £500 million will be picked up by Co-op group.
Taber believes the debt-for-equity swap is flawed because there would be no way to value the new shares being brought to market. He said that even if Co-op offered bondholders 70% of their investment in shares, it would be difficult to ensure it was a fair value.
'The equity swap looks wrong because how do you value it? They will give 70% [of the value] of the bonds but how do you put a value on those shares? What price will they trade at when they come to market and how do we know there will be demand, or will the [share price] collapse?' he asked.
If investors were given the new hybrid shares it could take years for any value to be realised and with many of the investors in permanent interest bearing shares (Pibs) and preference shares (both types of bonds) being elderly there may not be enough time for them to reap any eventual rewards.
'Most of [the investors] are pensioners and they need the [coupon] for pension income, for living costs; shares are not something they need,' he said.
He also criticised Co-op's original offer of providing free independent financial advice to all investors, an offer which has yet to be put into action.
Taber believes Co-op will not be able to find a sufficient amount of advisers who have read a lengthy prospectus and that no adviser would recommend elderly investors take the shares.
'It would cost them a fortune [to provide financial advice to investors], they may as well [use the money] to pay the cash alternative,' he said.
Held to ransom
Taber said he has worked on campaigns like this before but said it was 'unbelievable' how much money individuals had invested in Co-op Pibs.
He knows of one couple in their 80s who have invested £150,000 into Co-op Pibs which is 'everything they have' and a retired nurse who relies on Pibs coupons for 50% of her income.
'People trust the Co-op , they see it as a safe and ethical organisation,' said Taber. 'I have worked on campaigns like this before but I have never come across people who are so heavily reliant [on income from one institution].'
The reliance on Co-op means that investors were hit particularly hard by the regulator's decision last week not to allow the coupon due on the 13% Pibs to be paid on 31 July. Investors were told that they would receive their money once the debt-for-equity swap plan was confirmed in October.
Taber described the decision by the Prudential Regulation Authority (PRA) as 'cruel' and that it made no difference to the capital of the bank whether the coupon was paid or not because it has to be paid later in the year.
'It is holding [investors] to ransom on a situation they have no control over,' he said.
The decision on whether the debt-for-equity swap goes through will depend on what the big institutions and hedge funds holding Pibs and preference shares wish to do, said Taber.
'It's like telling a cleaner in a company that you won't pay her salary for three months but it will be paid when the directors of the company agree to take a pay cut,' he said. 'There are not enough pensioners to influence the outcome.'
Co-operative Bank said it could not provide any updated details on the rescue plan and referred back to its stock exchange announcement from 17 June.
In it the bank said it would look at 'appropriate' proposals for small retail investors and that it was 'mindful of the different interest of retail investors'. The bank said it was 'considering a number of alternative options for small retail investors'. 
More about this:
More from us
Archive
Today's articles
Tools from Citywire Money
Weekly email from The Lolly
Get simple, easy ways to make more from your money. Just enter your email address below
An error occured while subscribing your email. Please try again later.
Thank you for registering for your weekly newsletter from The Lolly.
Keep an eye out for us in your inbox, and please add noreply@emails.citywire.co.uk to your safe senders list so we don't get junked.