View the article online at http://citywire.co.uk/money/article/a584912
Chart of the Day: more support for free markets in China than Britain
Disillusioned with bankers' bonuses and falling disposable incomes, 23% of the UK population say free market capitalism is 'fatally flawed'.
Over the past three decades China has shifted from a command economy to a 'market-based one' as the World Bank now describes it, emphasis ours.
During those same 30 years the UK economy was also transformed. Starting under Margaret Thatcher's government markets were deregulated, taxes were cut and companies were privatised. Unrestrained markets and soft regulation have been the norm since then, peaking with the FSA's principles-based regime for the City just before the financial crisis struck.
Since the financial crisis began, though, there has been a well-publicised backlash against capitalism.
A new poll seeks to quantify the extent of that discontent. The survey of 11,740 people in 22 countries by research company GlobeScan finds that views on the free enterprise system are becoming increasingly polarised. And the Chinese emerge as among the staunchest supporters of free market capitalism: 22% of those surveyed say it works well, with only 19% seeing free market capitalism as 'fatally flawed'.
In the UK, a higher proportion (23%) believe free market capitalism is 'fatally flawed', according to the survey, while fewer (15%) say such a system works well.
Views on Free Market Capitalism: Click to enlarge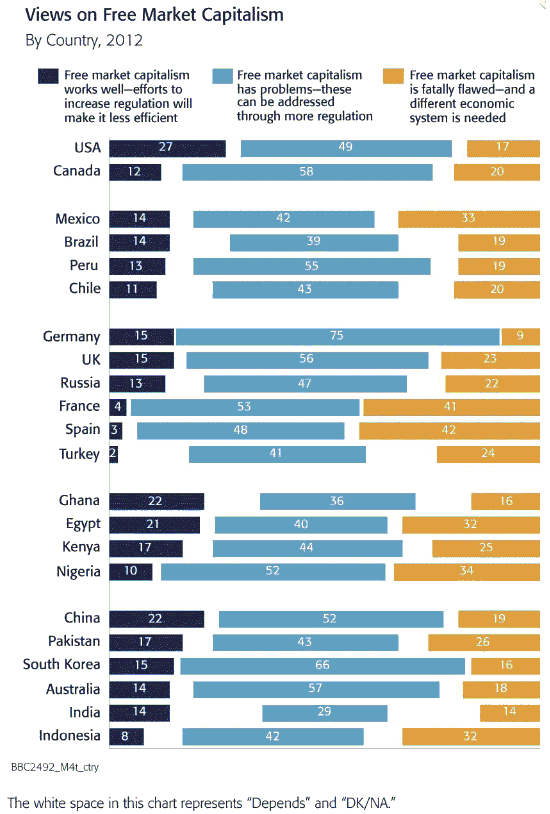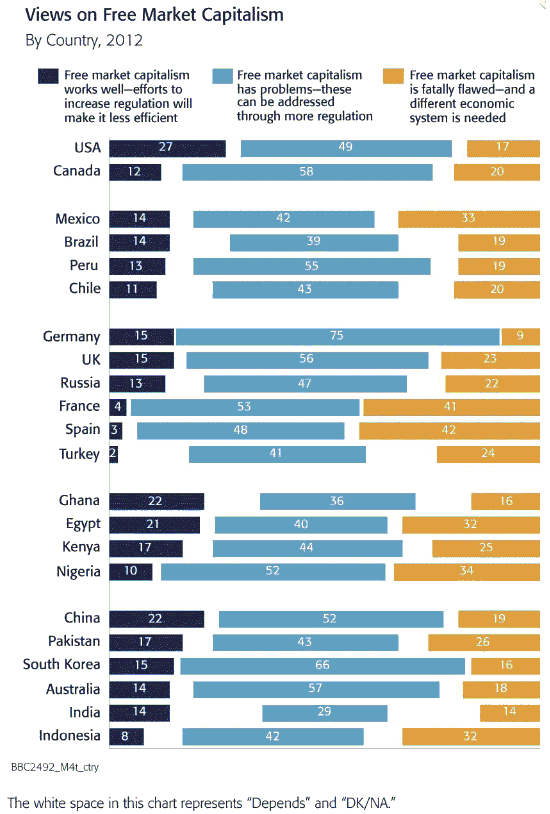 What accounts for this surprising difference? After all, China isn't yet a fully fledged market economy: many reforms are needed.
In the UK our newspapers and social media outlets have fuelled the debate about the role of free markets and deregulation in propagating the financial crisis. In China, where such debates are controlled, the shift to a more capitalistic society has dragged millions out of poverty, albeit unequally.
In the UK, we were all happy to feast on the rewards of a highly leveraged economy, without questioning whether its foundations could hold. Since the financial crisis, and with people's disposable incomes dropping, there seems to be shock at a sudden realisation at just how much more company executives and bankers earn than cleaners.
The same poll showed that the Chinese are less concerned that 'economic benefits and burdens' have been shared fairly. Only 6% of those surveyed said the burden has been shared 'not at all fairly', with 46% giving a 'not very fairly' answer. The corresponding figures in the UK were 25% and 36%: much more discontent with the fairness of burden-sharing.
Though the years of double-digit growth are over, the Chinese economy has not gone through the kind of slowdown that the UK has in the past few years. While China is much much poorer per capita and less equal (using the Gini coefficient) it is becoming increasingly prosperous, growing fast. The Chinese, like people in other emerging markets, are in general more upbeat about the economic prospects for their country, as a different GlobeScan poll showed back in November.
News sponsored by:
The Citywire Guide to Investment Trusts
In this guide to investment trusts, produced in association with Aberdeen Asset Management, we spoke to many of the leading experts in the field to find out more.
More about this:
More from us
What others are saying
Archive
Today's articles
Tools from Citywire Money
Weekly email from The Lolly
Get simple, easy ways to make more from your money. Just enter your email address below
An error occured while subscribing your email. Please try again later.
Thank you for registering for your weekly newsletter from The Lolly.
Keep an eye out for us in your inbox, and please add noreply@emails.citywire.co.uk to your safe senders list so we don't get junked.