Citywire printed articles sponsored by:


View the article online at http://citywire.co.uk/money/article/a332789
Everything you wanted to know about Citywire Fund Manager Ratings...
...but were afraid to ask. Learn what they mean, how they're calculated, and how you should use them.
...but were afraid to ask. Learn what they mean, how they're calculated, and how you should use them.
Citywire's Fund Manager Ratings were founded over 10 years ago, but our original ethos and methodology haven't changed much since then. Citywire is the only firm to exclusively rate managers, not funds. This is because we strongly believe the most important consideration, when selecting an actively managed fund to invest in, is the track record of the manager running the money.
Fund managers move about frequently. Like football teams, fund groups will poach the top talent from their rivals. (Unlike football teams, there's no shame in glory hunting.) So a fund's performance may be thanks to someone who is no longer running it – our unique career database, which takes account of fund managers' career moves and sabbaticals – will tell you if their replacement is any good.
Citywire Ratings measure performance across all the funds run by a given manager. At the click of a mouse, you can understand whether the manager is a jack of all trades, or a master of one.
Third, fund manager ratings provide a clear evaluation of their performance against their direct competitors. As only about 20% of all active fund managers in the UK achieve a Citywire Rating, you can be sure a rated manager has done a great job of maintaining and growing the wealth of their investors.
The career database is only half the story. Behind the Ratings is a sophisticated methodology approved by AKG, an independent actuary. It's entirely quantitative – in other words, it's numbers-driven and therefore impartial.
We measure risk-adjusted returns. Rather than simply seeing how much money fund managers have made, we look at how they've made it:
The charts above compare hypothetical funds with the benchmark they are trying to beat. The second one has outperformed the first, but on a risk-adjusted basis the first one has done much better, slowly adding value rather than taking big bets that result in larger swings.
All managers who have a three-year performance history are eligible for a Rating, but only those who have consistently beaten their benchmarks receive one. There's no 'quota', but broadly speaking 20% of managers receive a rating, and fewer than 5% get the coveted AAA rating.
No. If anyone ever tells you they've found a way to guarantee investment performance, walk away slowly then call the FSA. The truth is that even the best fund managers have bad patches. Furthermore a Citywire Rating is just one piece of information to help you make your investment decisions – you should never buy a fund solely because the manager is AAA-rated.
But while past performance is not a guide to future performance, you wouldn't let your hard-earned money be looked after by a fund manager who has consistently bungled their investment decisions – and there's plenty of them. Citywire Ratings allow you to narrow your search to those with a track record to be proud of.
Lots of us here at Citywire have been using the Ratings to help with our personal investments for a long time, and feel confident doing so. Many wealth managers and financial advisers also use our Ratings as part of their research.
How to use our list of best funds (click to enlarge)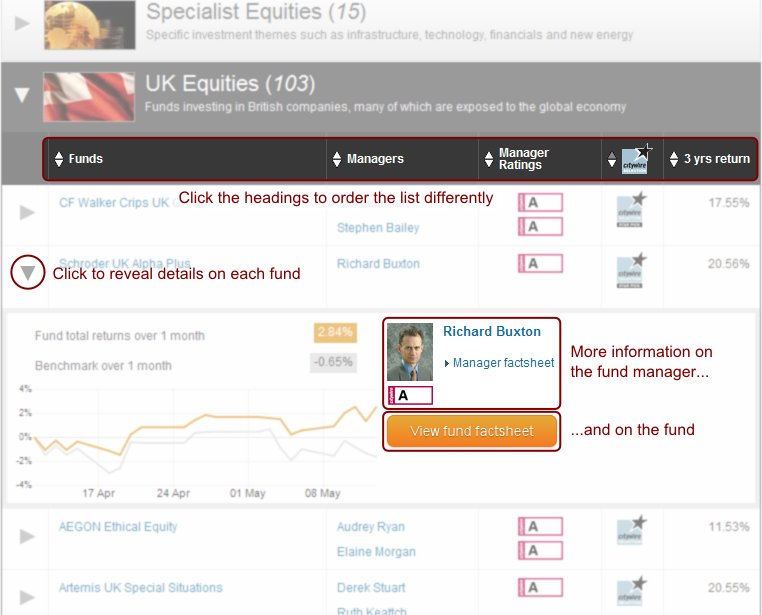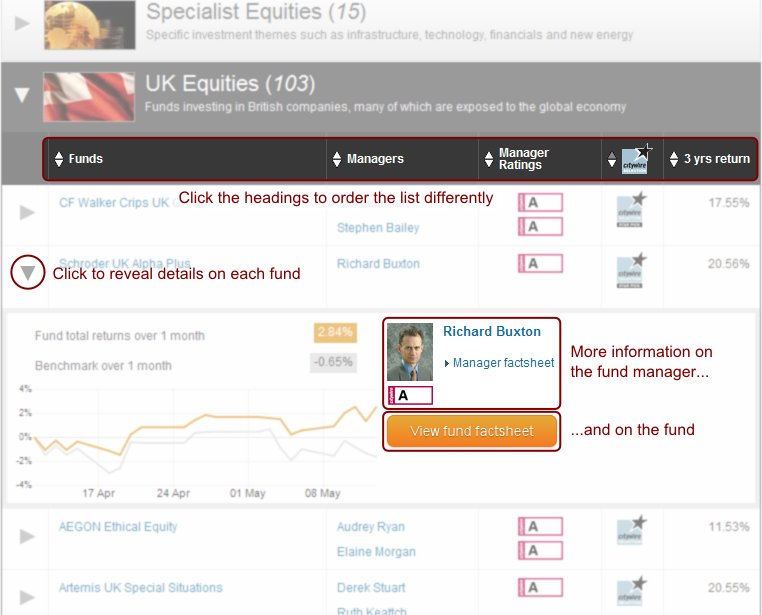 The starting point when making any investment is to decide what sort of thing you want to invest in. Do you want a fund investing in UK blue chips designed to produce a reliable income? Or do you have the stomach for a rockier ride through the world's 'frontier' markets? These are big questions, and the answers will depend on various factors such as your investment objectives, your age, and your psychology.
Once you've decided where to invest, you can start narrowing down your research. This list of all rated fund managers is split into 13 sectors such as UK Equities (i.e. companies traded on the London Stock Exchange), Commodities, and everything in between. If the idea of choosing between these is daunting, skip to the Managed sector where managers are able to pick and choose on your behalf.
Clicking on one of the items in that list will give you an overview of the fund and its recent performance (see screenshot, right). From here you can click through to the fund's factsheet, or to the manager factsheet where you can see their performance across each of the sectors they invest in and, crucially, their Ratings history (see example below). The longer they've been rated, the more confident you can be that they know what they're doing.
We assess all active managers running funds registered for sale in the UK, from the smallest to the largest groups, so it's not a 'pay to play' system'. If fund groups have a manager who is rated by Citywire and wish to use this in their marketing, they pay a licence fee.
Because the process is entirely numbers-driven and supervised by AKG, the independent actuary, there is no danger of us being biased.
We don't sell funds, so there's no incentive for us to convince you to buy them if we're not convinced ourselves.
It's fashionable to decry the investment industry as being full of spivs and chancers who have no more insight into the market's machinations than the bloke in the pub telling you about the next 'sure thing'.
There is some truth to this, insofar as markets are highly unpredictable by their very nature. And because 'active' fund managers have to be paid, the argument runs that even those managers who keep up with the market will deliver lower returns than a 'passive' alternative (i.e. funds that hold a basket of stocks which represent an index, with no human making decisions). Passive funds typically charge less than 0.5% a year, compared to over 1.5% for many active funds, though our analysis takes account of charges.
Hardcore advocates of passive investing will refer you to the efficient markets hypothesis (EMH) which states that everything that can be known about a stock is already 'in the price' – in other words, a fund manager can't beat the market by spotting bargains. Academically speaking, this is self-evidently bunkum:
Two economists are walking down the street. One says: "Hey, there's a five pound note on the floor." The other says: "Impossible. If it were real, someone would have picked it up by now."
Many investors prefer to back individuals to pick the right stocks, finding those metaphorical five pound notes, and reap the rewards of outperformance over the long term. So who do you back? Any manager holding a Citywire Rating has beaten their market, and while it bears repeating that past performance isn't a guide to future returns, we think our independent analysis is a great starting point for your research.
More about this:
More from us
What others are saying
Archive