View the article online at http://citywire.co.uk/money/article/a491414
Currency outlook: volatile prospects for pound, dollar and euro
John Freeme of foreign currency exchange broker HiFX sifts through the constant stream of economic noise to consider the currency outlook in the coming weeks and months.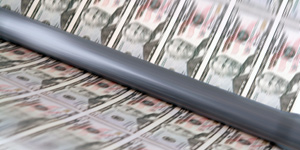 John Freeme of foreign currency exchange broker HiFX sifts through the constant stream of economic noise to consider how the pound, euro and dollar will fare in the coming weeks and months.
Let's start with sterling, which is still having a rough old time, with the majority of the UK economic data over the past few weeks painting a pretty bleak picture for the immediate future of the country.
This is all clearly reflected in the Sterling Index, an indicator of the current value of sterling against a basket of currencies, which has dropped from 82.3 in early February to 78.5 at the beginning of May. It has fallen perfectly in line with our view that the pound would dip to 1.11 against the euro when rates were at 1.19 and many others were tipping rates to head towards 1.25.
The services sector has continued to struggle, with the most recent gauge of purchasing managers in this sector being significantly less positive than last month. This has been coupled with manufacturing figures reportedly at a seven month low;  bad news as a large number of investors, economists and bankers were hoping the manufacturing/export sector of the economy would subsidise the services sector which has suffered over the last few years. Declining house prices in the UK added to the negative tone.

Monetary policy has now stayed unchanged since the US Federal Reserve announced QE2 (the second round of quantitative easing) in November 2010. The Bank of England has come under attack recently for not acting to curb inflation, but has stuck to its guns that inflation will naturally turn. This view was boosted in April when CPI came in 0.4% below economists' consensus. This has now pushed back any expectation of an interest rate hike in the UK until January 2012.
Two-tier Europe
An ever more clear two-tier Europe has amazingly been able to ignore any negative sentiment coming from the peripheral countries' debt problems and focus more on the positive growth coming from Germany and France. The euro has therefore been able to hold onto the strength it has gained over the past couple of years.
However, the debt problems in Europe have compounded recently and the EU and International Monetary Fund have now had to assist on three occasions, and looking at the GDP/debt ratios and unemployment figures below, it is obvious why.
Ireland: debt = 105% of GDP; unemployment 15%
Portugal: debt = 89% of GDP; unemployment 11%
Spain: debt = 69% of GDP; unemployment 20%
Greece: debt = 142% of GDP; unemployment 14%
Even the rumours that Greece is leaving the euro, which have been quickly denied, were not enough to dislodge the single currency to any significant extent.
Germany and France together contribute around 36% of the overall eurozone GDP. The German engine room has powered ahead with two consecutive months of strong manufacturing and services sector data and unemployment is at around a two decade low. France similarly has experienced strong manufacturing and steady service sector growth. However, inflation rates in Europe have as a result pushed up to 2.8% against a target of 2%. And therefore the interest rate rise was necessary to curb inflationary pressures for the EU's super powers Germany and France.
The increase in interest rates to 1.25% by the European Central Bank (ECB) in April has helped keep the euro as a more attractive investment destination than its UK and US counterparts, and reflects a general economic strength of the countries of the currency, raising expectations that the euro will increase in value. Accordingly in the short term, moves towards 91 pence per euro are likely and as the year unfolds a level of 95 pence to the euro is possible.
In for a dollar, in for a dime?
Results from the US have been a mixed bag recently with overall GDP growth disappointing in the first three months of 2011, but certain sectors showing good figures. The US QE2 programme is due to expire next month and we will then get a more accurate reading from the market as to the health of the US financial system. With the Federal Reserve re-affirming its commitment to maintaining interest rates at historically low levels, for 'an extended period' at its meeting last month, it looks like the dollar could remain weaker due to the big difference in costs to borrow dollars, and what other currencies and/or assets yield.
Yet despite the above strong employment numbers, in the form of non-farm payrolls, helped sentiment in the US and helped the dollar recover further from the 17-month lows against both the pound and euro at the end of April.
News sponsored by:
Understanding the value in commodity investing
Here at BlackRock, we help investors make more out of commodities with a range of innovative, flexible and resilient investment strategies.
New Economies - Frontiers and Latam Exciting markets, unrealised investment opportunities
From Brazil and Mexico, to Vietnam and Nigeria, the rapidly developing economies of Latin American and frontier markets, which are some of the smaller, less developed economies in the world, provides investors with a wealth of potential opportunities. Discover why BlackRock's investment trust range is well placed to help you make more of these exciting regions.
The Citywire Guide to Investment Trusts
In this guide to investment trusts, produced in association with Aberdeen Asset Management, we spoke to many of the leading experts in the field to find out more.
More about this:
More from us
What others are saying
Archive
Today's articles
Tools from Citywire Money
Weekly email from The Lolly
Get simple, easy ways to make more from your money. Just enter your email address below
An error occured while subscribing your email. Please try again later.
Thank you for registering for your weekly newsletter from The Lolly.
Keep an eye out for us in your inbox, and please add noreply@emails.citywire.co.uk to your safe senders list so we don't get junked.