View the article online at http://citywire.co.uk/money/article/a638583
Diary of a Dumb Investor: my potentially reckless investment in China
I've bought into a London AIM-listed share that operates in China, and in doing so have broken the cardinal rule of investing.
It's not exactly what I had in mind. I was waiting for a drop in the share price, but in the end I've bought on a rise.
To top it all off, the share I have bought into – £1,000 worth of Hutchison China MediTech (HCM.L or Chi-Med) – is an AIM-listed stock (ie, high risk), which is exposed to Chinese politics and economics (ie, doubly high risk).
You'll all lay into me. But I don't care. You'll be the same critics who advised me not to buy Chi-Med shares when I first suggested I might buy them back in early August. You lot owe me the difference between the 410p I could have paid then and the 458p (times 218) that I have just paid.
After all, I was but an investment novice back then. I even foolishly ended my August article on Chi-Med beseeching readers for advice on whether I should buy. I've since learnt not to trust anyone.
I know the share price has been rising forever. But I think it'll rise further. Here's what I had to say in August, reasons that still remain valid:
'It's the consumer growth in China that I want a part of. The doubling, tripling, quadrupling, quintupling, sextupling… of the middle-class population and all that. More wealthy people will want more health care. China also, believe it or not, is set to soon face the same kinds of demographic problems facing Japan or the UK: too many dependent oldies. They'll need medicines.
'I also believe that the recent slowdown in the Chinese economy – which I understand has been weighing on Chi-Med's shares – has hit bottom and the country will start turning a corner. Plus, Chi-Med's chief Christian Hogg said in the company's results statement a week or so ago that costs were coming down.
'What's more, it has just got rid of a UK subsidiary, which makes me happy. After all, screw the UK, I want my money invested in China.
'Your columnist also has a background in the regulation of pharmaceutical companies, so this company plays to my strengths.
'And finally, the little bugger is London-listed, so I can keep a closer eye on it.
'So yes, I've actually been researching this one. Some comments from analysts that I found while Googling admittedly provided the confirmation that I was craving.'
But what dragged me out of my stupor was this week's deal to form a joint venture with Nestle. And my need to invest my crazily large cash holding.
My portfolio: Click to enlarge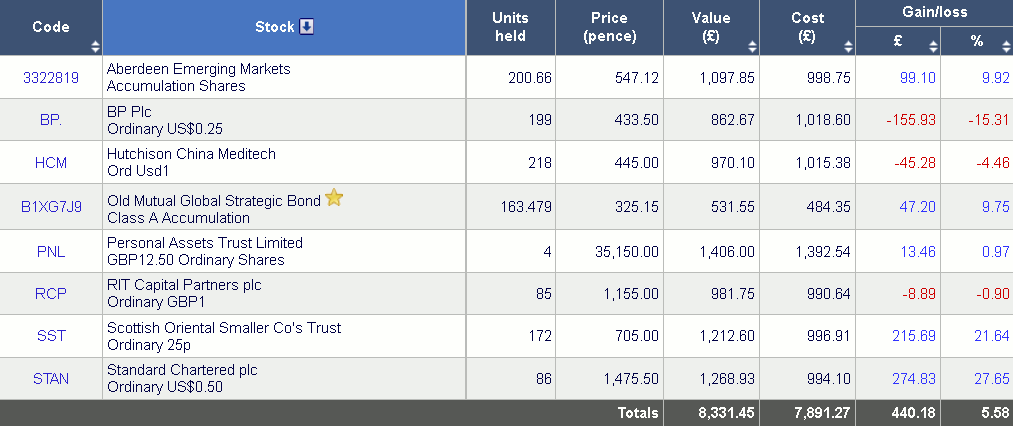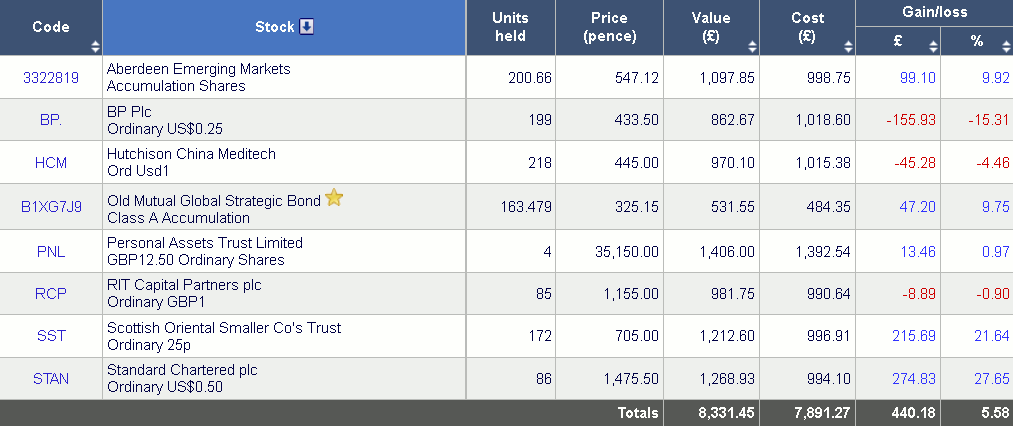 It is every investor's dream to buy a decent share that is London-listed but China focused. After all, the Chinese domestic stock market (Shanghai Composite) plumbs new four year lows on an almost daily basis, while the economy itself remains healthy (if you keep any slight recent slowing in growth in perspective).
Morgan Stanley has even published a list of what they say are the best shares listed in Europe 'for investors to position for a positive China macro surprise', which was passed to me and which I pass to you (click on the chart below. And no, Chi-Med isn't in there).
Perhaps it will distract you enough that you won't take to the comment box at the bottom of this article to tell me I've made a huge mistake. For despite all my bravado, I still care what you say.
European shares to invest in China: Click to enlarge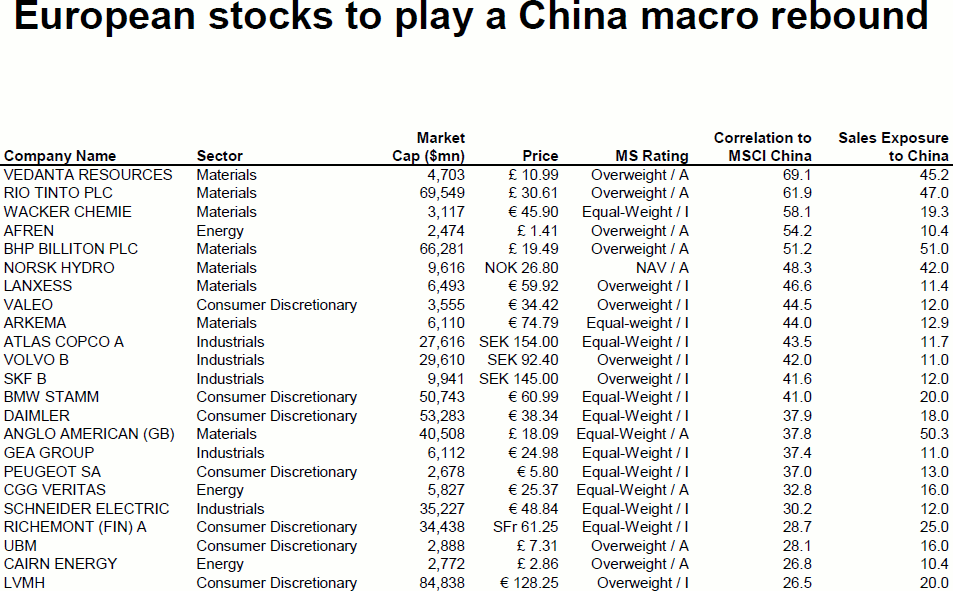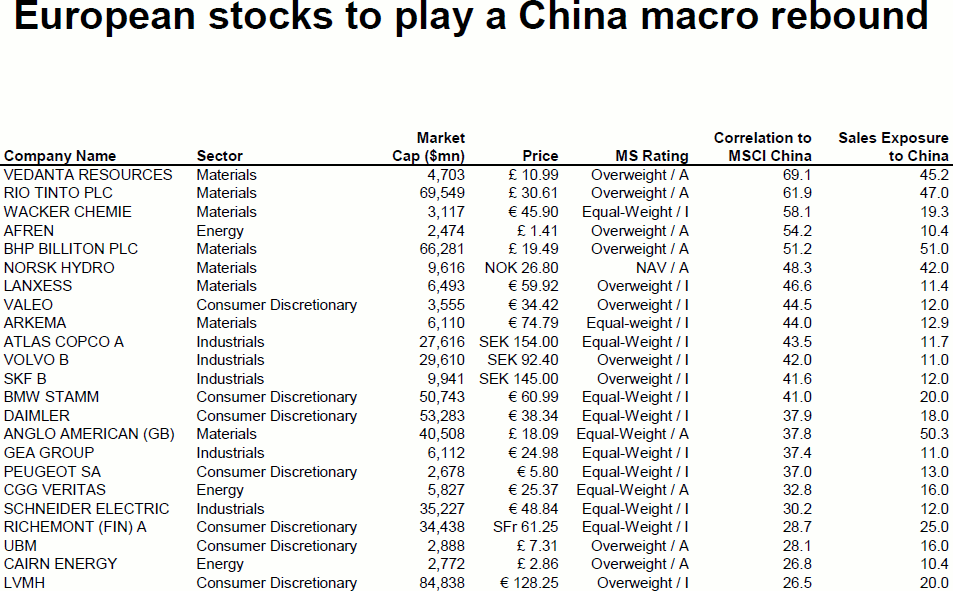 News sponsored by:
The Citywire Guide to Investment Trusts
In this guide to investment trusts, produced in association with Aberdeen Asset Management, we spoke to many of the leading experts in the field to find out more.
More about this:
Look up the shares
More from us
Archive
Today's articles
Tools from Citywire Money
Weekly email from The Lolly
Get simple, easy ways to make more from your money. Just enter your email address below
An error occured while subscribing your email. Please try again later.
Thank you for registering for your weekly newsletter from The Lolly.
Keep an eye out for us in your inbox, and please add noreply@emails.citywire.co.uk to your safe senders list so we don't get junked.