View the article online at http://citywire.co.uk/money/article/a485791
Diary of a Dumb Investor: ETF heartache and a zombie assault
While the gains on my investments more than doubled in a week, there was an ugly stain on my portfolio: the exchange traded fund I bought recently.
My success is becoming a bit of a joke now: when I looked at my portfolio on Friday, I noticed to my jaw-dropping surprise that the gains on my four investments had only gone and more than doubled their value… in the space of a week.
Read Dumb Investor: the story so far.
The portfolio, including the £6,000 still in cash, stood at £10,032 on the previous Friday; a week later, it had rocketed up to £10,074.
My Aberdeen Emerging Markets fund had continued to rise; my Jupiter European Opportunities investment trust had shown a serious gain; and my investment in Lloyds (LLOY.L) had actually turned positive for the first time.
Where I stood on Friday: Click to enlarge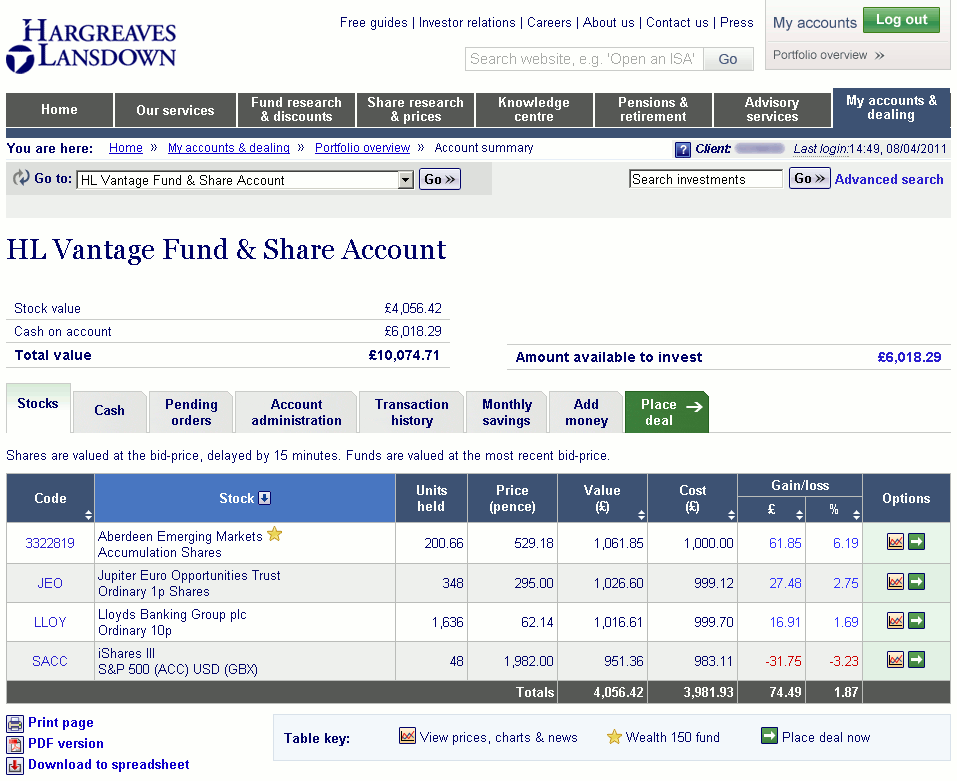 That said, there was a black spot: the exchange traded fund (ETF) I bought recently, iShares S&P 500, had slumped 3.23%, or £31.75, after only losing £9.67 a week earlier. Which I don't really understand, because a quick check on Google Finance showed that the S&P 500 stock index – which the ETF is meant to track - basically went nowhere over the period.
Maybe there was some kind of currency issue? I did chose, in the end, to buy the 'unhedged' version of the ETF – meaning that if the dollar falls against sterling, as it did last week, so will the value of the investment. Anyway, whatever went on there, the bottom line is that it's annoying.
Pedro Pinto, a reader, touched on another issue in his response to last week's entry about the ETF. 'Well done for investing at the top of the market,' Mr Pinto congratulated me. 'Had you not heard of [quantitative] easing?'
He has a point. I understand that Europe's top central banker, one Signor Trichet, announced a historic interest rates hike last week – after years of extremely low rates and tonnes of emergency cash. The pro-hike dogs in Britain and the US, who were already barking, are now frothing at the mouth, I've read. And apparently an end to 'loose' post-financial crisis policies is meant to be bad for equities.
I suppose it's a bit like a film I watched last week, Planet Terror, where a group of happy Texans are going about their lives until they are overrun by a horde of diseased zombies. Of course, they rally and due to the inordinate amount of firearms they have at hand and some freaky stuff involving a prosthetic leg, manage to obliterate the zombie peril.
Let me say just now that I'm not suggesting in any way that someone obliterates Signor Trichet!
News sponsored by:
The Citywire Guide to Investment Trusts
In this guide to investment trusts, produced in association with Aberdeen Asset Management, we spoke to many of the leading experts in the field to find out more.
More about this:
Look up the funds
Look up the shares
Look up the investment trusts
More
Look up the fund managers
More from us
What others are saying
Archive
Today's articles
Tools from Citywire Money
Weekly email from The Lolly
Get simple, easy ways to make more from your money. Just enter your email address below
An error occured while subscribing your email. Please try again later.
Thank you for registering for your weekly newsletter from The Lolly.
Keep an eye out for us in your inbox, and please add noreply@emails.citywire.co.uk to your safe senders list so we don't get junked.