View the article online at http://citywire.co.uk/money/article/a570035
Diary of a Dumb Investor: get ready for love, Bob Dudley
Owning BP (BP.L) should offer me a little protection if oil prices continue to rise, and I could also get some Gulf of Mexico-inspired upside. 
I've chosen to embark on a radically different strategy to hedge against future falls in stock markets: instead of trying to 'short' the FTSE 100, I have bought shares in accident-prone oil company BP (BP.L).
Read Dumb Investor: the story so far
There is some logic to the move, seriously. A reader, dpeddlar, made me realise that while markets are probably going to nose-dive at some point soon, it will be very hard to predict exactly when – what with the world's central banks still spraying cash at the global economy.
'Don't fight the Fed,' the reader cautioned me, before going on to allay my concerns about the eurozone, saying: 'Do you think if Greece defaults it will come as a surprise to anyone, even my dog is expecting that!'
I now believe that the current rally in markets may have a little longer to run. That is, unless oil prices spike and shatter the global recovery. Oil has ruptured all-time highs in both sterling and euros, so there's a good chance that petrol prices will hamper consumer spending and factory output.
But owning an oil company should offer me a little protection, since at least it should do well even as the rest of the world suffers. Of course I used to own an oil company, Afren (AFRE.L), but I sold it at a loss of 42% on my original investment of £1,000... You can read here about that painful episode.
So how much did all this cost me this time round? On Monday morning I bought 199 BP shares, at 503.34p apiece. I spent £1,019 on the stock, plus another £5.01 on stamp duty to fatten George Osborne's pocket, and another £12.95 in commission to Hargreaves Lansdown, my online broker.
Where I stood on Monday: Click to enlarge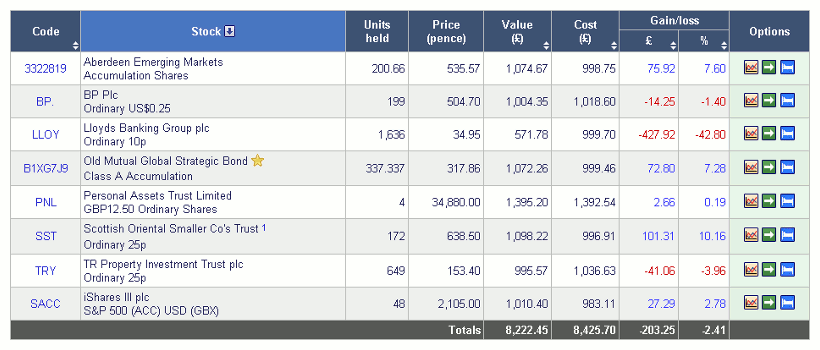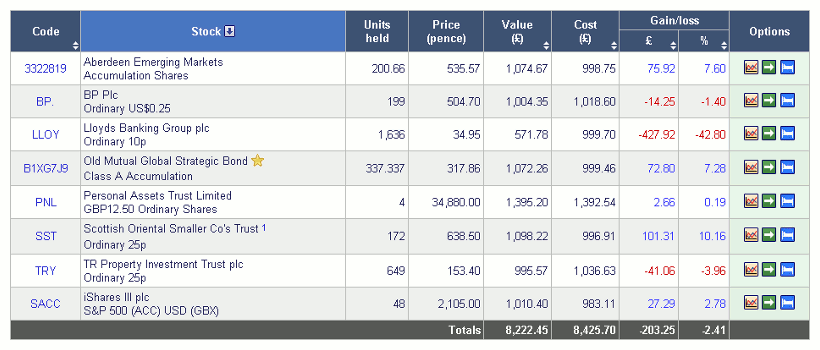 Yes, there are a horde of law suits bearing down on the company, threatening to extract billions of dollars of compensation for the 2010 oil spill in the Gulf of Mexico. Yet there's also a chance that BP will manage to settle a good number of the cases, removing some of the uncertainty hovering around its shares.
I'll be honest: I am a betting man – if a somewhat jittery one – and all these absolute return-esque, global strategic, total return yada yada funds I own are frankly a little dull. So with my BP play, I will enjoy further rises in oil prices – let's not forget that the company made $23.9 billion in profit last year, and its stock has a dividend yield of over 4% – as well as the chance to gain any upside from a decent legal outcome.
It's time for Bob Dudley, BP's mild mannered and clean-cut American chief executive, who was chased out of Russia in 2008, to welcome me to the shareholder fold. I will never chase him anywhere, I promise. And after my Afren debacle, I'm in for a bit of 'buy and hold' action on this one.
And now, when I smart at the petrol pump, I can at least take some comfort in the fact that I'm enriching myself as well as the world's petro-dictators.
News sponsored by:
The Citywire Guide to Investment Trusts
In this guide to investment trusts, produced in association with Aberdeen Asset Management, we spoke to many of the leading experts in the field to find out more.
More about this:
Look up the shares
More from us
Archive
Today's articles
Tools from Citywire Money
Weekly email from The Lolly
Get simple, easy ways to make more from your money. Just enter your email address below
An error occured while subscribing your email. Please try again later.
Thank you for registering for your weekly newsletter from The Lolly.
Keep an eye out for us in your inbox, and please add noreply@emails.citywire.co.uk to your safe senders list so we don't get junked.