View the article online at http://citywire.co.uk/money/article/a595151
Diary of a Dumb Investor: Lloyds in the eurozone scrapyard
I know I'm 'crystallising my losses', but Lloyds is a loss-making, economy-destroying eurozone bet too far for this investor.
People who have been watching stock markets far longer than me weren't fooled. Like the outmoded Smithfield meat market traders featured on a recent BBC doc – who pelted a newcomer with cows' entrails, lamented the arrival of mod-cons such as electricity and assumed the poorly designed market must have been hashed together by a 'woman' – they've seen it all before.
For me though there was a moment this morning – yes, I tend to align my investment decisions with the Monday deadline for this article – when I wondered whether this was it: was I missing the start of the rally?
But then I realised, like the old-timers who have been watching eurozone 'bailouts' for years, that not even Spain has been saved: just its dodgy banks.
No sooner had we heard the staid Spanish president Rajoy pronounce a victory for his people than we were told that Spain itself, as in the whole country, funky lisp, rolled letters and all, could need rescuing. And maybe Italy too. And then of course Greece could do one entirely and go its own way.
So this is not the big one, the grand rally I'm supposed to catch somehow.
Waiting for the tide to turn
But will I know it when I see it?
My next problem is how to raise the money to buy a ticket when my ride finally arrives. I've actually become a bit richer over the past couple of weeks (by that I mean the portfolio has increased in value), and more of my individual investments are in the 'blue'.
Where I stood on Monday: Click to enlarge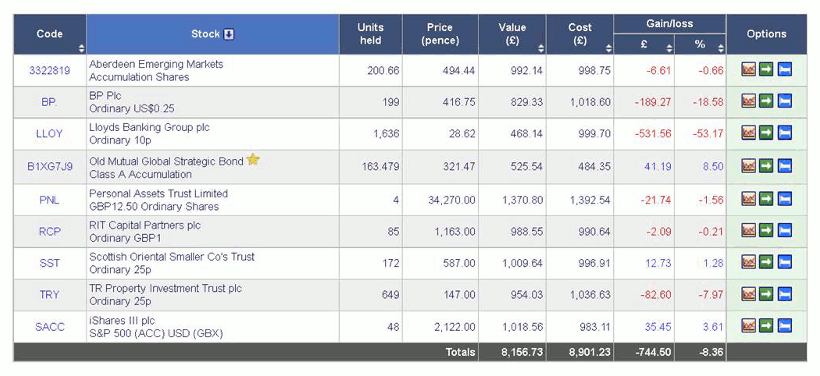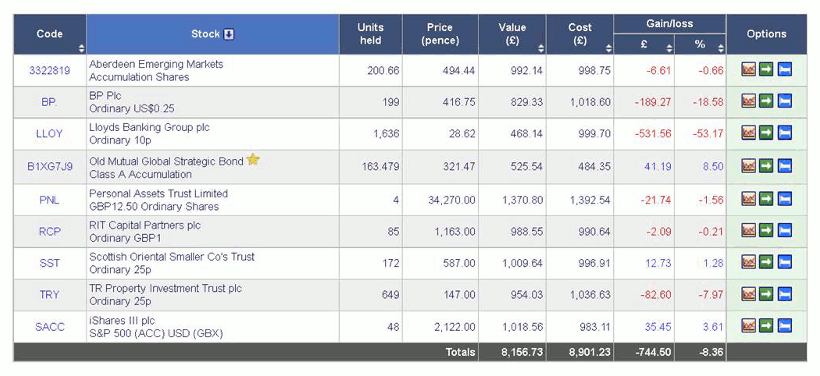 But with cash of just £663 I don't have much room to manoeuvre. So I face a dilemma which I imagine is common among investors: do I sell a loss-making dud and seek my fortune elsewhere? Or do I sit it out on holdings like Lloyds (LLOY.L), which is such a pitiful part of my portfolio that it shames me to see it in there? After all, if I sell Lloyds I'm 'crystallising my losses'.
Exposed to a crippled eurozone
Well, I learnt something in the past week that makes that decision a tad easier. I had thought that my current investments were not direct bets on anything eurozone-esque – assuring such distance had been my first aim – but it turns out that Lloyds has a STACK of eurozone exposure.
As a matter of fact, Lloyds – as well as RBS (RBS.L) and Barclays (BARC.L) – are 'UNINVESTABLE' for that very reason according to one article I read last week (citing City analysts). 'Uninvestable'!
I might be crystallising my losses, but I think it's time to ditch Lloyds. The shares are up today, so at least the timing looks half-sensible. I will have pressed the big ejector button by next week.
News sponsored by:
The Citywire Guide to Investment Trusts
In this guide to investment trusts, produced in association with Aberdeen Asset Management, we spoke to many of the leading experts in the field to find out more.
More about this:
Look up the shares
What others are saying
Archive
Today's articles
Tools from Citywire Money
Weekly email from The Lolly
Get simple, easy ways to make more from your money. Just enter your email address below
An error occured while subscribing your email. Please try again later.
Thank you for registering for your weekly newsletter from The Lolly.
Keep an eye out for us in your inbox, and please add noreply@emails.citywire.co.uk to your safe senders list so we don't get junked.