View the article online at http://citywire.co.uk/money/article/a881117
Diary of a Dumb Investor: my sell-off begins
As promised, I'm overhauling my portfolio. I've made my mind up on which shares to sell and am eyeing two funds with the proceeds.
I asked for your opinions on my drastic plan to tear up my badly-performing portfolio, and you haven't disappointed. I'm convinced I need to do something, I just don't know how much to do in one go.
Broadly, your responses fitted three distinct lines of thinking. There were those like Craig Ross, David Lines and Anthony Tinsley who advised me to forget the whole shares business and stick to funds and investment trusts. Some welcome words of support from Lilly, Jeremy Stewart and Robert Goddard reminded me that I have at least made money since running the portfolio, and my current woes are by no means unique. A third view came from Michael Peter Fenwicks and Law Man among others, who told me that while some restructuring was in order, I shouldn't rush into it, and 'baby steps' were required.
Along with this, a few of you took the opportunity to remind me of my lacklustre approach to asset allocation. And it's with this that I think my approach to restructuring should start. The last time I looked at this properly, I was alarmed at how much emerging markets exposure I had, and took action. Here's what it looks like now.
Despite having sold Standard Chartered (STAN) since I last performed this exercise, my emerging markets exposure is actually up, largely due to the continued rally in the shares of my star stock, Hutchison China Meditech (HCM).
But my other emerging markets investments, the Scottish Oriental (SST ) and JPMorgan Russian Securities (JRS ) investment trusts, have also held up since September last year. Looking at the value of my holdings, it's not that they have risen since then, it's just they have largely remained flat while almost everything else has fallen.
My US exposure has meanwhile been hard, and now stands at just 8.3% of the portfolio, down from 15.6% five months ago. Some of this is due to the sale of electric car maker Tesla (TLSA.O) from the portfolio (incidentally a sale I'm pretty happy with as the shares have lost a third of their value since then) but it's also down to the slump in the shares of Imagination Technologies (IMG), which have halved since then, while Pearson (PSON) has continued to fall.
Incidentally, I've classed companies according to particular geographies in the same way as I did before - if a company makes more than half of their revenues in a particular region, I've assigned them to it.
But before I go rushing to top up the US portion of my portfolio, which should account for around 19% if I am to follow Bestinvest's 'maximum growth' model, I need to accept my asset allocation problems are more fundamental than that.
Not only are there problems with how my portfolio is split across the globe; there are also issues with how it is positioned within those regions.
No-one could really pretend that Pearson and Imagination Technologies are, on their own, representative of the US stock market. Of course, that's the point: by buying shares myself rather than an exchange-traded fund or a tracker, I'm backing myself to pick investments that are going to perform better than the market.
But when I do such a bad job at it, isn't it better to enjoy some of the returns of the broader market, allowing myself the odd share pick here and there? I've got the same problem in the UK: while nearly 40% of my portfolio is exposed to Blighty, it's a pretty esoteric bunch of investments.
Or, as sgjhaghsdg put it, 'It all smells of "it seemed like a good idea at the time".' While I don't want to rule out the odd opportunistic investment here and there, I've let the bulk of my portfolio become populated with these, and disregarded the broader exposure that comes with the right sort of funds.
Having done some research into the funds I should buy, and taking on board some of your suggestions, here's what I plan to do.
Given the US is my biggest problem, I need to start there. I'm going to sell Imagination Technologies, as it has already lost a third of what I invested, and given the scale of the sell-off in technology stocks, I'm worried I'll have lost half my money in the near future. As mike88 put it, 'racking up losses of 40% on individual stocks is inexcusable'.
Rolls-Royce (RR) also needs to go. I've already lost around half my money, and there's no guarantee I won't lose more, as fears over its dividend conspire to send the shares lower.
As I write, another decision has been taken for me. A plummet in the shares of Taylor Wimpey (TW) has taken the house builder below my 170p stop loss level, so banking a 57% gain.
That's not the end of the issues with my portfolio. I'm also likely to sell Centrica (CNA) and Woodford Patient Capital (WPCT ), but I don't want to do everything in one go.
For the time being I'm thinking of investing some of the proceeds in two funds: Fundsmith Equity and Lindsell Train Global Equity. These have good track records and keep trading costs down by buying and holding for the long term, something I have failed to do. They also invest in a relatively small number of stocks, so when the managers get things right, which Terry Smith and the pairing of Nick Train and Michael Lindsell have done more often than not in recent years, they outperform the market.
They are focused strategies, but nevertheless giving me broader market exposure than I have been able to secure through my own share picking.
Of course, they are not immune to failure: it's not the first time I've warmed to Nick Train's investment philosophy, it's just a shame that of all his investments I chose to copy, I went for Pearson. If I do go for his fund, it makes sense to dump my Pearson shares.
By buying both funds, not only would I reduce my losses if one of them messes up, but it also helps with my asset allocation. While both are global funds, Fundsmith is heavily US-focused, with more than half its assets across the pond, a quarter in the UK and nothing I can see in emerging markets. The Lindsell Train fund is meanwhile more evenly split between the US, the UK and Japan, with some in the Netherlands and no emerging markets.
They will help me address my longstanding lack of Japanese assets, replenish the US portion of my portfolio left empty by my share sales, and at least won't worsen my heavy exposure to emerging markets.
Here is my portfolio, before the changes: 
My portfolio: Click to enlarge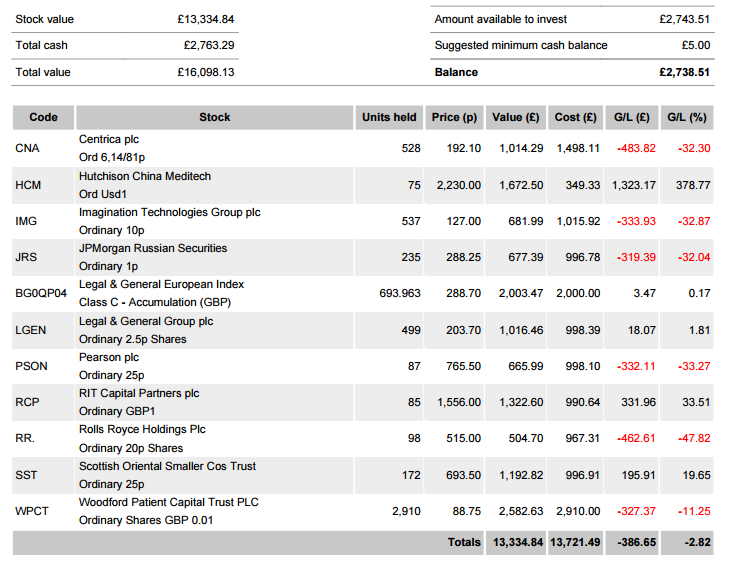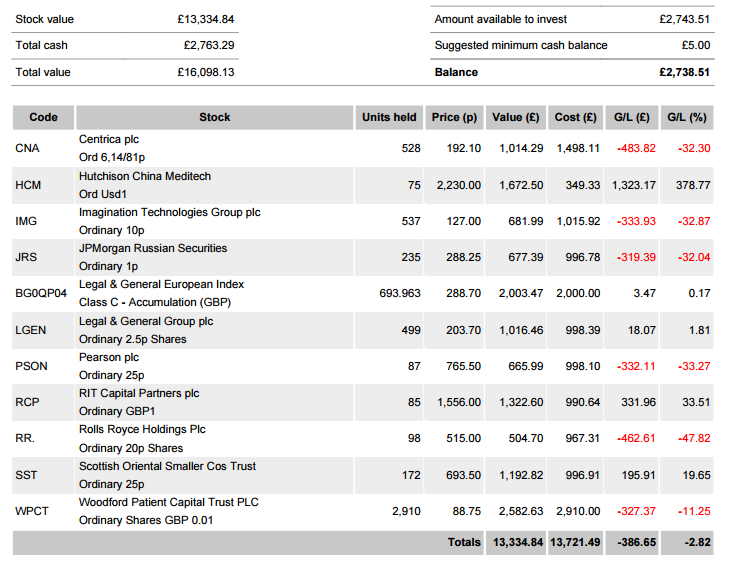 News sponsored by:
The Citywire Guide to Investment Trusts
In this guide to investment trusts, produced in association with Aberdeen Asset Management, we spoke to many of the leading experts in the field to find out more.
More about this:
Look up the funds
Look up the shares
Look up the investment trusts
Look up the fund managers
More from us
Archive
Today's articles
Tools from Citywire Money
Weekly email from The Lolly
Get simple, easy ways to make more from your money. Just enter your email address below
An error occured while subscribing your email. Please try again later.
Thank you for registering for your weekly newsletter from The Lolly.
Keep an eye out for us in your inbox, and please add noreply@emails.citywire.co.uk to your safe senders list so we don't get junked.