View the article online at http://citywire.co.uk/money/article/a659647
Diary of a Dumb Investor: should I invest in shares at all?
It's time to admit defeat, sort of, and seek advice from some share-picking pros.
Here are the facts:
1. My share holdings, with the exception of Standard Chartered STAN.L), are losing me money. That's my long-term holding in BP (BP.L), as well as more recent purchases in Aurum Mining (AURU.L) and Hutchison China Meditech (HCM.L).
2. My fund holdings are making me money. They vary significantly, with my two emerging market equity funds making me a packet and my holding in RIT , an investment trust, technically in the clear (but after inflation I guess it's losing me money – one to take a closer look at next time).
My portfolio: Click to enlarge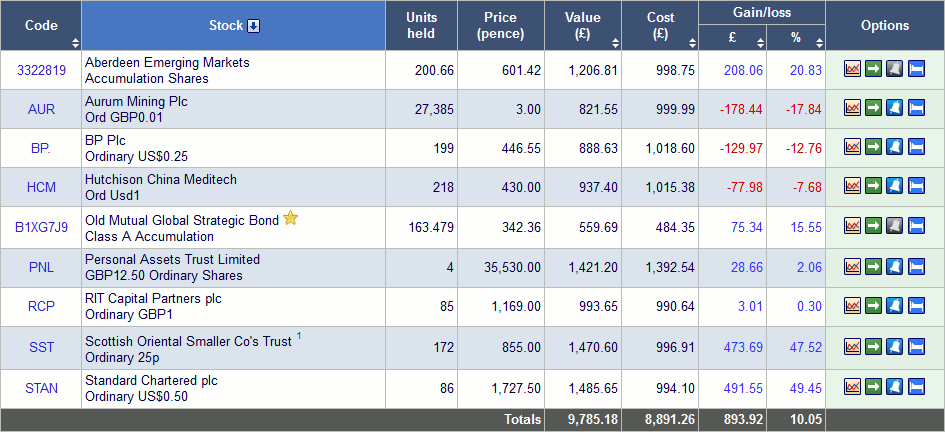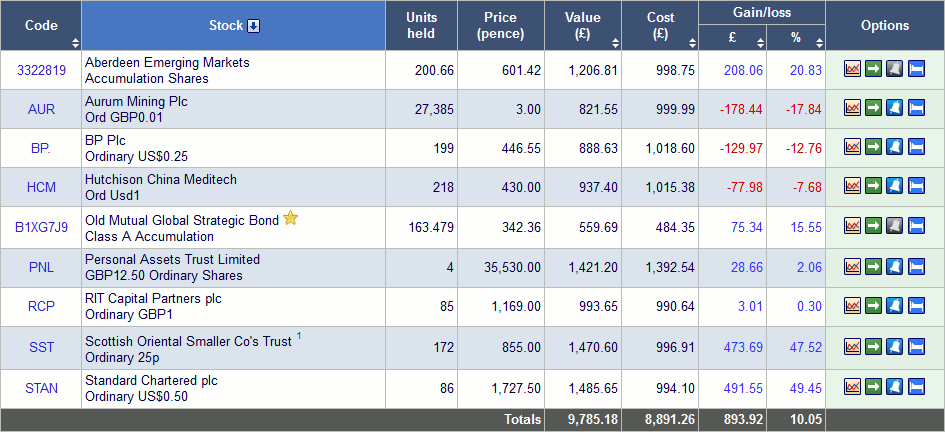 I also know for a fact that it's too soon to call time on any of my share holdings. BP still needs to recover, and there is no point in selling it until it does. And I knew China Meditech and Aurum were high-risk choices when I bought them, particularly the latter which I only picked up a couple of weeks ago to add some zing to my portfolio. I think they'll both recover in price.
BUT. But! It's not looking good. My confidence has been beaten down with my shares: I can't help but drawing an early conclusion that an investor like me should instead be putting all of this money with the pros, that's the fund managers with a proven track record of making money. Rather than trying to pick stocks that is.
However, that would be boring and uninspiring and I think I'd lose my interest in investing. So I need to find a compromise. I need to match what the good fund managers do (a strategy I alluded to last week).
So, I'm going to watch what shares strongly-performing fund managers buy. I'll then do my own research and make a decision accordingly.
I'm hoping that using Citywire Top Stocks – a way of monitoring the shares held by five of the UK's top fund managers – will help me here. Citywire used to run a portfolio based on these Top Stocks, but I'm told that they've since folded it, so the floor is mine.
I'm using this sensible strategy to convince my uncle to give me some more cash to invest – £10,000 just isn't enough to create a proper diversified portfolio.
News sponsored by:
Understanding the value in commodity investing
Here at BlackRock, we help investors make more out of commodities with a range of innovative, flexible and resilient investment strategies.
New Economies - Frontiers and Latam Exciting markets, unrealised investment opportunities
From Brazil and Mexico, to Vietnam and Nigeria, the rapidly developing economies of Latin American and frontier markets, which are some of the smaller, less developed economies in the world, provides investors with a wealth of potential opportunities. Discover why BlackRock's investment trust range is well placed to help you make more of these exciting regions.
The Citywire Guide to Investment Trusts
In this guide to investment trusts, produced in association with Aberdeen Asset Management, we spoke to many of the leading experts in the field to find out more.
More about this:
Look up the funds
Look up the shares
Look up the investment trusts
More from us
Archive
Today's articles
Tools from Citywire Money
Weekly email from The Lolly
Get simple, easy ways to make more from your money. Just enter your email address below
An error occured while subscribing your email. Please try again later.
Thank you for registering for your weekly newsletter from The Lolly.
Keep an eye out for us in your inbox, and please add noreply@emails.citywire.co.uk to your safe senders list so we don't get junked.