View the article online at http://citywire.co.uk/money/article/a651124
Diary of a Dumb Investor: should I sell my star bond fund?
There's no bravado this week. I feel genuinely too dumb to know what to do.
Should I sell my star bond fund? Why hold bonds at all, least of all developed world government bonds?
These are questions that I have been considering during the past week while sitting motionless, staring hard at my Hargreaves Lansdown portfolio overview, urging it into action.
Here are some simple conclusions I've drawn from my research on Citywire and elsewhere:
Government bonds in places like the UK aren't good value
Nor will they be for a long time
BUT pesky 'asset allocation' says you should not just hold shares, but also bonds.
Then again, big mouthy investors (the ones that get to have their say on places like Citywire) are worried about bond bubbles smashing them in the face.
Everyone is dead excited about shares, not least the sort that pay them an income better than that paid by bonds….
…so there could be a 'great rotation' out of bonds and into shares. This of course isn't good for bonds.
Bond fund managers deny all of this
So why then, despite the protestations of bond fund managers, should I hold onto my bond fund?
You can see the performance of my Old Mutual Global Strategic Bond fund in the screen grab of my portfolio below: in sum, Stewart Cowley, the guy who runs the fund, is a bond ninja, doubling the benchmark return over the last three years. But only to the tune of 23%. And over the past year he's only returned 5.5%. Still, it's enough to convince me he must know what he is doing.
Nonetheless, wouldn't I be better off holding more shares?
Maybe. But as a novice investor it would feel counter-intuitive to sell out of something so good – Cowley seems to be able to spin a profit even with two thirds of his fund in government bonds – but then of course I know you are supposed to sell on a high.
What's more, holding the fund means I have a more diversified portfolio, not just a bunch of shares.
There's no bravado this week. I feel genuinely too dumb to know what to do. This is my toughest investment challenge yet.
My portfolio: Click to enlarge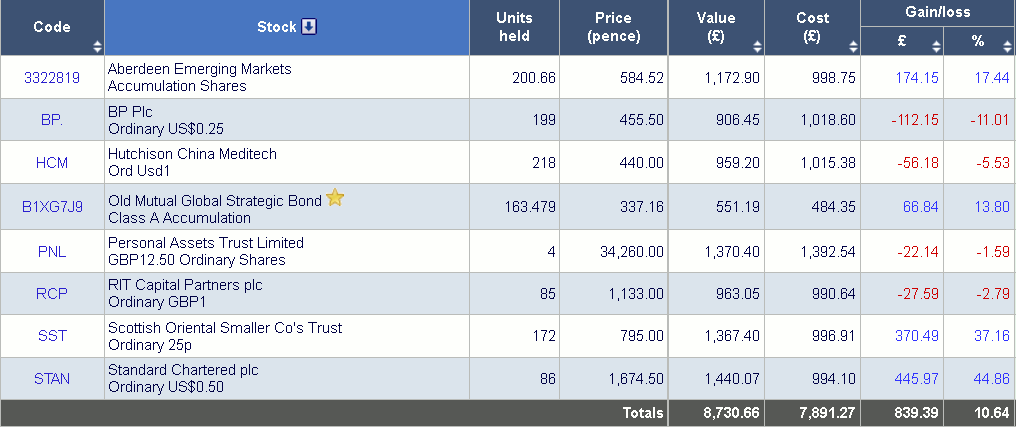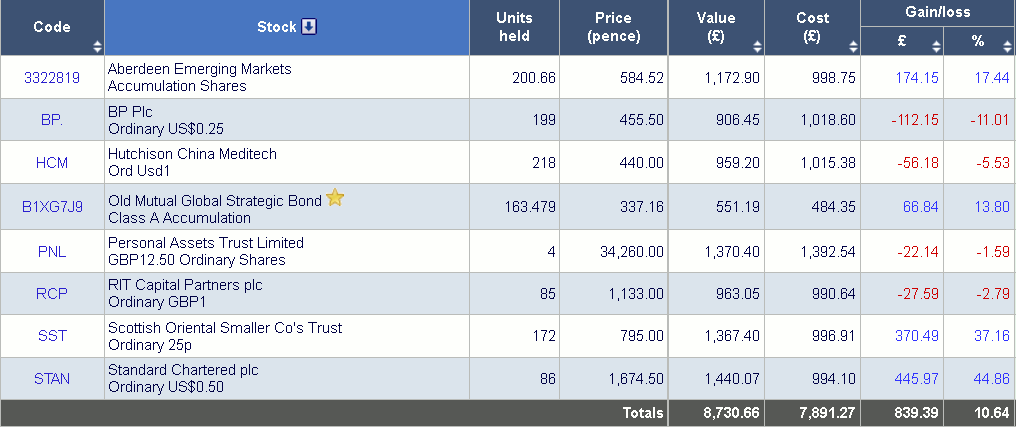 News sponsored by:
Understanding the value in commodity investing
Here at BlackRock, we help investors make more out of commodities with a range of innovative, flexible and resilient investment strategies.
New Economies - Frontiers and Latam Exciting markets, unrealised investment opportunities
From Brazil and Mexico, to Vietnam and Nigeria, the rapidly developing economies of Latin American and frontier markets, which are some of the smaller, less developed economies in the world, provides investors with a wealth of potential opportunities. Discover why BlackRock's investment trust range is well placed to help you make more of these exciting regions.
The Citywire Guide to Investment Trusts
In this guide to investment trusts, produced in association with Aberdeen Asset Management, we spoke to many of the leading experts in the field to find out more.
More about this:
Look up the funds
Look up the fund managers
More from us
Archive
Today's articles
Tools from Citywire Money
Weekly email from The Lolly
Get simple, easy ways to make more from your money. Just enter your email address below
An error occured while subscribing your email. Please try again later.
Thank you for registering for your weekly newsletter from The Lolly.
Keep an eye out for us in your inbox, and please add noreply@emails.citywire.co.uk to your safe senders list so we don't get junked.