View the article online at http://citywire.co.uk/money/article/a655886
Diary of a Dumb Investor: should I short gilts?
I have found a way to profit not once, but twice from a decline in UK government bonds. Tempting.
I've spent the last couple of hours drowning in gilts, submerged in investment commentary and economic forecasts. I only allowed myself to return to the surface once I had found an answer. The question: should I seek to profit from the decline of UK government bonds?
How did I, a Dumb Investor, get here, poised to short – double short in fact! – UK sovereign debt?
It started with my bond fund. Despite being infected with fears about a bond bubble bursting, and the decline of gilts as the UK loses its 'safe haven' status, I decided against selling the fund. I'm holding on, you may remember, partly for diversification. And partly because the fund manager reminded me that he isn't restrained to investing in expensive government bonds. This is no monolithic gilt grab.
My portfolio: Click to enlarge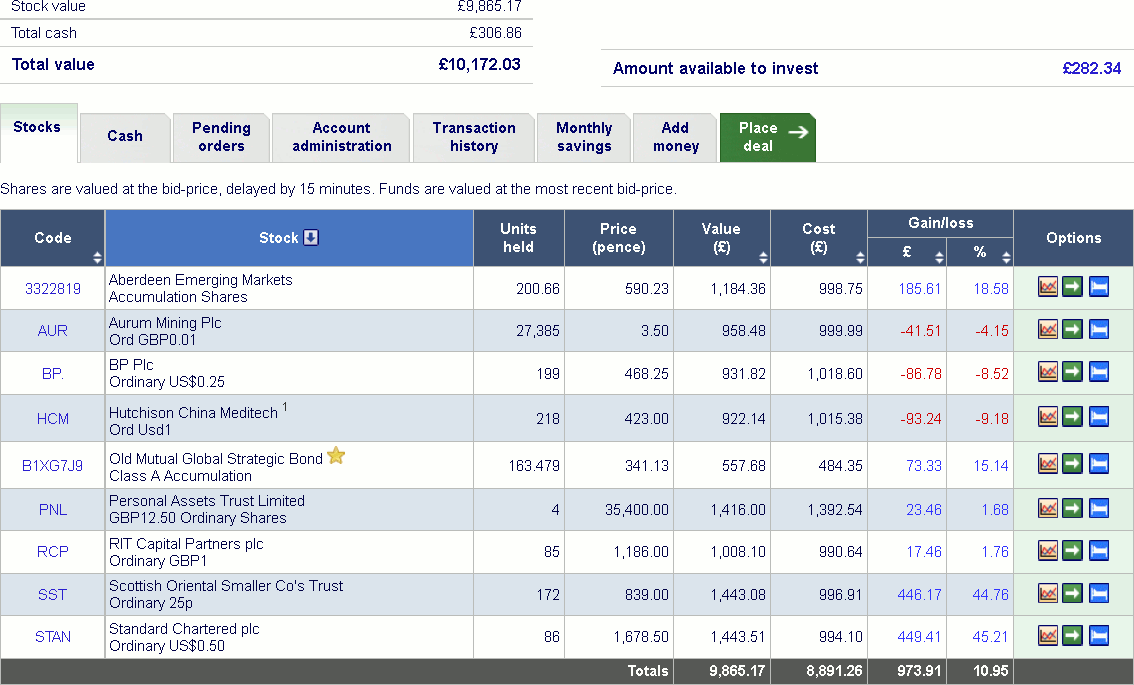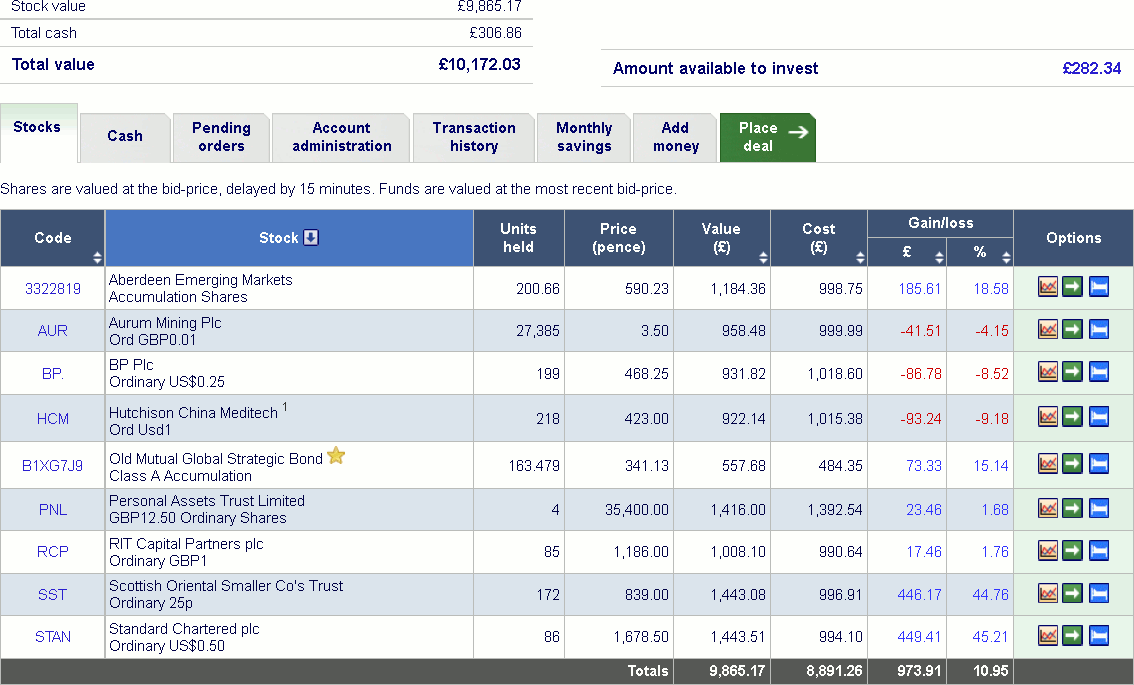 That doesn't mean I couldn't take a more specific bet on the decline of gilts, I realised. After all, there is a strong argument that the UK will become the market's whipping boy this year, not least as our finances start to look relatively weak in contrast to improvements elsewhere.
How could I do that? I could put some money into an exchange traded fund (ETF) that moves in the opposite direction to the returns of gilts. In fact I could go further and buy an ETF that gives you twice the opposite return of gilts, the db x-trackers II UK GILTS Double Short Daily ETF . So if gilt returns fall, I get a mirror image rise…times two, thanks to the magic of derivatives! And this happens on a daily basis.
But, I have decided against this. For now.
I do believe this is a bubble – as City gurus have been saying for several years now – but one that won't burst yet. This is because even as normal investors pull out, several much bigger players in the market are still buying: foreign investors, praising the UK's 'consistent' policies; the still-stimulating Bank of England; and pension funds, apparently for 'liability matching'.
What's more, Deutsche Bank, which sells the ETF I've been eyeing, describes it as a 'day trading product', one for 'sophisticated investors'. I'm uncertain whether that this a standard ignorable small print warning, but it puts me off nonetheless. Seems like too much of a liability for a twice-a-week portfolio checker kinda guy like me.
Besides, I've got no cash. Barring a couple of hundred pounds, I'm fully invested. Last week's risky £1,000 whirl on shares in AIM-listed Aurum (AURU.L) (which is incidentally up 7% today after announcing 'encouraging gold prospecting results' in western Spain) means I now must sell something in order to buy.
Still, I feel good. My original £10,000 portfolio is now worth £10,172.03 and I'm learning.
News sponsored by:
The Citywire Guide to Investment Trusts
In this guide to investment trusts, produced in association with Aberdeen Asset Management, we spoke to many of the leading experts in the field to find out more.
More about this:
Look up the shares
More
More from us
What others are saying
Archive
Today's articles
Tools from Citywire Money
Weekly email from The Lolly
Get simple, easy ways to make more from your money. Just enter your email address below
An error occured while subscribing your email. Please try again later.
Thank you for registering for your weekly newsletter from The Lolly.
Keep an eye out for us in your inbox, and please add noreply@emails.citywire.co.uk to your safe senders list so we don't get junked.