View the article online at http://citywire.co.uk/money/article/a882580
Diary of a Dumb Investor: so many bargains!
I've taken the hit on some of my worst investments, picked a fund to give my portfolio backbone, and found an exciting new stock.
I've finally done it, and boy does it feel good. Some of my worst-ever investments have been vanquished from my portfolio, as I try to reimpose some order on my disparate collection of stocks.
Rolls-Royce (RR), Pearson (PSON) and Imagination Technologies (IMG) have all gone, and thankfully not as cheaply as they would have last week.
I'm counting my lucky stars to have prevaricated long enough on my overhaul to enjoy a hefty surge in the shares of Rolls-Royce (nowhere near enough to lift me out of the red, mind, but welcome nonetheless) after the aircraft engine manufacturer dispelled fears of a sixth profit warning in two years. Yes, I would have cut those losses even more had I waited until today, rather then selling them on Monday, but I was too anxious not to look a gift horse in the mouth.
Imagination Technologies meanwhile enjoyed a bounce on the news boss Hossein Yassaie was stepping down and the business was being overhauled.
Pearson has gone too, as part of a clear-out to make way for some proper diversification to my portfolio. I had been eyeing two global funds, Fundsmith Equity and Lindsell Train Global Equity , to provide some US, UK and Japanese exposure, and as the Lindsell Train fund held a hefty chunk of Pearson, it made sense to get rid of my own holding.
Change of heart
Except that, having sold Pearson, I've had a change of heart on the funds I should pick. The Fundsmith and Lindsell Train funds do a good job of bolstering my asset allocation, but I'm a bit worried that I could be investing in both funds, which have had a remarkable run, just as their investment styles come out of fashion.
Both funds sit right towards the top of the Global Equities sector over three years, with returns of 63% for Fundsmith and 56.5% for the Lindsell Train fund. They both have similar investment styles, buying a small number of 'quality' companies, with a bias towards firms that provide consumer goods, like tobacco and beer.
These are just the sort of stocks labelled 'expensive defensives' by their critics, I read, after the shares have been on a long bull run over the last few years. This isn't a new criticism, and as Fundsmith manager Terry Smith has argued, you would have lost out on a fair chunk of returns if you'd listened to them before.
But I wonder if they might now have a point. If I look at the way markets have performed over the last month, it is some of the areas that have been out of favour leading the way, like miners and emerging markets. And even those previously more wedded to 'defensive' stocks are now starting to consider some of those areas that have for a long time been shunned.
I think they might be right, and that a contrarian, 'value' approach to investment, seeking out those companies which have been unfairly punished, might prove fruitful this year.
Looking for 'value'
So who do I turn to for this? I still want more of a backbone to my portfolio, something to complement by holding in RIT Capital Partners (RCP ). One investment trust that caught my eye was Murray International (MYI ), which has received the thumbs-up from analysts who believe its value approach could be coming back into style.
But I'm not sure it quite fits the bill for me. While it is a global fund, it has precious little in the US, with a bias towards emerging markets. All well and good, and which I guess makes sense for a value investor, but I've already got quite a lot in emerging markets.
So I had a look at other global funds and investment trusts with a value approach. Morningstar's style screener proved useful for this. I 'screened' all the funds in its Global Large-Cap Value Equity category, and it threw up more than 300 funds, most of which I had never heard of, and a lot of which I couldn't buy on Hargreaves Lansdown anyway. I also did the same for investment trusts.
It was when going through this list that I started to have qualms about my search for value. All of the funds I looked at were rooted at the bottom of the performance tables over three years, which I guess is to be expected given that value investing has been itself badly out of fashion over the last few years.
It made me question my bet that value investing could triumph over the expensive 'defensive' stocks that have led the markets over the last few years. While I am worried the latter could come unstuck, do I really want to pile all my eggs into the value basket, especially for an investment that is meant to serve as the backbone of my portfolio?
Boring fund, exciting stock
So I've decided on a compromise. The Bankers (BNKR ) investment trust offers the right sort of asset allocation: while more than a third is invested in the UK, it also holds healthy chunks in the US, Japan and Europe. And while it does not have an explicit value approach, it is not heavily focused on the defensive areas of the market that have done so well to date. I think it should leave me less vulnerable if the market either changes direction or progresses along the same lines it has done over the last few years. Not the most exciting choice, granted, but look at where excitement has got me over the last few months.
I'm putting £4,000 in the fund, more than my normal amount, as I want this fund to form the bedrock of my portfolio. But that still leaves me with plenty of cash to invest, and I want to get started right away.
The market sell-off has left a lot of shares looking unfairly punished. One of them to have caught my eye is the relative minnow Mattioli Woods (MTW). The Alternative Investment Market-listed Sipp provider has been consistently growing revenues and dividends, with profits before tax also up in each of the last four years (although a slightly higher tax bill last year prompted a slight dip in earnings per share). And the company, which also operates an employee benefits arm, could be a big beneficiary of pension freedom, and the greater need for financial advice.
The shares have drifted 11% since the start of the year, and I reckon a lot of that is to do with the sell-off in financials. It can't have much to do with interim results issued earlier this month, which appeared solid. Analyst opinion on the stock is unanimous: the three brokers rating the stock all moved their recommendation from 'hold' to 'buy' in the last two weeks.
But what has really convinced me is the fund managers holding it: Citywire AAA-rated Alex Wright, AA-rated Anthony Cross and Julian Fosh, and even the manager of a fund 'Pensioner' flagged to me after my last post: A-rated Keith Ashworth-Lord, who runs the ConBrio Sandford Deland UK Buffetology fund, is also a backer. Here's my portfolio after the changes.
My portfolio: click to enlarge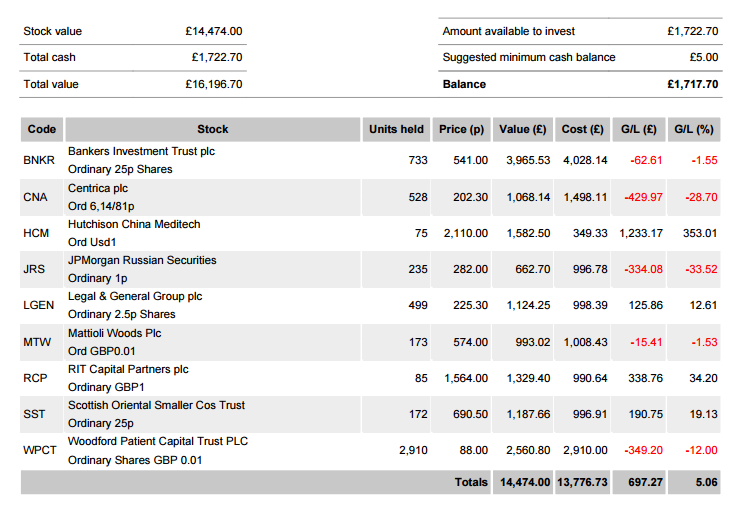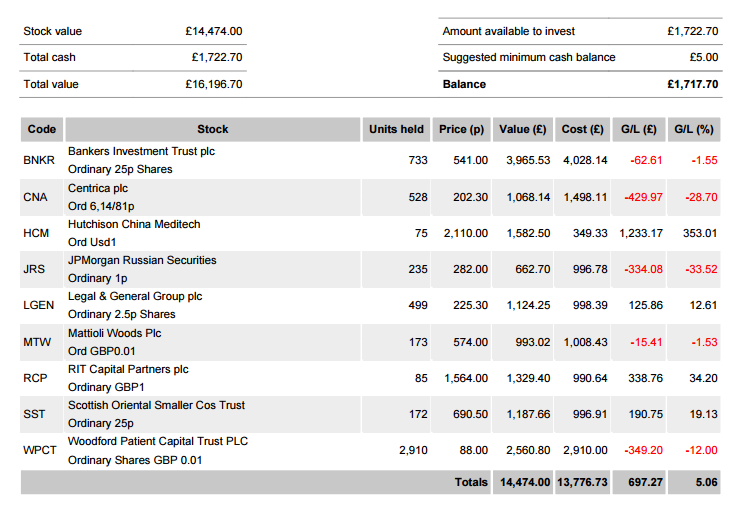 Any opinions expressed by Citywire or its staff do not constitute a personal recommendation to you to buy, sell, underwrite or subscribe for any particular investment and should not be relied upon when making (or refraining from making) any investment decisions. In particular, the information and opinions provided by Citywire do not take into account your personal circumstances, objectives and attitude towards risk.
News sponsored by:
The Citywire Guide to Investment Trusts
In this guide to investment trusts, produced in association with Aberdeen Asset Management, we spoke to many of the leading experts in the field to find out more.
More about this:
Look up the funds
Look up the shares
Look up the investment trusts
Look up the fund managers
More from us
What others are saying
Archive
Today's articles
Tools from Citywire Money
Weekly email from The Lolly
Get simple, easy ways to make more from your money. Just enter your email address below
An error occured while subscribing your email. Please try again later.
Thank you for registering for your weekly newsletter from The Lolly.
Keep an eye out for us in your inbox, and please add noreply@emails.citywire.co.uk to your safe senders list so we don't get junked.