View the article online at http://citywire.co.uk/money/article/a615040
Five lessons from Bernanke's Jackson Hole speech
US Fed chairman Ben Bernanke may have disappointed investors in his speech today, but he did provide some lessons in a potted history of the US central bank's response to the financial crisis.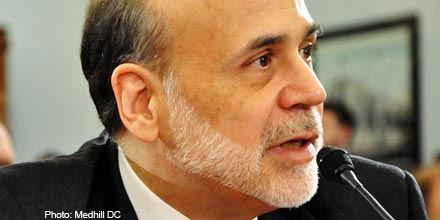 At best, 'nothing new'; at worst, a 'snoozefest'. Either way, close watchers of US Federal Reserve chairman Ben Bernanke were left unimpressed by the central banker's speech at Jackson Hole today.
Rather than a clear signal that Bernanke would imminently unleash a third round of quantitative easing ('QE3', or the buying of government bonds to reduce long-term interest rates), the best they got was an echo of previous comments with the pledge that 'the Federal Reserve will provide additional policy accommodation as needed'.
However, Bernanke's 4,500 word potted history of the response of the Fed's Open Market Committee (FOMC) to the financial crisis wasn't entirely sleep-inducing, providing a handful of lessons on the success – or otherwise – of policy in the world's largest economy.
1) QE works

The Bank of England says it; so does Bernanke.
Drawing on research, he concludes that asset purchases 'significantly lowered' long-term Treasury yields and 'boosted' stock prices.
He admits that 'obtaining precise estimates of the effects of these operations on the broader economy is inherently difficult,' but concludes that the Fed has achieved something 'economically meaningful.'
In fact Bernanke mentions the Bank of England's own success – a controversial conclusion drawn by the British central bank's own staff – in supporting his argument.
2) So does policy by speech

When there just isn't enough ink left in the printers, central bankers use the gift of the gab or 'forward guidance'. It's what European Central Bank chief Mario Draghi did over the summer, promising to support the euro, and thereby managing to keep things together while his political masters were on holiday.
Bernanke said: 'the committee's forward guidance may have conveyed a greater willingness to maintain accommodation than private forecasters had previously believed. The behavior of financial market prices in periods around changes in the forward guidance is also consistent with the view that the guidance has affected policy expectation.'

3) But it hasn't fixed unemployment
In the UK, it's baffling that the labour market is so (relatively) strong; in the US, economists are bewildered as to why it's so weak. 'In light of the policy actions the FOMC has taken to date, as well as the economy's natural recovery mechanisms, we might have hoped for greater progress by now in returning to maximum employment,' Bernanke said.
'The economic situation is obviously far from satisfactory,' he admitted, partly owing to weak housing activity, uncertainty about fiscal policy – not least the fiscal cliff – and stresses in markets.
News sponsored by:
Understanding the value in commodity investing
Here at BlackRock, we help investors make more out of commodities with a range of innovative, flexible and resilient investment strategies.
New Economies - Frontiers and Latam Exciting markets, unrealised investment opportunities
From Brazil and Mexico, to Vietnam and Nigeria, the rapidly developing economies of Latin American and frontier markets, which are some of the smaller, less developed economies in the world, provides investors with a wealth of potential opportunities. Discover why BlackRock's investment trust range is well placed to help you make more of these exciting regions.
The Citywire Guide to Investment Trusts
In this guide to investment trusts, produced in association with Aberdeen Asset Management, we spoke to many of the leading experts in the field to find out more.
More about this:
More from us
What others are saying
Archive
Today's articles
Tools from Citywire Money
Weekly email from The Lolly
Get simple, easy ways to make more from your money. Just enter your email address below
An error occured while subscribing your email. Please try again later.
Thank you for registering for your weekly newsletter from The Lolly.
Keep an eye out for us in your inbox, and please add noreply@emails.citywire.co.uk to your safe senders list so we don't get junked.