View the article online at http://citywire.co.uk/money/article/a592623
Gilt yields could go anywhere from 1% to 5%, warns Fidelity's Spreadbury
Yields could fall below 1% or possibly rise above 5% if people start to worry about credit quality, says Fidelity fund manager Ian Spreadbury.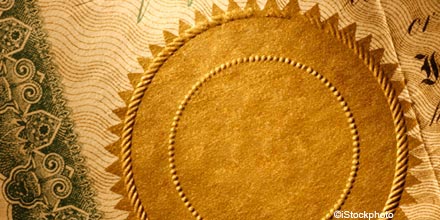 Fidelity's bond fund manager Ian Spreadbury has warned that yields on 10-year UK gilts could fall below 1%, but the risks are 'asymmetric' for investors.
Speaking at the Fidelity Investment Summit, Citywire A-rated Spreadbury said although the UK is perceived as a 'safe haven' amid the eurozone turmoil, its status is fragile given the size of the country's debt.
'I think yields can go lower, but the risks are asymmetric,' he said. 'It's possible yields could go below 1% on 10-year bonds, although it is unlikely. If people worry about the credit quality of the UK, though, yields could rise to around 5%.
'Yes, there could be upside, but interest rate risk is substantial. You will be hurt quickly if you have high duration and rates go up.'
On Wednesday 10 year gilt yields hit a new low of 1.736%
With limited upside and high potential downside, Spreadbury is diversifying his bond holdings and betting on potential falls through credit default swaps (CDS).
'I have gone short 10-year Japanese government bonds via futures,' he said.
'This way, I can calculate my downside risk, and have protection if things blow up. It's a cheap trade, and I'm happy to sit on it.' He said this position forms around 7% of the portfolio.
The fund also holds a CDS against Spain, which amounts to around 2.5% of the portfolio. Spreadbury added that he is not playing for default, but for the mark-to-market moves.
In terms of his long positions, he said there is better value in investment-grade corporates than gilts. 'Look at bonds like Tesco (TSCO.L)'s – I'm getting paid double gilt yields, of around 4%,' he said.
'So there's relative value in the corporate market, risk is lower and there are higher returns.'
Although Spreadbury sees value in high yield, he prefers investment grade because in a double-dip scenario, high yield would come under pressure.
News sponsored by:
Understanding the value in commodity investing
Here at BlackRock, we help investors make more out of commodities with a range of innovative, flexible and resilient investment strategies.
New Economies - Frontiers and Latam Exciting markets, unrealised investment opportunities
From Brazil and Mexico, to Vietnam and Nigeria, the rapidly developing economies of Latin American and frontier markets, which are some of the smaller, less developed economies in the world, provides investors with a wealth of potential opportunities. Discover why BlackRock's investment trust range is well placed to help you make more of these exciting regions.
The Citywire Guide to Investment Trusts
In this guide to investment trusts, produced in association with Aberdeen Asset Management, we spoke to many of the leading experts in the field to find out more.
More about this:
Look up the funds
Look up the shares
Look up the fund managers
Archive
Today's articles
Tools from Citywire Money
Weekly email from The Lolly
Get simple, easy ways to make more from your money. Just enter your email address below
An error occured while subscribing your email. Please try again later.
Thank you for registering for your weekly newsletter from The Lolly.
Keep an eye out for us in your inbox, and please add noreply@emails.citywire.co.uk to your safe senders list so we don't get junked.