View the article online at http://citywire.co.uk/money/article/a596533
Gold set to rise, says Jupiter Merlin's Smith-Maxwell
'There has been bloodletting for the last nine months, and we think there has now been enough,' says Algy Smith-Maxwell, manager of the Jupiter Merlin Income fund of funds.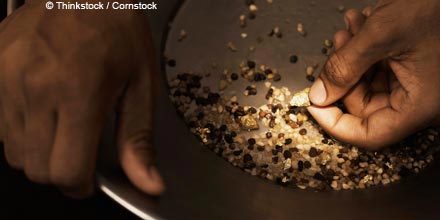 Jupiter fund manager Algy Smith-Maxwell believes the gold price may now have bottomed out after nine months of 'bloodletting' that has seen the precious metal's price retreat.
Smith-Maxwell, who runs the £3.5 billion Jupiter Merlin Income portfolio – a pick of Citywire Selection – with co-managers John Chatfeild-Roberts and Peter Lawery, said the latest round of price falls had left the current gold price well supported.
The fund, which invests in other funds (making it a 'fund of funds'), has 5.8% invested in gold through the ETFS Physical Gold exchange-traded fund (ETF), after the trio took 20% profits on gold last August. Since then, the stake has fallen as the price of gold has tumbled.
Price set to rise?
'We are happy to keep our gold exposure at this level,' Smith-Maxwell said. 'There has been bloodletting for the last nine months, and we think there has now been enough. The price seems to have bottomed because a lot of institutions and commodity ETFs were also sellers of gold as it makes up part of the commodities basket. The sell-off in the Indian rupee also led to weaker demand from India.'
But he does not think gold is comparable to other commodities.
'We believe gold is an asset that should not be compared to anything else. It yields nothing but is a proven store of value at a time when it will take a number of years before we get to the point where capital markets can rebase again. If we are right about further QE [quantitative easing, electronic printing of money by the Bank of England] and the destruction of money value, it should do well.'
No exposure to Western sovereign debt
The Merlin fund continues to have no exposure to Western sovereign debt, which Smith-Maxwell describes as 'either too expensive or not cheap enough', and a previous holding in the Thames River Global Bond was removed some months ago as he says it turned out to be more of a currency play than a bond one.
While there has been little recent activity, exposure to strategic corporate bonds has been a key theme this year with Philip Milburn's Kames High Yield Bond fund added in early April  following the addition of Ariel Bezalel's Jupiter Strategic Bond fund prior to that.
Along with M&G Strategic Corporate Bond and Threadneedle Emerging Market Bond , which has been retained following the departure of Richard House because of the team's belief in his replacement Henry Stipp, fixed income makes up some 33.5% of the portfolio.  
Overseas equity exposure offers diversity
The fund has some 55% in equities, close to its historic high, primarily through holdings in defensive blue-chip funds such as Invesco Perpetual High Income , Artemis Income and the Jupiter Income Trust .
But Smith-Maxwell also stresses that 22% of that exposure is to overseas equities, through First State Asian Equity , Newton Asian Income , and the relatively recent addition of Stuart Rhodes' M&G Global Dividend fund.
'We think dividend yield and selective corporate bonds will make up a large part of cautious investors' returns going forward so our stategic bond holdings and equity income funds mean we are well placed,' he said.
News sponsored by:
Understanding the value in commodity investing
Here at BlackRock, we help investors make more out of commodities with a range of innovative, flexible and resilient investment strategies.
New Economies - Frontiers and Latam Exciting markets, unrealised investment opportunities
From Brazil and Mexico, to Vietnam and Nigeria, the rapidly developing economies of Latin American and frontier markets, which are some of the smaller, less developed economies in the world, provides investors with a wealth of potential opportunities. Discover why BlackRock's investment trust range is well placed to help you make more of these exciting regions.
The Citywire Guide to Investment Trusts
In this guide to investment trusts, produced in association with Aberdeen Asset Management, we spoke to many of the leading experts in the field to find out more.
More about this:
Look up the funds
More
Look up the fund managers
More from us
Archive
Today's articles
Tools from Citywire Money
Weekly email from The Lolly
Get simple, easy ways to make more from your money. Just enter your email address below
An error occured while subscribing your email. Please try again later.
Thank you for registering for your weekly newsletter from The Lolly.
Keep an eye out for us in your inbox, and please add noreply@emails.citywire.co.uk to your safe senders list so we don't get junked.