View the article online at http://citywire.co.uk/money/article/a618336
Happy Friday for FTSE 100; miners gain 13%
MARKET BLOG: Britain's markets end the week up and the S&P 500 reaches 2007 highs as investors splash their cash amid further QE.
BskyB and BT falter on battle for rugby rights
Euro hits four-month high; dollar plummets
Gold bounds ahead; miners lead FTSE skyward
Markets rise on 'Bernanke bounce' with QE3
16.50: UK markets closed the week in positive territory as investors poured cash into more risk-sensitive assets on the promise further quantitative easing from the US Federal Reserve.
Britain's FTSE 100 increased 1.64%, or 96 points, to 5,916 points and the FTSE 250 gained 2.28%, or 270 points, to 12,116 points.
This week the FTSE 100 rose 1.8%, or 104 points, and the Mid-250 index has taken on 2.5%, or 297, points since Monday.
Miners topped the FTSE 100 leader board: Vedanta Resources (VED.L) rose 129p, or 13.4%, to £10.90; Kazakhmys (KAZ.L) added 90.5p, or 13.3%, to 771p; and Evraz (EVRE.L) gained 33.8p, or 13%, to 293p.
S&P 500: Click to enlarge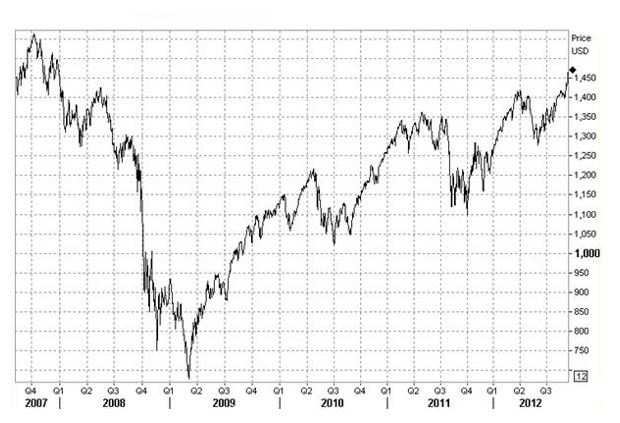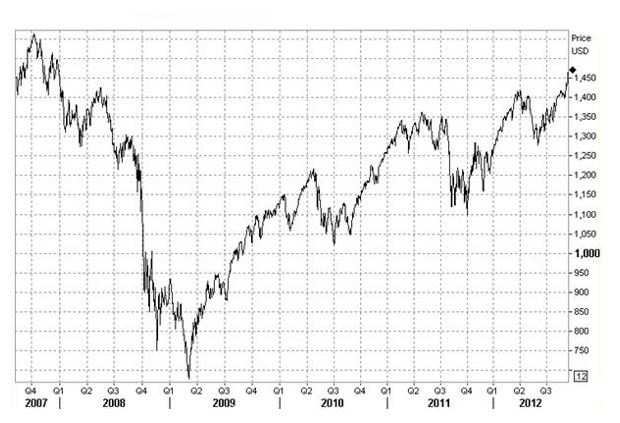 On Wall Street markets extended their gains for a second day, with the S&P 500 reaching highs not seen since late 2007, as investors cheered on stimulus plans for the country's economy.
The Dow Jones Industrial Average rose 0.5% to 13,627; the Standard & Poor's 500 index added 0.67% to 1,470; and the Nasdaq Composite index took on 1% to 3,187.
BSkyB and BT falter on battle for rugby rights
15.30: Rivals BSkyB (BSY.L) and BT (BT.L) are making the biggest losses on the FTSE 100 in Friday trade as they battle for the right to air Premiership and rugby games.
BT secured the rights to air live Premier League matches earlier this year, marking its challenge to BSkyB's dominance in pay-TV sports rights in the UK. Both companies claimed to have won the rights to air Aviva Premiership club games from 2014 on Wednesday.
Investors were troubled as both groups claimed to have struck deals to allow them to air Premiership rugby games on Thursday, highlighting confusion over who can sell live TV rights in the UK. BSkyB gave up 20.5p, or 2.8%, to 724p and BT fell 4.5p, or 1.9%, to 232p.
Mobile marketing group 2 Ergo (RGO.L) shares tumbled 15.6p, or 41%, to 22.9p following a bid to raise £2.2 million with the placement of 15 million new ordinary shares at 10p each.
Euro hits four-month high; dollar plummets
12.48: Currency markets are feeling the squeeze as the Federal Reserve's latest effort to boost the US economy pushes the euro to a four-month high and the dollar drops.
The euro added 0.93% in Friday trade to $1.31 and the dollar index, which tracks the greenback's performance against a basket of major currencies, shed 0.65%, to 78.7 cents.
However, reflecting on QE2, analysts warn that the dollar may not be on a clear downward path. Kathleen Brooks, research director at Forex.com, said: 'As we saw in 2010, the market initially sold the dollar sharply on the back of the November announcement of QE2 before reversing course for the following four weeks.
'After that we saw the dollar fall and risk assets rally for the first half of 2011. So the greenback may not go down in a straight line from here.'
Gold hits six-month high; miners lead FTSE skyward
09.20: Mining stocks soared on the FTSE 100 this morning as the promise of further economic stimulus from the US Federal Reserve eased concerns about global growth.  
Depressed resource stocks rallied: Fresnillo (FRES.L) added 187p, or 11%, to £18.87; Evraz (EVRE.L) took on 30p, or 11%, to 288p; Kazakhmys (KAZ.L) rose 66p, or 9.6%, to 746p; and Antofagasta (ANTO.L) pushed ahead 112p, or 9%, to £13.47.
Pub group JD Wetherspoons (JDW.L) added 24.2p, or 5.3%, to 485p as full-year figures showed revenues increased 11.7% to £1.2 billion and like-for-like sales increased 3.2% in 2012.
Gold also bounced to a six-month high on concerns about possible inflation from further quantitative easing.
Prices soared from $1,732/oz to $1,768/oz as the stimulus package was announced by the Fed, and the precious metal traded at $1,773/oz in Friday morning trade.
Gold price: Click to enlarge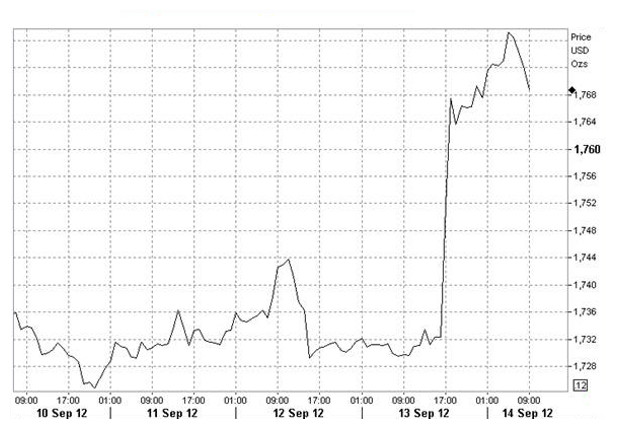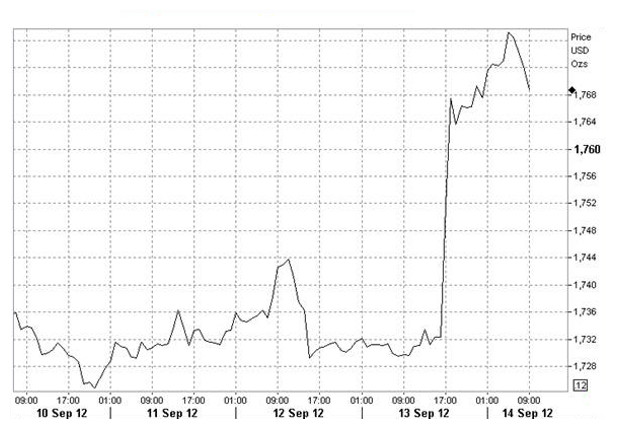 Angelos Damaskos, chief executive of Sector Investment Managers, said: 'The Fed's approach risks further stoking inflation and dollar devaluation, the main reason why investors have, again looked to gold as safety and pushed its price to over $1,770 per ounce.
'Whether based on fundamental or technical indicators, gold's recent price action looks good. This move is also excellent news for gold mining stocks that have been sold-off and unloved by investors for over a year now.'
Markets rise on 'Bernanke bounce' with QE3
08.20: Britain's markets raced ahead, tracking overnight gains in the US and Asia, as the latest effort to boost the US economy from the Federal Reserve was welcomed by investors.
The FTSE 100 added 1.3%, or 75 points, to 5,895 and the Mid-250 index took on 1.36%, or 160 points, to 12,006.
The Fed announced an open-ended quantitative easing (QE) programme, buying $40 billion of mortgage-backed securities each month, yesterday evening. Unlike previous measures the programme has no end date and will run until the labour market improves.
Trevor Greetham, director of Asset Allocation at Fidelity Worldwide Investment, said: 'Once again the Fed has upstaged the European Central Bank (ECB) with powerful and open-ended easing program aimed right at the core of the problem – housing finance.
'Ben Bernanke is the world expert on what the Fed should have done to get out of the Great Depression, and he is following the playbook to the line. Ease aggressively, don't reverse course and keep the easing going well into the recovery.'
News sponsored by:
The Citywire Guide to Investment Trusts
In this guide to investment trusts, produced in association with Aberdeen Asset Management, we spoke to many of the leading experts in the field to find out more.
More about this:
Look up the shares
Archive
Today's articles
Tools from Citywire Money
Weekly email from The Lolly
Get simple, easy ways to make more from your money. Just enter your email address below
An error occured while subscribing your email. Please try again later.
Thank you for registering for your weekly newsletter from The Lolly.
Keep an eye out for us in your inbox, and please add noreply@emails.citywire.co.uk to your safe senders list so we don't get junked.