View the article online at http://citywire.co.uk/money/article/a878488
HOT cuts fee as Henderson achieves maximum payout
Henderson Opportunities Trust alters fees it pays fund manager after shareholders pay £1.34 million for a 6% return.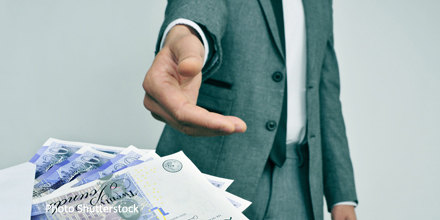 Henderson Opportunities Trust (HOT ) has cut the management charge and performance fee it pays fund manager James Henderson and his employer Henderson Global Investors after they earned a maximum payout during a year of modest shareholder returns.
Annual results for the trust show that in the year to 31 October, 2015, the fund management group earned £1.34 million, the most it could earn under its contract for that year, while shareholders received a total return of 6%.
In response the board has trimmed the annual management charge to 0.55% of net assets from 0.6% and reduced the cap on the amount Henderson Global Investors can earn in performance fees in one year to 1.5% from 1.65%.
HOT's annual accounts show Henderson Global Investors generated a maximum annual performance fee of £765,000 under an arrangement by which it gets 15% of any growth in the trust's net asset value above the FTSE All Share index. This was on top of the £576,000 base fee the group received for running the trust's investments.
The performance fee kicked in after fund manager James Henderson, whose ancestors helped found the group, achieved a 13.5% total return for the portfolio in the 12 months to the end of October. This was well ahead of the 2.9% growth in its FTSE benchmark.
Unfortunately, investors didn't do as well as this might suggest. A widening in the discount – or gap – between the trust's share price and the value of its portfolio meant shareholder returns were 6.3%, less than half what Henderson's stock picking had delivered.
This disparity may add to the debate around performance fees which nearly doubled the level of ongoing charges borne by shareholders to nearly 2%. 
Critics say performance fees are an unnecessary complication and that if they are justified they should be linked to trusts' share prices not their underlying net asset value.
However, fund managers argue performance fees incentivise them to do well for shareholders and that the link to net asset value is logical as it is the portfolio they are responsible for, not the share price.
Chairman George Burnett commented: 'As in the previous year, the company had a stronger first half than second, as a result of market volatility. In both six month periods the company outperformed the benchmark. The share price total return in the year under review was 6.3%, which, while comfortably ahead of our benchmark, lagged the NAV total return as discounts widened across the sector, reflecting general investor uncertainty. Over the longer term, the NAV and share price total return performance has continued to be excellent.'
Performance fees have a tendency to produce anomalies. In 2013/14 the situation was reversed when a narrowing in the discount saw HOT generate a total shareholder return of 9.3%, ahead of the 3.4% advance in net asset value and the 1%  rise in the FTSE All Share. For this it earned a performance fee of £149,000, the first in the trust's history.
The experience of HOT's two performance fees in two years suggests that Henderson does best when shareholders do less well and vice versa, although that is largely due to the vagaries of the share price and its relationship to the trust's net asset value.
News sponsored by:
Understanding the value in commodity investing
Here at BlackRock, we help investors make more out of commodities with a range of innovative, flexible and resilient investment strategies.
New Economies - Frontiers and Latam Exciting markets, unrealised investment opportunities
From Brazil and Mexico, to Vietnam and Nigeria, the rapidly developing economies of Latin American and frontier markets, which are some of the smaller, less developed economies in the world, provides investors with a wealth of potential opportunities. Discover why BlackRock's investment trust range is well placed to help you make more of these exciting regions.
The Citywire Guide to Investment Trusts
In this guide to investment trusts, produced in association with Aberdeen Asset Management, we spoke to many of the leading experts in the field to find out more.
More about this:
Look up the shares
Look up the investment trusts
More from us
More
Archive
Today's articles
Tools from Citywire Money
Weekly email from The Lolly
Get simple, easy ways to make more from your money. Just enter your email address below
An error occured while subscribing your email. Please try again later.
Thank you for registering for your weekly newsletter from The Lolly.
Keep an eye out for us in your inbox, and please add noreply@emails.citywire.co.uk to your safe senders list so we don't get junked.