View the article online at http://citywire.co.uk/money/article/a882315
HSBC to stay in UK after bank levy climbdown
HSBC says it will remain headquartered in the UK following Treasury's watering down of bank levy which would have hit profits.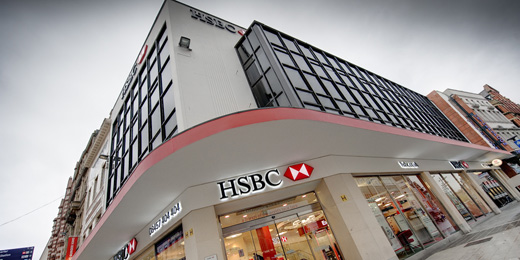 (Update) HSBC (HSBA) has confirmed it will keep its headquarters in the UK, following a long-running review into whether it should leave the City for a new home overseas.
The bank's board has voted unanimously to stay in the UK, describing it as an important and globally connected economy.
In a statement posted on the London Stock Exchange it drew attention to the UK's 'internationally respected' regulatory framework and legal system, and 'immense experience' in handling complex international affairs.
'London is one of the world's leading international financial centres and home to a large pool of highly skilled, international talent,' it said.
'It remains therefore ideally positioned to be the home base for a global financial institution such as HSBC.'
The bank also said Asia remained at the heart of its strategy.
HSBC chief executive Stuart Gulliver said: 'Having our headquarters in the UK and our significant business in Asia Pacific delivers the best of both worlds to our stakeholders.'
Discussions around a proposed relocation emerged in May after concerns were raised over the potential impact the UK's 'bank levy' would have on HSBC's business. Hong Kong was seen as a likely alternative base.
Coming during a massive structural overhaul at the bank, the levy – which initially targeted banks' global balance sheets – drew the ire of HSBC as much of the bank's business came from overseas.
The levy conditions have since been altered. The chancellor announced in his July Budget that the levy would be switched to an 8% surcharge on banks' domestic operations only.
Laith Khalaf, senior analyst at Hargreaves Lansdown, said moving outside the UK would not have been easy as a change of domicile would have required amending thousands of contracts with customers and counterparties. 
'The bank has responded to a big carrot dangled by the chancellor in the form of changes to the bank levy, which will in time make the tax less onerous for HSBC. Hong Kong has probably also waned somewhat in its appeal as an alternative home, following the Chinese government's panicky interventions in the stock market over the last year,' he added.
Mark Boleat, policy chairman at the City of London Corporation, welcomed the decision as a boost for the Square Mile: 'All multinational businesses review what the alternatives are across the globe, but today's announcement is welcome news for financial services in this country – a mainstay of the UK's economy, which employs over 1.1 million people and accounts for 7.5% of our total national income.'
Shore Capital analyst Gary Greenwood was less impressed, however, saying the important issue for investors was not the location of the bank's HQ but its ability to shrink its balance sheet by a quarter and allocate capital to higher returning areas.
'While the shrinkage part of the equation looks achievable to us, we are less convinced by the redeployment part of the story, which we think will be hampered by the weakening economic backdrop, notably in Asia.'
Greenwood reiterated his 'sell' rating believing that HSBC would cut its dividend by 35% to $0.33 a share for 2016. The shares currently yield 7.5% but this would fall to 5% if his forecast dividend cut occurs, he said. 
The shares added 2.25p or 0.5% to 442.4p. They have fallen 39% in the past three years against an 8% decline in the FTSE 100. 
News sponsored by:
Greater Europe and Emerging Europe A comprehensive approach to investing in Europe
Making the most out of Europe's potential means seeing things differently. Learn more about how BlackRock's focused approach to investing in Europe helps investors unlock the continent's vast potential.
The Citywire Guide to Investment Trusts
In this guide to investment trusts, produced in association with Aberdeen Asset Management, we spoke to many of the leading experts in the field to find out more.
More about this:
Look up the shares
More from us
Archive
Today's articles
Tools from Citywire Money
Weekly email from The Lolly
Get simple, easy ways to make more from your money. Just enter your email address below
An error occured while subscribing your email. Please try again later.
Thank you for registering for your weekly newsletter from The Lolly.
Keep an eye out for us in your inbox, and please add noreply@emails.citywire.co.uk to your safe senders list so we don't get junked.