View the article online at http://citywire.co.uk/money/article/a576840
IFS: young families, not pensioners, bear the brunt of coalition cuts
The influential Institute for Fiscal Studies seeks to put the row over the 'Granny Tax' in context saying households with children are in fact the biggest losers of the coalition's Budget changes.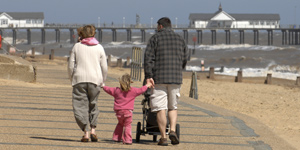 Families with children, not pensioners, will be the worst hit by coalition government's tax changes and welfare cuts, according to the Institute of Fiscal Studies.
The influential institute says households with children will lose 3.5% of their net income in April this year, increasing to 4.7% by April 2014, as a result of budget cuts brought in by the coalition government. 
Despite the controversy over the 'Granny Tax' the IFS says pensioner households stand to lose the least. They face a reduction of 0.95% in their net income, while households without children will lose 2.05% of their net income by April 2012.
Paul Johnson, director for the IFS, said one reason for the surprise at the chancellor's freezing of age-related allowances was that the government had previously 'comprehensively protected pensioners' from benefit cuts and tax increases.
He said: 'Our analysis shows that they have lost considerably less from recent tax and benefit changes than any other demographic group. And over the past decade and more pensioner incomes have risen faster than those of the working age population.'
Impact of changes taking effect by April 2012: Click to enlarge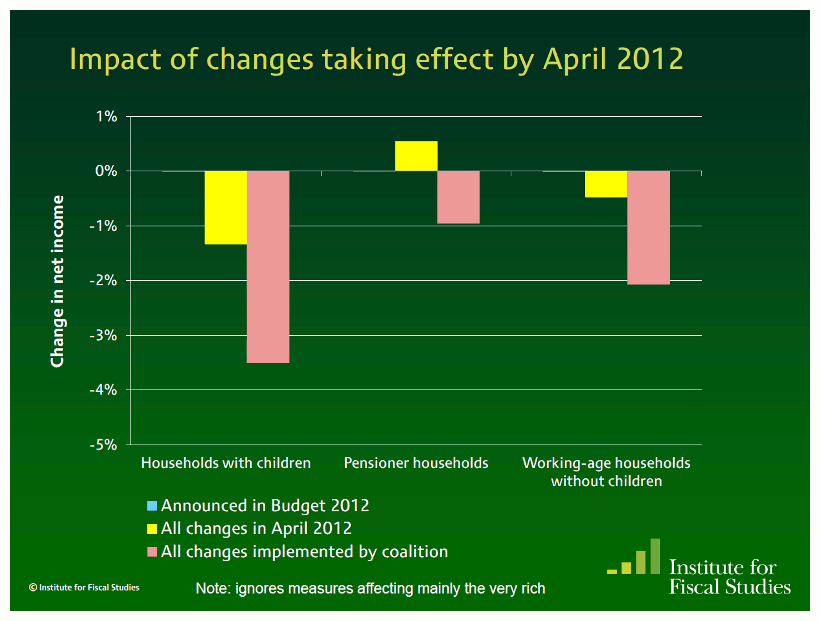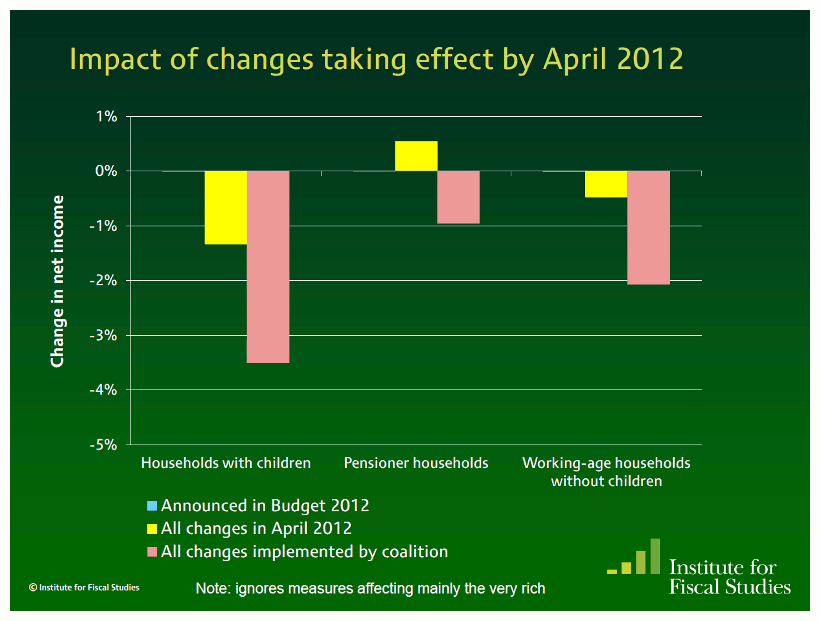 U-turn on child benefit
One of the biggest changes announced by the chancellor in his Budget statement was the u-turn on the government's plans to axe child benefit for families where one partner has an income of over £42,475 from January 2013.
The benefit stands at £20.30 per week for the first child, and £13.40 a week for each subsequent child.
Rather than cutting off child benefit for families above the threshold, the government aims to reduce the 'cliff-edge' by phasing the benefits out.
Under the new plans, in families where one partner earns more than £50,000 a year, benefits will be reduced by 1% per every £100 over the threshold. 
However, one measure that was not reversed was the means by which a family's income is calculated. Rather than measure a family's combined income to determine the cut-off point threshold, the figure is being calculated based on one partner's income. 
News sponsored by:
Greater Europe and Emerging Europe A comprehensive approach to investing in Europe
Making the most out of Europe's potential means seeing things differently. Learn more about how BlackRock's focused approach to investing in Europe helps investors unlock the continent's vast potential.
The Citywire Guide to Investment Trusts
In this guide to investment trusts, produced in association with Aberdeen Asset Management, we spoke to many of the leading experts in the field to find out more.
More about this:
More from us
Archive
Today's articles
Tools from Citywire Money
Weekly email from The Lolly
Get simple, easy ways to make more from your money. Just enter your email address below
An error occured while subscribing your email. Please try again later.
Thank you for registering for your weekly newsletter from The Lolly.
Keep an eye out for us in your inbox, and please add noreply@emails.citywire.co.uk to your safe senders list so we don't get junked.