View the article online at http://citywire.co.uk/money/article/a578669
John Wood: good stocks for deflationary times
John Wood, manager of the JOHCM UK Opportunities fund, explains why stocks with high returns on capital are vital in today's low-growth environment.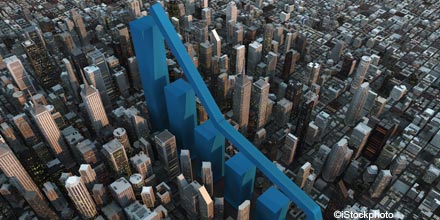 A focus on stocks and sectors that yield high returns on capital is vital in a low-growth environment, says John Wood, manager of the JOHCM UK Opportunities .
Wood, whose fund is a Citywire Selection star pick, has also taken his cash position to a historically high 13% at the end of February, awaiting falls in the market to add to his preferred holdings.
Debt reduction overshadows economy
With Wood expecting the West's painful process of debt reduction and consequent low economic growth to go on for many years, he shuns traditionally defensive sectors such as telecoms and utilities because he thinks their business models require them to spend too much capital on infrastructure.
He also warns that despite an impressive US recovery in the past few months, the country has yet to address its vast debt pile, and many US states could be regarded in the same way as the debt-riddled economies of the southern eurozone that are facing potential defaults.
'My belief since March 2009 has been that we will remain in a low return world. Because nominal GDP [gross domestic product] will be lower than it has been, partly due to deleveraging [debt reduction], we respond by buying stocks with high returns on capital and those that can create value despite the lack of volume growth,' he said.
Sticking with his picks
Wood has made very few changes to the fund over recent months, maintaining his focus on companies and sectors that produce high returns on capital.
'The market is obsessed with risk on/risk off, but there are two powerful waves affecting everything. Structural deleveraging, which will have a massive long-term impact on economic activity, and beneath that the normal economic cycle, but ultimately the former will impact on the latter,' he said.
Referring to the Bank of England's controversial 'quantitative easing' policy of creating money electronically in order to boost the economy, Wood said: 'We have not seen the impact of deleveraging yet and the key issue is that if we keep responding to the issue by printing money, we will never solve the problem of debt.'
Shunning banks and insurers
'Banks love printing money, and every time there is a liquidity surge everyone thinks it is all ok, but it is more important to acknowledge what the true situation is. It is not the end of capitalism but we must deal with the debt issue.'
Consequently Wood holds no banks or life insurers, and does not distinguish between the two due to their relatively high levels of corporate debt.
Backing tobacco
Wood holds both British American Tobacco (BATS.L) and Imperial Tobacco (IMT.L) in his top 10 because he sees the sector as having high barriers to entry and high returns on capital.
'Of course regulatory risks are all around but if you have a stable return on capital it can compound away. It is incredibly unlikely that anyone will enter this market and you have a very strong control on capital in a stable sector,' he said.
News sponsored by:
Understanding the value in commodity investing
Here at BlackRock, we help investors make more out of commodities with a range of innovative, flexible and resilient investment strategies.
New Economies - Frontiers and Latam Exciting markets, unrealised investment opportunities
From Brazil and Mexico, to Vietnam and Nigeria, the rapidly developing economies of Latin American and frontier markets, which are some of the smaller, less developed economies in the world, provides investors with a wealth of potential opportunities. Discover why BlackRock's investment trust range is well placed to help you make more of these exciting regions.
The Citywire Guide to Investment Trusts
In this guide to investment trusts, produced in association with Aberdeen Asset Management, we spoke to many of the leading experts in the field to find out more.
More about this:
Look up the funds
Look up the shares
Look up the fund managers
More from us
Archive
Today's articles
Tools from Citywire Money
Weekly email from The Lolly
Get simple, easy ways to make more from your money. Just enter your email address below
An error occured while subscribing your email. Please try again later.
Thank you for registering for your weekly newsletter from The Lolly.
Keep an eye out for us in your inbox, and please add noreply@emails.citywire.co.uk to your safe senders list so we don't get junked.