View the article online at http://citywire.co.uk/money/article/a596445
Market Blog: aid hopes boost shares ahead of Greek elections
Banks push FTSE 100 to a small weekly gain on hopes other authorities will follow the Bank of England and provide aid to the economy.
16.35: Amid Spain's banking bailout, Greek election angst and signs of a slowing US economy, equity markets are on their way to a second weekly advance. Like last week, hopes of stimulus have buoyed investors.
To summarise today's action:
Equity markets make gains on hopes of more stimulus (FTSE 100 up 0.2% to 5,478; FTSE All World up 0.3%)
British banks rally after announcement of new aid
European Central Bank's Draghi promises bank liquidity help is on hand
Britain's trade deficit widens sharply
Downbeat US data can't prevent gains on Dow (up 0.5%) and S&P 500 (up 0.6%)
Next week is almost certain to be volatile after Sunday's Greek elections.
15.28: It has been a great week for... Greek shares. The ATG index, a broad gauge of Greek shares, is up nearly 2% today, making it one of the top rising indices around the world and building on a week of gains.
Please visit our full site to view this interactive chart
14.23: US markets look set for slight gains when the market opens, tracking a move higher on European markets amid Friday's raised stimulus hopes.
US Dow and S&P 500 futures point to a positive end to the week, even as more weak US economic data arrives on traders' screens, particularly a disappointing Empire manufacturing report and below-consensus industrial output numbers.
FTSE All World Index up 0.3%
Britain's FTSE 100 zig-zagging in and out of positive territory, at 5473.
Brent crude oil price down slightly at $97.08
Euro trading lower at $1.26 against the US dollar.
13.04: Ratings agency Fitch has warned that a 'disorderly' Greek exit from the eurozone could create a world economic shock 'comparable to the 2008-09 crisis'.
In a report ahead of this Sunday's Greek elections, Fitch warns that even an 'orderly' Greek exit from the eurozone 'could lead to a deeper and more protracted recession' in the currency bloc.
The fallout from a 'disorderly' Grexit, which could be brought about by Syriza leader Alexis Tsipras (pictured) winning the voters' approval, would be increasingly damaging and uncertain, Fitch adds. 'Such a shock might be comparable to the 2008-09 crisis, with GDP of MAE (major advanced economies) falling by 4.0%-6.0% within a few quarters.'
Its baseline forecast is for real GDP growth of just 1.1% in major advanced economies in 2012, with a rebound of just 1.7% in 2013.
Fitch's report comes amid stock market gains on Friday - FTSE 100 up 0.4% at 5,489 - amid hopes of support from global central banks should Sunday's election yield a worst case scenario.
10.42: Market watchers are desperate to anticipate the fall-out from this Sunday's Greek elections.
Bank of America Merrill Lynch have produced a 'cheat sheet' charting the impact of three potential scenarios and their impact on the market. All such forecasts, of course, are to be taken with caution - click on the image below to enlarge:
Greek scenarios: Click to enlarge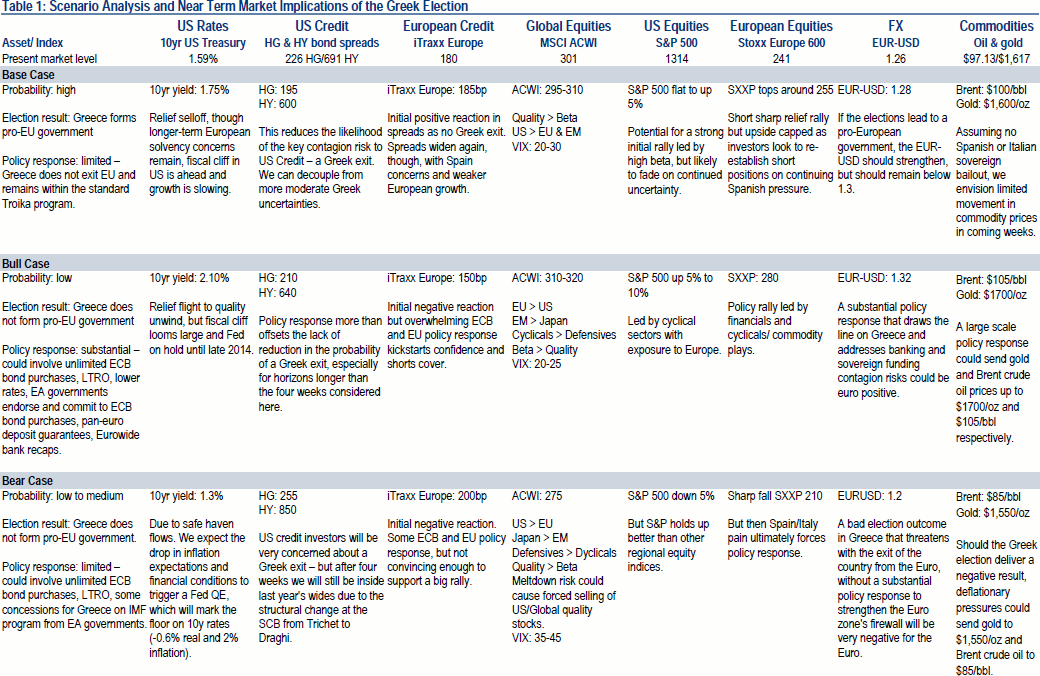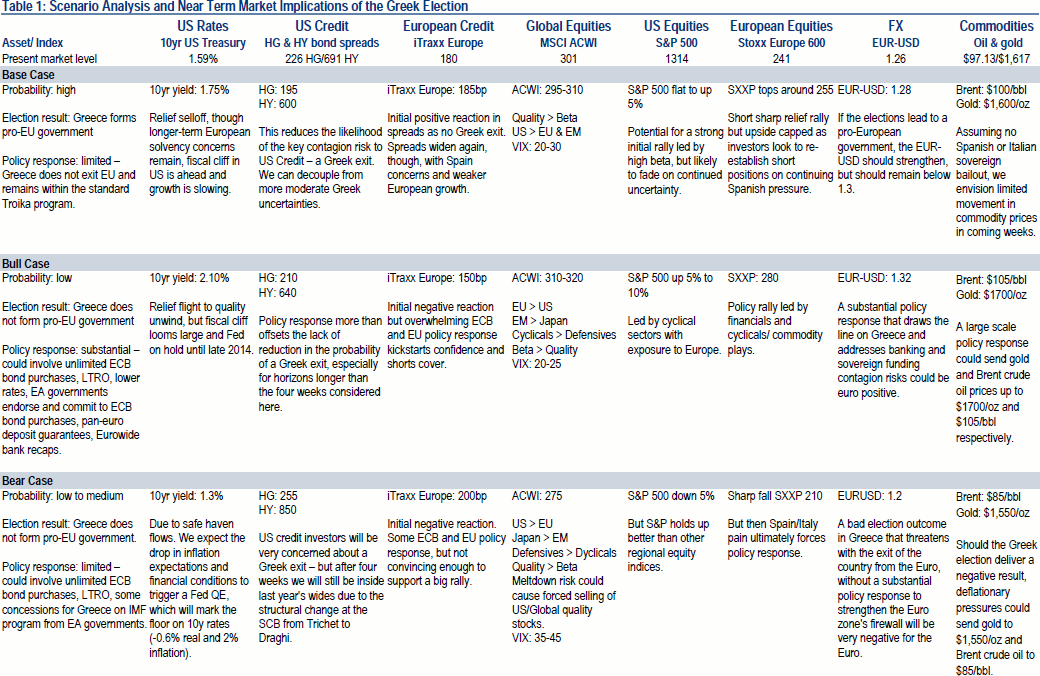 09.50: Britain's trade deficit has worsened sharply and unexpectedly to £4.4 billion in April, up from £3 billion in March after a fall in exports that adds to concerns about the economy.
The Office for National Statistics reported: 'Excluding oil and erratic items, the seasonally adjusted volume of exports was 7.1% lower, and the volume of imports was 3.0% lower in April compared with March.'
08.35: British banking shares are rallying after the announcement of support measures from the Treasury and Bank of England.
RBS (RBS.L) is up 14p or 6.4% to 244p.
Lloyds (LLOY.L) is 1.2p or 4% higher to 30.9p.
Barclays (BARC.L) is up 3.4p or 6.7% to 199p.
But some analysts interpreted the two-pronged scheme – a 'funding for lending' programme and emergency liquidity auctions – as confirming the British banking sector's poor health. 'The very fact that it is being initiated confirms that the UK banking sector remains in an extremely poor state,' said Marc Ostwald of Monument Securities.
Others, though broadly welcoming the moves, raised doubts about their potential to protect the British economy. These measures may not immediately be enough to fully insulate the UK economy from the EMU crisis, as well as to overcome the domestic drags from high household debt and tight fiscal policy,' said Michael Saunders of Citi.
08.19: European Central Bank chief Mario Draghi has promised liquidity to solvent banks where needed, while claiming that the full impact of the Bank's 'LTRO' lending scheme needs more time to be felt.
His comments come as markets hope for more stimulatory measures and followed the Bank of England's announcements last night and this morning (see post below).
Meanwhile, according to Reuters, Japan's central bank governor Masaaki Shirakawa has said that central banks can offer liquidity to calm markets in case of turmoil. He said central banks around the world are always in close contact with one another.
However, markets were little moved on Draghi's comments, having started the day higher, with the FTSE 100 trading up 0.5% at 5,495, following gains in the US and Asia.
07.59: The FTSE was set to open slightly higher in the last day of trading before an unpredictable Greek election as hopes rose that central banks around the world would follow the Bank of England and unleash more emergency measures.
The Bank of England and British government appear to be preparing for the worst ahead of the Greek elections: they last night announced a new 'funding for lending' scheme to get money flowing to needy businesses and individuals, as well as the activation of its 'ECTR' six-month lending scheme.
According to new details released this morning the Bank intends to hold an ECTR auction 'at least monthly until further notice', with the first one on Wednesday in an attempt 'to respond to actual or prospective market-wide stress of an exceptional nature'.
Mervyn King said banks across Europe need recapitalising. More here.
There have also been hopes for stimulus from the US central bank, the Fed, which helped shares higher overnight.
Some investors are expecting the Federal Reserve may unveil more easy money to counter sluggish growth when it releases its policy statement next Wednesday after its two-day meeting.
Meanwhile, Moody's has cut its rating for five Dutch banking groups including ING, as well as Belgium's biggest bank, KBC Group.
News sponsored by:
The Citywire Guide to Investment Trusts
In this guide to investment trusts, produced in association with Aberdeen Asset Management, we spoke to many of the leading experts in the field to find out more.
More about this:
Look up the shares
More from us
What others are saying
Archive
Today's articles
Tools from Citywire Money
Weekly email from The Lolly
Get simple, easy ways to make more from your money. Just enter your email address below
An error occured while subscribing your email. Please try again later.
Thank you for registering for your weekly newsletter from The Lolly.
Keep an eye out for us in your inbox, and please add noreply@emails.citywire.co.uk to your safe senders list so we don't get junked.